Football is one of America's favorite sports. Although you may not be a football fan or versed in football terms, you know that the team that scores the most touchdowns wins. To keep players from scoring touchdowns, the opposing team tries to tackle whoever has the football before they reach the endzone. The opposing team tackles the ball carrier for one reason, to stop him.
We use the verb "tackling" to refer to taking on a massive project or dealing with a problem, and when bed bugs are in your house, you have to tackle the issue. Tackling a bed bug problem is a huge but necessary undertaking. A few years ago, the National Pest Management Association surveyed pest control professionals, and according to the professionals, bed bugs are one of the most troublesome pests to remove. If bed bugs put up a fight against pest control experts, you know that the task is too much for a non-professional.
Save yourself the frustration of tackling bed bugs in your house by yourself; get pest control in Aiken from Aiken Pest Control. We have removed bed bugs from homes in the Aiken area for over a half-century. Because of our attention to detail and quality, we are privileged to be a QualityPro Approved company, an honor held by only 2% of pest control companies in the United States. You can be confident we will solve your pest problem.
For a football team to win, they must tackle the opposing players to keep them from scoring, but it takes a team effort to win a game. A football game is one by both offense and defense. We are the offense that will remove the bed bugs, but we also need you to help us play defense. The following information will help you know how to work with us to ensure your house remains bed bug-free after we complete our services.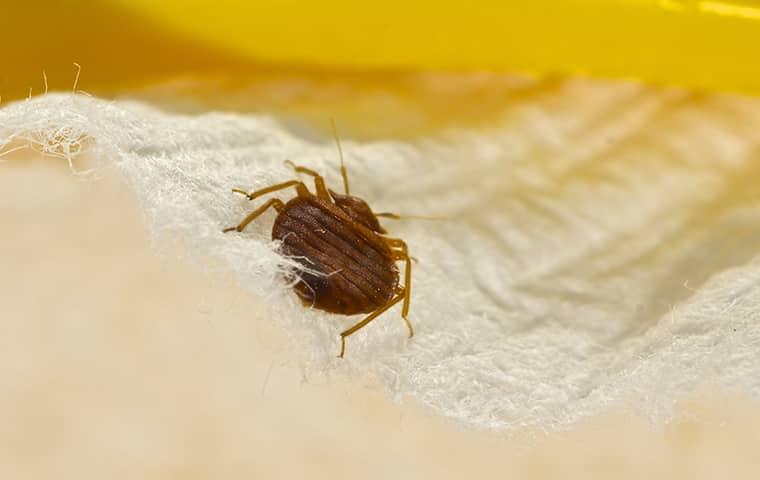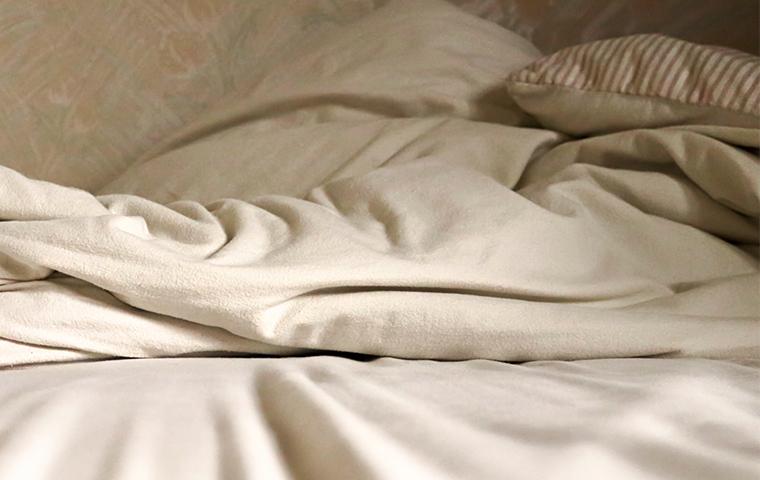 Bed Bugs Can Be Hard To Identify
Bed bugs are tiny insects that are active, usually between 2 am and 5 am, while you sleep. Because they have long since left your body where they got a blood meal and retreated to a nearby hiding place, you may not see them when you rise in the morning. However, bed bugs leave behind signs, and if you know the indicators and where to search, you can identify whether or not bed bugs are causing the wounds on your body. So, we need to answer two questions; where do I look for bed bugs, and what are the signs they are in my house?
Let's start with the first question: where do I look for bed bugs? Bed bugs do not fly, and tend to stay near their host, so begin your search for early signs of bed bugs in the room where you sleep. In the bedroom and closet, search the following:
Cracks between walls and baseboards
Mattress seams
Box springs
Behind the headboard
Behind picture frames
Inside electrical outlets
Beneath wallpaper seams
Upholstered furniture
Crevices in nightstands
Now that we know where to investigate to find these creatures, we will answer the question; what are bed bug signs? Adult bed bugs are visible to the naked eye, so look for flat, wingless mahogany insects the size of an apple seed (about 1/4 inch).
Bed bugs are insects, which means their skeleton (exoskeleton) is on the outside of their body. When a bed bug in Aiken hatches, it progresses through five growth stages (instars), and at each phase, it must shed (molt) its exoskeleton to grow. Although you may not detect shed exoskeletons from the first few growth stages, you can see discarded cream-colored exoskeletons from the final growth stages.
Using a magnifying glass will enhance your investigation because you can see the cream-colored eggs in the cracks and crevices, the nearly colorless nymphs, and discarded eggshells from the initial growth stages. Odor is another sign of a bed bug infestation. There will be a musty smell in the room when the population is massive.
The appearance of bites on your body is most likely what began your inquiry online to find bed bug control near you. When bed bugs begin feeding, they inject an anesthetic to numb the pain, which is why most people don't initially notice the bites. A few days after the bed bug has fed, a red, itchy bump appears at the wound site. The wounds are often in clusters or rows on the arms and legs or other exposed body parts.
If you see these bed bug signs, you need a pest control company with decades of proven success, Aiken Pest Control. We are experts in identifying bed bugs and can tackle your bed bug problem so you can sleep in peace.
Everyday Bed Bug Prevention Tips
Bed bugs are not in your house because you fail to keep a clean house. Bed bugs enter a home riding on luggage, shoes, clothing, handbags, or furniture. Public transportation and venues are bed bug transfer stations, and bed bugs latched onto you while in one of these areas. If you travel or ride public transportation, you are more likely to encounter bed bugs; however, that does not mean you cannot take these steps to prevent them from overtaking your house:
Vacuum regularly
Suction corners and cracks
Remove clutter in bedrooms
Encase mattresses in covers
Place duct tape over zippers on mattress covers
Wash bed linens and dry them for 30 minutes
Move the bed away from walls or furniture
When you vacuum, focus on cracks between the carpeting, baseboards, and walls. Place the contents from the sweeper in a sealed bag and dispose of them in an outdoor, closed garbage can. Covers used for dust mite control will work on your mattresses. If you choose not to encase your mattresses, vacuum the seams and sides when you sweep the other areas in the house.
If you have an infestation, these steps will reduce the bed bug population, but total elimination will require the best home pest control for bed bugs near you from Aiken Pest Control. Once we remove the problematic pest, implement these practices to prevent a future infestation.
It's Very Difficult To Get Rid Of A Bed Bug Infestation On Your Own
Who would win if you had a football game with a team of 11 players against one player on the opposing team? The team with 11 players! In the same way, attempting to eliminate bed bugs by yourself is like playing a football game where you are the only one facing down 11 brutal players. Why is it unreasonable to think you can't purchase a store product and win against bed bugs?
Bed bugs are resistant to some non-professional products; they can also detect some non-commercial products and thus avoid the treated area. Although a DIY method may kill some bed bugs, reduce the population and create a reprieve, they will quickly return because of their high reproduction rate. If a host is readily available and the house stays between 70℉ and 90℉, the bed bug population can double every 16 days. Killing a few bed bugs with a do-it-yourself product is like the one football player tackling one of the 11 players charging at him. He stopped one player, but ten more are charging down the field.
Aiken Pest Control provides local pest control for bed bugs. You do not need to be the one player standing against a host of bed bugs. We will stand with you and defeat these troublesome pests.
The Best Way To Get Rid Of Bed Bugs In Your Home
Using a professional company with a proven track record is the best way to remove bed bugs. Since 1967 Aiken Pest Control has provided bed bug control in Aiken. Our highly-trained pest professionals can detect a bed bug infestation because they know all the signs, but those signs may not always be evident. If we still suspect bed bugs are the problem, we can use dogs to confirm an infestation.
As we mentioned previously, bed bugs can sometimes detect the application of some products and avoid the area. Although there are professional products they do not notice, we have found a much better way to destroy these pesky creatures; heat. Bed bugs cannot survive prolonged heat over 120°F, so we recommend you dry clothing for at least 30 minutes on the highest heat the fabric can withstand as a preventative once we have removed the bugs.
Although many companies use products to treat a house for bed bugs, heat is the safest and most effective treatment to remove bed bugs. We use large, commercial heaters to warm the home between 120°F to 135°F to ensure we kill the offending insects no matter where they are hiding throughout the house. Our heat treatment destroys the adults, nymphs, and eggs, so you don't have to worry about re-infestation. Also, since we use heat to stop bed bugs, there is no risk to pets or children. Contact us today to learn more about our bed bug guarantees and get a free quote.