Have you experienced times when you felt like your life was out of control? You couldn't get a job, pay the bills, or fix a problem. Do you remember how you felt? You probably feel stressed or overwhelmed. Some issues are like a raging forest fire; they seem impossible to manage. Whenever you fix part of the problem, a new one crops up. You feel like you are playing a game of whack-a-mole.
Although they are not moles, when cockroaches invade a home, it only takes a short time before the infestation is out of control. You may have purchased a product at the local hardware store, assuming you could stop the problem, but no matter how many cockroaches you spray, they keep appearing. You may wake up and find a few dead cockroaches in bait traps, but you continually encounter them at night when you surprise them by flipping on the lights on your way to the bathroom.
If cockroaches are not yet overwhelming you, don't worry because they soon will be. So, to keep cockroaches from overtaking your house, you need the Aiken pest control experts from Aiken Pest Control. We have removed cockroaches from homes in the Aiken area since 1967. As a recipient of the 2016 Small Business of the Year Award from the Aiken Chamber of Commerce, you can rest assured that we will provide you with high-quality service.
We want you to get control over cockroaches, so we answer common questions and provide the necessary information in this brief article to help you in your battle against these insidious pests. Please keep reading to learn more and begin your journey to regain control over cockroaches.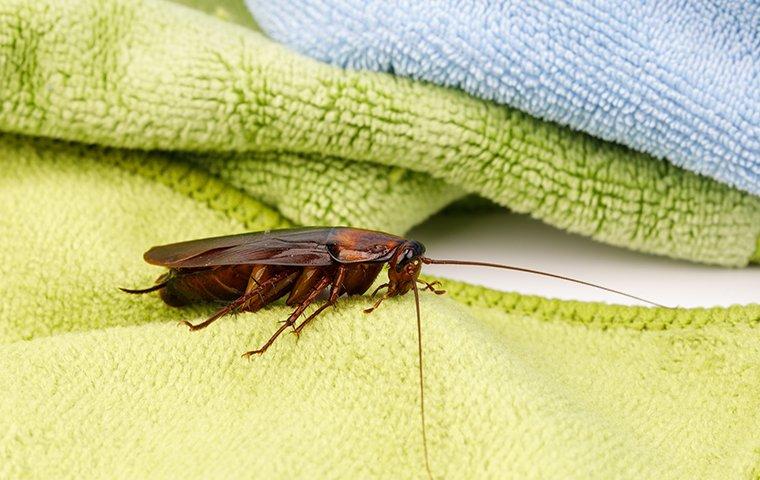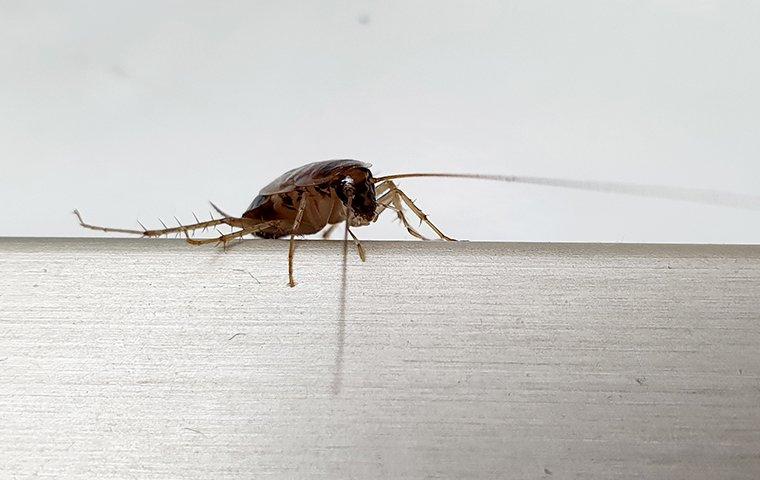 Common Species Of Cockroaches Found In Aiken
Although it is tempting to think that all cockroaches are equal, they are not. There are more than 4,000 cockroach species worldwide, but thankfully, only the following three are a problem in the Aiken area:
German cockroaches
American cockroaches
Oriental cockroaches
Before we examine the three types of cockroaches in Aiken homes, let's discuss cockroach characteristics. Cockroaches are insects; they have three pairs of jointed legs, two antennae, compound eyes, wings or wing pads, an exterior skeleton, and a body consisting of a head, thorax, and abdomen.
Although these are cockroach insect characteristics, they have a few unique features. First, their antennae are as long, if not longer, than their bodies. They use these to guide them as they travel in the dark and to smell. Second, cockroaches have horizontal spines protruding from their legs. As we will later discover, these spines are one of the reasons cockroaches are dangerous for homeowners. Third, not all cockroaches fly — including those with functional wings. Let's look at the specific cockroach species that invade Aiken houses since we know the basic features.
If you witness a cockroach scurrying across the floor in the bathroom or kitchen, it is probably a German cockroach. These 1/2 to 5/8 inch light brown or tan insects have two dark strips on their backside. Although German cockroaches have wings, they do not use them but prefer to run. Cold weather is the downfall for German cockroaches; therefore, they do not enter homes from the yard but invade a house by hitchhiking in luggage, bags, used appliances, furniture, etc.
Although not as common as the German cockroach, the American cockroach has the largest body (1 1/2 to 2 inches). Also called palmetto bugs or waterbugs, adult American cockroaches have a reddish-brown body with a figure-eight pattern on the shield (called the pronotum) directly behind the head. This long-living species is most likely to invade commercial buildings and sewer systems, but if they are nearby and the temperatures decline, they will enter homes. Of the three species in Aiken homes, American cockroaches occasionally fly short distances.
Just as a black sheep stands out among a flock of fluffy white sheep, the 1 1/4-inch shiny black oriental cockroach stands apart from its peers. Unlike the German and American cockroaches' preference for warm, moist areas, oriental cockroaches prefer cool, damp ground-level areas like crawl spaces and basements. Although they have wings, oriental cockroaches do not fly.
No matter the cockroach species in your Aiken home, you need roach pest control from Aiken Pest Control. Our technicians will identify the species, attractants, and entry points as they inspect your house to develop an effective removal strategy.
How Cockroaches Are Hazardous To Your Health
We naturally recoil when we see cockroaches dart beneath the refrigerator or from underneath bathroom towels. What is it about the presence of cockroaches that creates panic in our spirit? Is it their erratic, quick behavior? Maybe, but it is probably due to their well-deserved reputation as a dirty pest.
Cockroaches are associated with filth because they are always present in sewers, drains, rotting garbage, compost piles, animal feces, and other unpleasant areas. As these pests travel through these areas foraging for organic material, dead insects, or mammals on which to feed, the spines on their legs attract bacteria, viruses, and parasitic worms. When the roaches enter a home and travel across countertops, cabinets, drawers, and exposed foods, the pathogens fall off and contaminate the surfaces.
When cockroaches feed on organic matter, insects, and other items in these areas, they ingest disease-causing organisms. The pathogens spread when the cockroach defecates or chews on things in the house. Scientists link 33 bacteria, parasitic worms, and other human pathogens to cockroaches. Common diseases attributed to cockroaches include salmonellosis, typhoid fever, cholera, gastroenteritis, dysentery, listeriosis, giardia, and E. coli infection. Symptoms from these infections cause stomach cramps, fever, vomiting, diarrhea, and nausea.
Cockroaches trigger allergic reactions and asthma attacks. In 1943 researchers found that certain patients developed skin rashes upon contact with cockroaches. With the advent of allergy skin tests in 1959, scientists confirmed that cockroaches produce a protein that can trigger an allergic reaction in some people. Children and senior adults with allergies often experience wheezing, sleeplessness, and other asthmatic reactions to airborne particles from dried feces or discarded exoskeletons in homes with high infestation.
When you secure home pest control in Aiken from Aiken Pest Control, you protect your family against diseases from bacteria, viruses, and parasitic worms spread by a cockroach infestation. You also enable family members to breathe without fear of an asthmatic or allergic reaction to airborne cockroach proteins.
Five Tips To Keep Cockroaches Away From Your Home
If you have a cockroach infestation, you need Aiken Pest Control to stop the invasion. Once we have brought the situation under control, here are five suggestions to deter a future infestation:
Remove yard debris
Provide drainage to ditches and puddles
Eliminate water-collecting items
Seal entry points into the house
Maintain a clean house
Cockroaches enter a property seeking food, water, and shelter. Eliminating leaf piles, rotting landscape timbers, stones, and junk from the yard reduces potential places of refuge from the elements. Removing or providing drainage to items that collect standing water (old tires, playsets, plant trays, etc.) reduces water availability encouraging cockroaches to move off your property. However, as they flee your location, cockroaches may attempt to enter your home. Sealing cracks, crevices, and gaps one-quarter inch or greater will help keep roaches out of the house. Cover the vents and other openings with a wire mesh as another deterrent.
If cockroaches find a way into your Aiken home, maintaining a clean, dry interior will deter them from remaining. Vacuum the house regularly, suction out corners and cracks, and keep indoor garbage containers closed. Provide proper ventilation to rooms, crawlspaces, or basements to prevent high-moisture areas.
When a technician from Aiken Pest Control inspects your home for signs of a cockroach infestation, we will provide additional recommendations tailored to your situation.
The Secret To Getting Rid Of Cockroaches Fast!
Many homeowners think purchasing a product will resolve a cockroach infestation, but after a few weeks, they discover it is not easy to stop an infestation. Cockroaches rapidly reproduce, and although you may kill a few with a DIY product, you will not end the infestation unless you simultaneously eliminate the eggs, nymphs, and adult population.
For example, German cockroaches are the most common species in Aiken homes, and each egg capsule a female cockroach lays contains up to 48 eggs. Amazingly, German cockroaches produce six generations annually. Considering that about half of the eggs are future females and a German cockroach can become a reproducing adult in about 36 days, one can understand how quickly the population can expand.
With over five decades of experience and as a QualityPro Approved Company, a distinction earned by only 2% of pest control companies nationwide, you are getting the best cockroach control company in Aiken when you contact Aiken Pest Control for help.
When you schedule an inspection, a highly-trained technician will investigate your location for attractants, entry points, and signs of a cockroach infestation. Using information from our investigation, we develop a custom treatment strategy to remove cockroaches from your property. Upon your approval, we will treat the interior and exterior of the house. Contact us today to learn more about our cockroach control treatment programs and schedule an inspection.