Most of the pests that get into your Aiken home are six-legged pests. Those are the flies, stink bugs, boxelder bugs, Asian lady beetles, moths, carpet beetles, bed bugs, and other insects. Some of the pests that get into your Aiken home have eight legs. Those are the spiders, ticks, and mites. Today, we're going to focus on the two pests that have more than eight legs—a lot more than eight! Here is a quick guide to centipedes and millipedes in Aiken, South Carolina.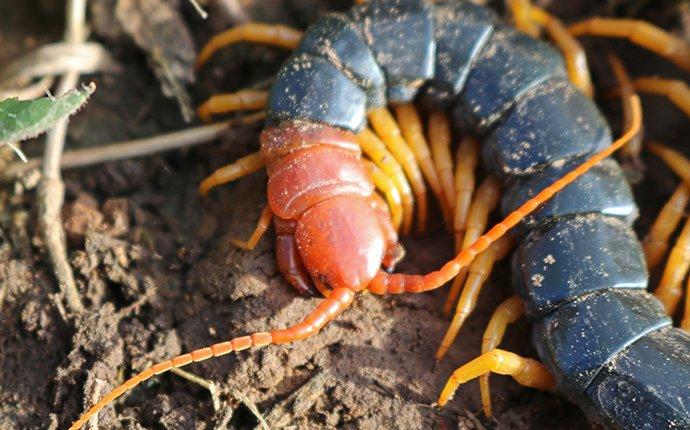 Millipedes
These are the small blackish or brownish bugs that curl up when you hold them in your hand. While the name suggests that millipedes have 1,000 feet, they actually have somewhere between 60 and 180. How many feet, or legs, a millipede has is dependent on the species. The millipedes Aiken homeowners typically find are closer to having 60 feet than 180. You'll find these small feet/legs directly under the millipede, pointing downward.
What You Should Know Most About Millipedes
Millipedes in our area are mostly harmless, but they do excrete a foul-smelling fluid that can cause skin irritation and even blisters.

These bugs don't last long inside. You don't have to do anything to stop an infestation. It will stop on its own. The goal of millipede control is not to kill the bugs that have infested your home but to prevent them from coming inside over and over again.
Centipedes
These are tan-colored bugs with long, creepy legs that are joined above the body. If you look closely, you'll see that the legs are banded with black coloration and that there are black stripes running lengthwise on these bugs. The name suggests that centipedes have 100 feet, but house centipedes that get into Aiken homes typically have 30.
While house centipedes can bite, they're not known to bite humans, even when provoked.

If you have centipedes inside your home, it is an indication that you have moisture issues. These bugs are attracted to damp habitats and humid spaces.
General Prevention Tips
These two bugs are very different from one another, but they can be managed with similar methods. These methods can be broken down into three categories: Yard work, exclusions, and moisture control.
Yard Work
Remove dead branches and stack them well away from your exterior walls.

Blow leaves out of your landscaping and out from underneath your deck and other structures.

Move stacked wood, wood scraps, and other wood sources away from your exterior.

Move stacked bricks, stones, and cement blocks away from your exterior.
Exclusions
Make sure your exterior doors have good seals all the way around, particularly basement doors. If you have double doors in the basement, these are the worst. Replace weatherstripping and door sweeps and align double doors so that they make good contact all the way around.

Use a caulking gun to create a good seal all the way around door and window frames. You would be amazed at how small of a gap bugs need in order to infiltrate your home.

Repair damaged screens or replace the screens altogether.

Inspect your home for any wood rot and take measures to address these problems. Moist wood will attract these pests to your home and splinters in wood can provide tiny pests like these pathways to get into your home.

Look for gaps and cracks on the interior of your home, such as around exterior windows and doors, baseboards, and vents. Use a clear caulk to address these potential entry points. This product will blend in naturally with wood and other building materials inside your home.
Moisture Control
Inspect your gutter system and make sure there are no blockages or breaks. When water pours over the sides of your gutters, it creates damp conditions near your home that are conducive to centipede and millipede activity.
Manage your landscaping so that it doesn't stay damp. Water plants in the morning. Trim bushes and shrubs.
Remove weeds and keep unwanted grass out.

Repair leaky faucets and showerheads inside your home.

Always use your fan when taking a shower or bath.

Install dehumidifier units in areas of your home that stay humid, such as your basement or boiler room.
Are You Dealing With Centipedes Or Millipedes?
If you have a problem with either of these pests in your Aiken home, reach out to Aiken Pest Control. We offer residential pest control services that keep these (and other frustrating pests) from getting inside. You'll also get coverage for pests that can damage your property and make you sick. Connect with us today to find out all the benefits of a year-round pest control plan, or schedule a service visit. We're here to help you keep your home pest-free.