When it comes to pest control in Aiken, we tend to focus on the biggest creatures in the room. From wildlife animals to rats and mice, we usually correlate the size of a pest to the amount of damage it can cause.
But when you look a little closer at the common pests in Aiken, you may come to an alarming revelation. It's not the biggest, strongest, or most dangerous pest that should worry you, but the smallest, fastest, and most invasive one instead.
This is where the humble ant comes into the picture. While it may be small and easy to ignore, it's also far more dangerous than you may first believe. There are millions of active ant colonies across the state of South Carolina, and millions of ants potentially living right outside your door. Luckily, you don't need to brave the side effects of their infestations alone.
This guide covers everything you need to know about ant control in Aiken. Once we explain the development of infestations and explore their risks in detail, we can easily highlight ant prevention tips so you can protect your home for good. Need to remove an existing ant infestation from your home or business? We also explain how Aiken Pest Control can help.
Now, let's dive into the risks and health concerns caused by ants near your Aiken home.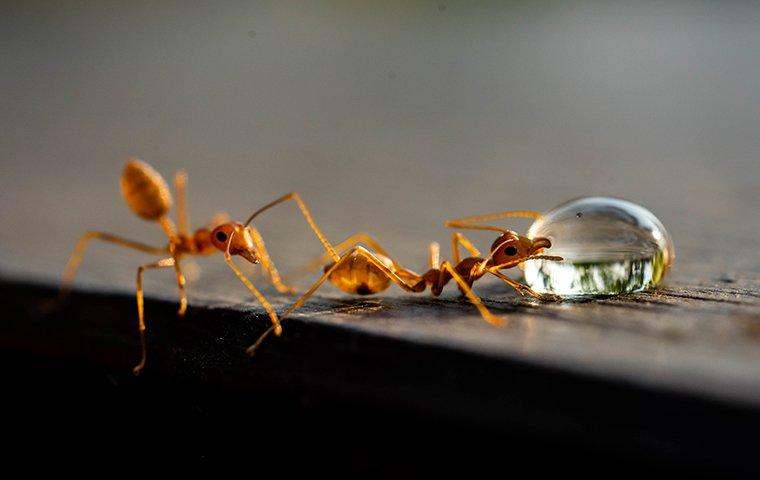 Ant Communication: How Infestations Develop And Spread
Before we take a closer look at the dangers of ant infestations in Aiken, you should know how infestations develop and spread. These tiny pests may not look intelligent at first, but their methods of communication dwarf many other species.
First, scouting ants comb through every inch of your property, looking for potential food and water sources. Once an ant finds a potential resource, it emits a pheromone attracting other colony members to its location. This creates a 'train' of ants carrying food back to the colony, which encourages other scouts to hunt around the general location.
Ants don't always build colonies near their food, but they won't hesitate to take advantage of potential attractant factors. Standing water, rotting wood, and even compost piles can be a major plus for tiny ants. Remember: what looks like a crumb of food to you can be a feast for hungry ants!
Well-fed ants are also more likely to reproduce. Some common ant species, including fire ants, engage in budding behavior, which is where a colony splits in half to accommodate fertile queens. It won't take long for these aggressive ants to take over your entire yard.
You can see how even a single crumb of food can lead to booming ant populations around your property. The more food an ant colony is able to find, the larger that colony can grow. And since more ants equals more colony buds, it creates a vicious cycle with a never-ending population.
Keep in mind that ant infestations don't happen by accident, even if you're not sure what attracted them to your property. If you're struggling to pin down exactly where ants came from, you should reach out to the pros at Aiken Pest Control for help. We'd be happy to provide a full inspection and take a closer look at your situation.
Ant Dangers: Understanding The Risks Of An Infestation
Now you know the behaviors and communication patterns of local ant infestations. Next, you need to take a closer look at the risks these infestations can cause.
You're likely familiar with the basic concerns, including bites, stings, and property damage. However, you may not be fully aware of just how dangerous these pests can be.
Many ants, for example, put undue pressure on your property by eating beneficial insects and farming plant-destroying aphids. As the ants tend to aphids in return for honeydew, your plants become increasingly threatened by unchecked numbers of sap-sucking pests.
Ants also have a reputation for contaminating food and water sources. Although they can't transmit disease through saliva like wildlife pests, they can pick up pathogens on their tiny legs and bodies. Some of the most common ant-borne illnesses include streptococcus, salmonella, clostridium, and staphylococcus – none of which you want anywhere near your food.
Even apart from these generic ant concerns, you must also be aware of species-specific threats. The truth is that some ants are more dangerous than others, and allowing certain species to thrive in your yard could lead to serious side effects down the road.
For example:
Fire ants can trigger allergic reactions that require medication or hospitalization.
Carpenter ants can tear through untreated wood and reduce the structural integrity of your building.
Pharaoh ants can spread bacterial illnesses to at-risk patients and other vulnerable populations.
Sugar ants, Argentine ants, and other smaller ant species are notable picnic-ruiners that can easily gain access to your home.
Crazy ants leave unsightly mounds around lawns, gardens, and landscaped areas.
Odorous house ants release a foul stench when crushed, making them unpleasant to remove from the home.
If you think or know that any of these ants are present near your Aiken home, don't hesitate to reach out to Aiken Pest Control for an inspection, quote, and treatment.
Ant Prevention Mistakes To Avoid: Common Pitfalls And Solutions
It's clear that ants are far more problematic than many of us would believe. Finding ways to keep them out (and reduce their growing numbers) is the best possible solution for unwanted infestations. That means starting with ant prevention steps like:
Lawn maintenance: Ants love an overgrown lawn with lots of places to hide. To combat this, mow your yard frequently and trim back any vegetation providing a place to live. Feel free to hire professional landscapers to do any work you can't accomplish on your own.
Water management: Any area of standing water is good enough for ants. That's why you must be vigilant to drain puddles and wet patches around the lawn. You can try removing tarps and toys from the yard, filling in potholes, and repairing gutter spouts.
Food management: As mentioned earlier, even a tiny amount of human food can look like a feast to hungry ants. You should be careful not to leave potential food sources in ant-accessible areas, including soda spills, fallen fruit, and compost piles.
Entry points: Since ants are incredibly small pests capable of crawling inside even the tiniest gaps, caulking, sealing, and weatherproofing your home is paramount for long-term protection. Be sure to replace any outdated weatherstripping for the greatest amount of ant defense.
Pet activity: Pet food and water bowls can be strong attractants for hungry ants. To protect your property both inside and out, be sure to frequently move pet dishes and clean your floors regularly.
Keep in mind these ant prevention tips are designed for properties without active infestations. If you currently have an ant infestation and need ways to get them out, prevention steps alone may not be enough to make a difference. Instead, you need to get in touch with Aiken Pest Control for support, treatment, and education.
Professional Ant Control: A Great Way To Keep Ants Out For Good
An ant infestation isn't something you'd think about over the course of an average day. But with the many dangers posed by long-term activity, it's clear something must be done to keep them at bay.
Not sure where to start on your ant control journey? Aiken Pest Control can help. We offer everything you need to make short work of ants, including inspections, treatments, and follow-up visits. From major infestations to emergent colonies, we've treated hundreds of homes in Aiken with the right tools for the job. All you need to do is give us a call; our hand-picked experts can handle the rest.
Our ant control process is fast, simple, and easy to understand:
First, we send a technician to visit your property in person and provide an exterior assessment. This lets us make more informed decisions as we map out a plan for your yard.
Next, we remove any spider webs that may be around the outside of your property. There's no added charge for this; it's all a part of our plan.
We then begin our yard inspection to look for active ant colonies. Feel free to point out any potential problem areas.
We now perform an entry point inspection looking for cracks, gaps, and other tiny crevices. We offer plenty of recommendations for areas needing attention.
At this stage, we treat the interior of your home against ants and other pests. We're proud to cover both active areas and potential at-risk rooms.
Finally, we report our findings and treatment methods so you can rest assured you're in good hands.
Let the team at Aiken Pest Control make short work of your local ant infestation. Feel free to submit an online contact form with your details or give us a call to speak over the phone. We would be happy to set up ant control services for your Aiken property.