The short answer is, "Yes, they can be." Ticks have the ability to spread harmful diseases to humans. But before we get into the details of how dangerous ticks can be, it is important to understand that your chances of severe illness are low. As an example, Rocky Mountain spotted fever (RMSF) can be deadly. That's pretty scary until you consider all the data. Only an average of 5,000 tick-associated spotted fevers are reported in the United States annually. Sixty percent of those reports come from North Carolina, Tennessee, Arkansas, Oklahoma, and Missouri. The case-fatality rate is lower than 30 percent. So, out of a U.S. population of 328 million, only about 1,600 people die of RSMF annually. Okay. Now that we've put this in perspective, let's take a realistic look at how dangerous ticks can be and what you can do about them.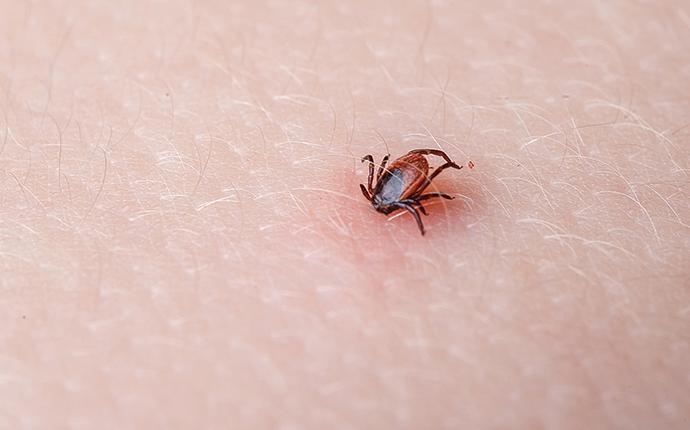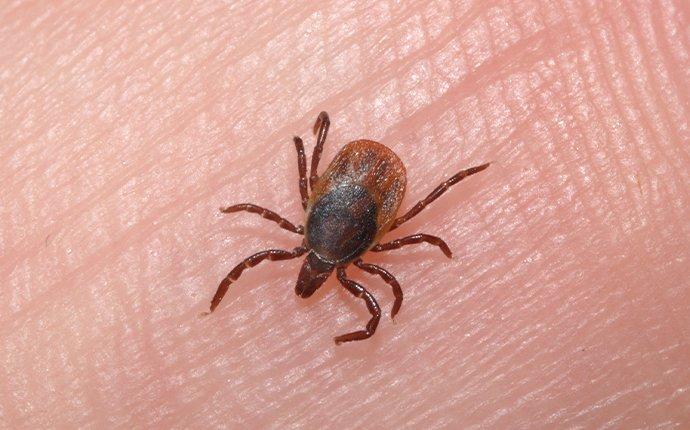 The Worst-Case Scenario
Lyme disease and Alpha-gal syndrome (AGS) are scary diseases that can be spread by ticks. They have the ability to cause chronic symptoms that last a lifetime. If you're bitten by an infected tick and your body is not able to fight off the invading microorganisms that cause these diseases, you can experience lifelong health complications. This is arguably worse than having a tick take your life because you can find yourself living in life-altering misery. Fortunately, it is possible to prevent these diseases by detecting ticks early and by removing them appropriately.
Wear mosquito repellent on your legs and feet when you're outside in nature.

Always do an inspection when you come back in from being outside in nature.

If you find a tick, use a tick-removal tool or needle-nose tweezers to remove it.

Pinch the tick near the head and pull out and up.
Tick Diseases
Along with Rocky Mountain spotted fever, there are many other diseases that can be spread by ticks. A few of the most common are: ehrlichiosis, tularemia, babesiosis, anaplasmosis, and Rickettsia parkeri Rickettsiosis. These can cause a wide range of symptoms, some of which are scary, such as a complete paralysis or temporary blindness. Severe symptoms for some of the diseases lead to human fatalities in the U.S. every year. But your chances of getting sick or having severe symptoms are low. They can be even lower if you take steps to mitigate the threat.
Personal tick protection, such as using mosquito repellent on your legs and feet.

Pet protection. There are products that can protect your pets from ticks and slightly reduce the chances that they'll bring ticks into your home.

Tick reduction in your yard. One of the places you're most likely to be exposed to ticks is in your yard. When you reduce ticks on your property, you significantly reduce the threat of tick-borne diseases.
Tick Reduction
There are many ways you can reduce ticks in your yard and keep them off your pets, your kids, and yourself. Here are a few examples.
Reduce animal activity. Wild animals bring ticks into your yard. There are many ways you can deter animals. Keep your garbage in covered containers that can't be easily knocked over. Move bird feeders to at least 20 feet from your home. Use fencing material to prevent animals from creating a home under your deck.
Address moisture. Ticks need moisture to survive. If you maintain a dry perimeter, it can deter tick development. Clean your gutters. Fix gutter breaks. Remove unnecessary vegetation from your landscaping. Keep grass cut short.
Create barriers. Ticks don't like to walk across crushed stone or wood chips. You can use these materials to protect outdoor recreation areas.
Pest Control. If you invest in a residential pest control program that comes with tick reduction, you'll have the best possible protection from ticks. Routine treatments of appropriate, EPA-approved materials will make it impossible for ticks to develop near your home.
Tick Control In Aiken
If you'd like to learn more about tick control, or schedule to meet with a licensed pest professional regarding ongoing service for your home, we would love the opportunity to guide you in this. At Aiken Pest Control, we provide year-round pest protection for fleas, cockroaches, stinging insects, spiders, mice, rats, and more. When you bundle this service with mosquito, flea, and tick control, you'll have the greatest level of protection from pest-borne diseases. No Aiken home should be without a pest control plan. Year-round pest control provides essential protection for your health and property.
Ticks can only be as dangerous as you allow them to be. Get the residential pest control services you've always needed by reaching out and speaking with one of our agents today. We're here to help.