Professional Pest Control For Bamberg, SC Property Owners
Bamberg, South Carolina is a city that is full of Southern charm, beauty, history, diverse neighborhoods, and thriving businesses—and it offers its residents a high quality of life. To help ensure a high quality of life for all Bamberg residents, the Midlands of South Carolina, and the Central Savannah River Area, pest control experts at Aiken Pest offer a variety of residential and commercial pest control programs to solve your pest problems once and for all. We have been providing South Carolina residents with quality pest control services for over 50 years, and we are a QualityPro-approved company. This means that we always go above and beyond industry standards. To learn more about protecting your Bamberg home or business from common pest invaders, get in touch with Aiken Pest Control today.
Home Pest Control In Bamberg, SC
Since 1967 Aiken Pest Control has been protecting families and homes from destructive, dangerous and nuisance pests. Our home pest control program includes the services needed to provide Bamberg homeowners with a long-term solution against common household pests. At our initial visit you can expect the following:
The completion of a no-obligation, free home inspection.

The identification of existing pest problems.

The noting of conditions that may be attracting pests to your home, and figuring out where pests are entering your home.

The development of a pest control program, which is specific to your home.
After our initial visit, our professionals return to your home quarterly to complete an inspection, provide treatment, sweep away spider webs, and provides the removal of exterior insect nests. Also, if pests return in-between our service visits, so will our professionals! In addition to our quarterly home pest control program, we offer the following targeted services to protect homes from pests: mosquito control, fire ant control, moisture control, and wildlife control. To learn more about protecting your Bamberg home from pests, get in touch with us today. We would love to work with you to protect your home and family from pests.
Fire Ant Prevention Tips For Bamberg, SC Residents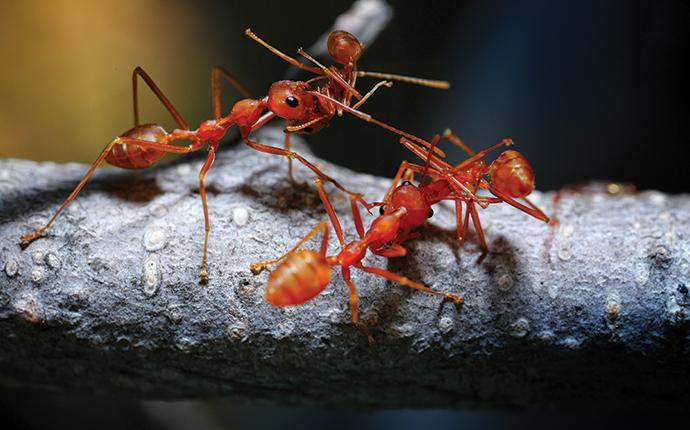 Protecting your home, family, and pets from fire ants is important for many reasons. Fire ants are territorial, highly invasive, super aggressive, and the toxins they painfully inject during an attack can trigger an allergic response in some individuals, which may require medical attention. Preventing problems with fire ants on your property can be challenging because these tiny ants prefer to create nests in open, sunny areas such as fields, lawns, and meadows. This makes any residential property a potential target.
To help eliminate and control problems with fire ants, Aiken Pest Control has developed specialized fire ant treatments. Our professionals will come to your Bamberg property and treat your property for fire ants once or twice a year, depending on the size of your lot. By partnering with Aiken you can stop fire ants in their tracks so you can enjoy your backyard without the fear of being stung by these aggressive pests.
Get in touch with us today to learn more about our highly effective fire ant treatments.
Protect Your Bamberg, SC Home From Bed Bugs
At Aiken Pest Control we understand that no one wants to share their home with blood-feeding bed bugs. Bed bugs are tricky pests to avoid because they have the potential to be found in the places we visit regularly, places such as hotels, libraries, movie theaters, shopping centers, schools, and hospitals. To avoid a large-scale bed bug infestation inside your home we recommend the following prevention tips:
When spending time out in public places, keep your (and your family's) personal belongings up off of the ground.

When traveling, inspect your hotel room for bed bugs before bringing your belongings into it. Keep suitcases up off the floor, and keep personal items, which are not being used, in sealed plastic bags.

Regularly wash bedding and clothing on a high heat setting, especially outerwear and bags that you and your family wear/use on a regular basis.

Vacuum your home regularly and do not forget to tackle the cracks and crevices found in upholstered furniture, mattresses, and box springs.

Keep clutter in your home to a minimum. Bed bugs love to hide in/under clutter, including piles of dirty laundry.
Despite your best efforts to keep bed bugs out of your home, these pests are tricky. An infestation can happen to anyone in any home. At the first signs of problems with bed bugs in your Bamberg home, contact Aiken Pest Control so our bed bug control professionals can perform a thorough inspection and provide effective treatment! Give us a call today to learn more.
Commercial Pest Control Solutions In Bamberg, SC
Pests don't only target homes, they also target all types of businesses in order to take advantage of food, water, and shelter resources. Any business, which doesn't have a professional pest control program in place, is at risk for pest invasions. To protect your Bamberg property from pests, trust Aiken Pest Control and our committed commercial pest control professionals. We can provide you with the newest in industry technologies to help eliminate current pest problems from your facility as well as provide the support needed to maintain a pest-free environment inside your business. After choosing Aiken Pest to take care of your Bamberg facility's commercial pest control needs, we will provide accurate pest identification, a customized pest management program, the implementation of Integrated Pest Management strategies, comprehensive documentation, and compliance with industry regulations, to protect your commercial property from pests. To learn more about our highly effective commercial pest control services, which will be customized to meet your company's specific needs, get in touch with us and schedule an inspection today!