Professional Pest Control For Barnwell, SC Property Owners
Barnwell is a small South Carolina city that offers its residents a caring community and a safe place to live, work, and play. Barnwell has beautiful family-friendly neighborhoods and provides its residents with ample job opportunities both in and very close to Barnwell. To help keep Barnwell home and businesses free of the diseases and damages that insects, rodents, and wildlife who also live in Barnwell can cause, Aiken Pest offers modern, eco-friendly, dependable, pest control services. For over 50 years we have been protecting homes and businesses found in Aiken, the Central Savannah River area, and Midland of South Carolina from pests. Contact us today to learn more about how you can join our family and how we can work together to eliminate and control pests in your residential or commercial Barnwell, SC property.
Home Pest Control In Barnwell, SC
Aiken provides and offers a year-round solution to common household pests through our customized, comprehensive and highly effective home pest control program. By implementing a professional home pest control program worrying about pests like ants, spiders, roaches, mice, silverfish, and many others will be a thing of the past! We begin by providing a no-obligation, free home inspection where our experts will complete a thorough exterior inspection to identify existing pest problems. They will also determine potential entry points for pests and the conditions that may be attracting them to your home. Once the inspection is completed we will develop a pest control plan that is unique to your home. Our home pest control program includes quarterly pest control visits that include, inspection, treatments, the sweeping away of spider webs, and the removal of insect nests found on the exterior of your home. Our home pest control program will also provide you with the peace of mind knowing that if a pest problem should arise between our regular visits we will return at no additional charge to take care of it! Contact us today at Aiken Pest Control to schedule a free no-obligation home inspection for your Barnwell residential property.
What Do Ticks In Barnwell, SC Look Like?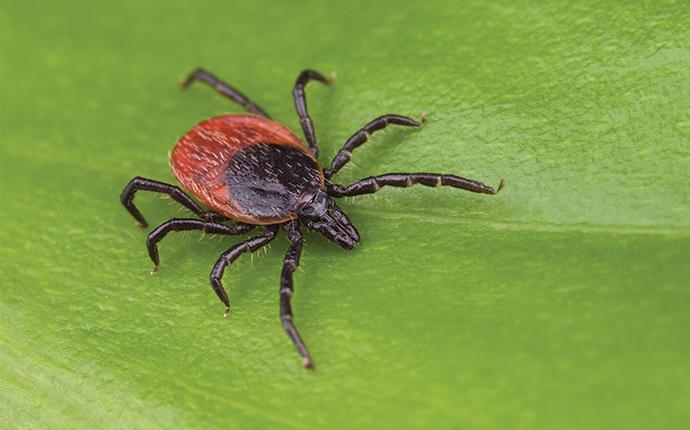 In South Carolina, the deer tick, lone star tick, and American dog tick are the three most common species of ticks found. Ticks are eight-legged relatives of spiders and these parasitic pests feed on the blood of both people and animals. Because ticks have such a wide range of hosts that they feed on, from mice to humans and almost everything in between, they are responsible for spreading many serious diseases including Lyme disease and Rocky Mountain spotted fever. To protect yourself, family, and pets from these blood-feeding pests it is important to first have an understanding of what they look like:
Deer Ticks - Adult deer ticks are orangish-brown in color and have a broad, oval-shaped body; before feeding adults are about the size of a sesame seed. They become larger in size after feeding and their color changes to reddish-brown or rust color. These ticks are also commonly referred to as black-legged ticks because the adult's legs are much darker in color than the rest of the tick.

Lone Star Tick - Lone Star ticks are small, adults only grow to be about 1/8 of an inch in length. These ticks are brown in color and the females have a distinctive white spot in the middle of their back. After feeding the lone star tick becomes more slate gray in color.

American Dog Tick - American dog ticks are brownish in color and have white or yellowish-gray markings. Males will grow to about 1/8 of an inch in length and females grow much larger- up to 1/2 inch in length after feeding.
To protect yourself, family, and pets from disease-spreading ticks we recommend implementing a comprehensive tick control service from Aiken Pest. To learn more how we can very effectively reduce the number of ticks found living on your Barnwell property, give us a call today!
How To Get Rid Of Wildlife In Barnwell, SC
Throughout the South, including Barnwell there are a lot of wild critters that live near our homes and businesses; and who if given the slightest of opportunities will take up residence in our residences. To combat wildlife that has decided to live very close to or even right inside of your home or business, Aiken offers the following humane and very effective solutions to solve any wildlife problem:
Free inspection

The identification of the species that has invaded your property and/or home

An evaluation of the severity of the problem

Finding all of their entry points

Implementing a customized plan of action to humanely remove the troublemaker(s)
Contact Aiken Pest today to learn detailed information about how we can get rid of your wildlife problem from your Barnwell property. Squirrels, raccoons, opossums, bats, pigeons, snakes, and more are no match for our experience, professionalism, and dedication here at Aiken Pest Control!
Commercial Pest Control Solutions In Barnwell, SC
Protecting your Barnwell commercial property from flying pests, crawling pests, damaging pests, annoying pests, and dangerous pests is important for many reasons, reasons that include:
The simple fact that pests scare away customers

To protect the health of your customers and employees

To protect the structural integrity of your facility

To prevent your business's excellent reputation within the community from being tarnished

To protect your company's brand, product, and it's bottom-line
At Aiken, we can provide the trustworthy, eco-friendly, highly effective commercial pest control services needed to eliminate any current problems that you are having with pests and to prevent future issues. Trust our over 50 years of experience, highly trained and educated professionals, along with our modern, up-to-date treatments and procedures to provide you with the services needed to keep pests out of your Barnwell commercial property. Our commercial pest control services include accurate pest identification, a customized pest management program, use of Integrated Pest Management (IPM) strategies, the compliance of industry regulations, and comprehensive documentation. Contact us learn more!