Tips For Keeping Stinging Insects Away From The Pool
August 13, 2019
If you plan to spend any time at all around the pool during the summer, you could be sharing your space with a barrage of bees, wasps, and yellow jackets if you are not prepared. Summertime means stinging insects in South Carolina will be out in full force. The pool is a common hot spot for these black and yellow bugs, and not because they're in the mood for a swim. The chlorine or salt water that's located in your pool emits a strong smell that serves to attract whole nests of insects. More, the pool serves as a perfect watering hole for many kinds of crawling critters and helps wasps cool their nests off during the hot summer months.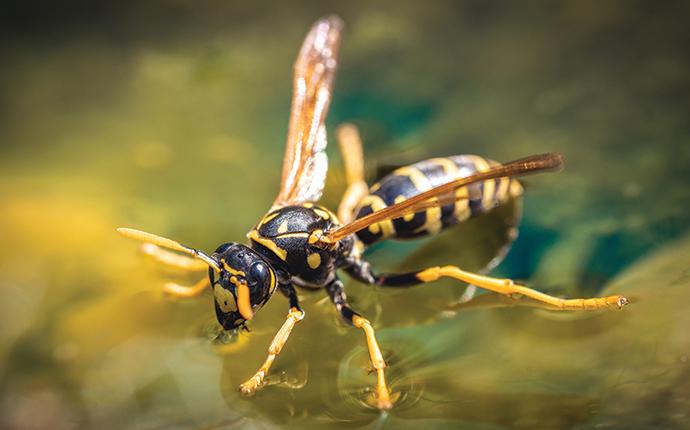 Protect Your Pool
When out and around the pool, there are several steps you can take to deter stinging insects from the premises and keep them off your skin and clothing.
Decoy wasp nests help to push invading colonies away by invoking the more territorial aspects of their behavior. Wasps don't like to nest close to one another and will spread out to avoid competition.

Most stinging insects can see white and yellow colors, but red is invisible to their compound eyes. Avoid wearing lighter colors or use some red colored clothing to help deter their presence.

Some types of pool chemical treatments are less apt to attract stinging insects than salt water or chlorine.

If you're worried about affecting the quality of your water, certain plants such as lemongrass and mint can help to keep bees out of your pool.

Stinging insect traps will eliminate forager insects before they alert their nests.
If you are stung by a wasp, bee, or yellow jacket, take care to remove the stinger and treat the wound accordingly.
Keep Stinging Insects In Line With Aiken
Despite your best efforts, stinging insects may still find ways to circumvent your preventative measures and add unnecessary stress to your summertime pool experience. If bees, wasps, yellow jackets, or other pests start to get the upper hand in your lawn, don't let them keep you running for cover. Contact Aiken Pest today for professional stinging insect control so you can enjoy your summer. Fill out the complementary form below and request a free inspection from one of our highly trained pest control operatives to begin creating solutions for your stinging insects and other dangerous or nuisance pests.
As an A+ accredited business, we know what it means to deliver quality. After a technician visits your home, we'll begin work right away removing, eliminating, and preventing future nests throughout the summer season. Here at Aiken Pest Control, we're passionate about protecting your property.
Previous
Next