Professional Pest Control For Columbia, SC Property Owners
Columbia is the capital of South Carolina and the state's second largest city. Columbia is committed to providing its residents and business owners with a safe place to live and grow. Columbia is committed to protecting the environment that we all share as well. In fact, Columbia is the first South Carolina city to commit to 100 percent clean energy. Columbia has the community goal of transitioning to 100% clean and renewable energy by 2036. The pest control professionals at Aiken Pest Control are also committed to the residents of Columbia! We are committed to providing affordable, convenient, and fully guaranteed pest control services that will work to keep the homes and businesses in Columbia, South Carolina, safe from dangerous and damaging South Carolina pests. Contact us today to learn more about any of our exceptional pest control services!
Home Pest Control In Columbia, SC
Just like the way you take pride in your home, we take pride in tailoring our home pest control solutions to meet the exact needs of your home and your budget. Our year-round home pest control program provides our Columbia customers with quarterly pest control service visits to help protect your home from pests and their damages throughout the entire year. During our visits, we provide comprehensive services that include inspecting and treating your home for pests, sweeping away spider webs, and removing insect nests found on the exterior of your house. All of our year-round home pest control solutions are guaranteed which means that if problems with pests pop-up between your regularly scheduled visits, we will come back to take care of it at no additional charge to you! In addition to our year-round home pest control service, we also offer the following services to help control pests in Columbia homes:
Learn How To Avoid Bed Bugs In Columbia, SC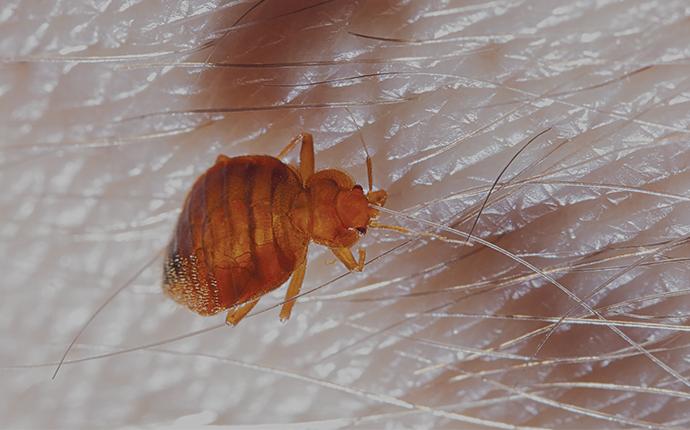 If people could pick one pest that they want to avoid at all costs, it would most likely be the bed bug! And why wouldn't it be? Who would want their home or business invaded by tiny pests that feed on our blood as we sleep? In addition to scheduling routine bed bug inspections, there are some ways to help avoid a bed bug infestation. One of the best things you can do to avoid becoming victim to bed bugs is to know what the common signs of their presence are. Knowing the signs of a bed bug infestation can help you to avoid common places that are routinely infested or to receive professional help for an infestation as quickly as possible. Signs of a bed bug infestation include:
Finding black excrement spots or red dots of blood on sheets, mattresses, and box springs.

Seeing adults crawling in the cracks of mattresses and box springs.

Finding adults hiding in the cracks of walls, behind headboards, baseboards, wall outlets, and in the cracks of wooden furniture.

Finding piles of their shed exoskeletons underneath mattresses, on box springs, or on the floor.

Family members waking up with unexplained bug bites. Bed bug bites are usually found in linear groups of 3 or 4 on the neck, arms, legs, or any other area of skin that are commonly exposed while sleeping.

A sweet, musty odor can sometimes be detected in the case of very large infestation.
To learn more about bed bugs and how to avoid an infestation, contact the trusted bed bug experts at Aiken Pest Control. Our bed bug services work to quickly and completely eliminate any sized bed bug infestation and include:
Bed bug dog inspections

Conventional bed bug treatment using an EPA registered product

Bed bug heat treatments

Bed bug mattress and box spring encasements
Commercial Pest Control Solutions In Columbia, SC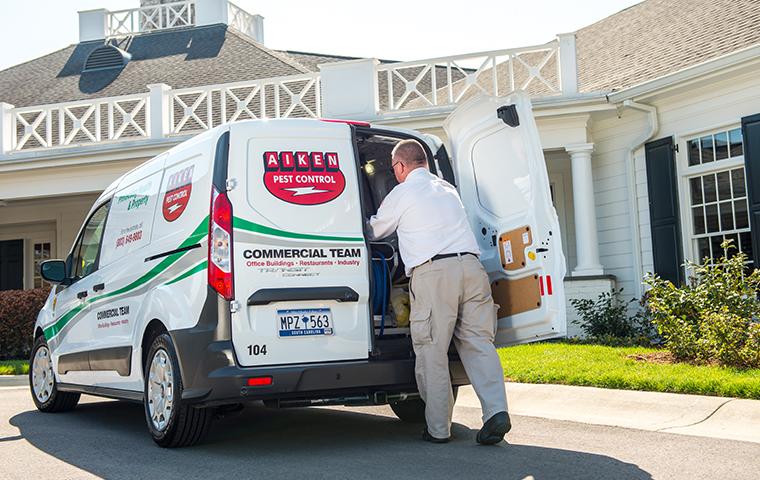 Chapin is home to important businesses. As construction continues on the business and technology park, Chapin has become home to more commercial businesses. Commercial buildings are not immune to the same pests that haunt residential areas. Termites can wreak havoc on a commercial building, birds can frighten away customers, hornets can put your employees at risk. There are many reasons to keep pests away from your commercial buildings, as they can cost unnecessary time and money. If you find your office flooded with ants, or your warehouse crawling with mice, it's time to call Aiken Pest. At Aiken, we have the tools and equipment to help residential and commercial buildings confront and eliminate pest problems. Don't let bugs keep you away from Chapin, let Aiken take care of pests with our commercial pest control solutions so you can take care of your business.
Why Choose Aiken Pest Control In Columbia, SC
Aiken Pest Control is a trusted pest control company that has been protecting homes and businesses in the Central Savannah River Area (CSRA) from pests for over 50 years. We have many long term customers who have trusted our pest control services to provide the protection for their properties that they need for decades, some for over 40 years! We are an independently owned and operated pest control company, we are QualityPro rated, and we received the 2016 Small Business of the Year Award from the Aiken Chamber of Commerce! Aiken Pest Control is a full-service termite and pest control company that is committed to providing each of our Columbia, South Carolina, customers with the best services possible to protect their families, their customers, their employees, and their properties from the wide variety of pests found living in CSRA!