Professional Pest Control For Denmark, SC Property Owners
Denmark is a small South Carolina city, which offers its residents a laid-back, family-friendly environment with plenty of southern charm. To help maintain a high quality of life for all Denmark residents, the pest control experts at Aiken Pest Control offer a variety of residential and commercial pest control programs to help you maintain a pest-free property. We have been providing South Carolina residents with quality pest control services for over 50 years. Aiken Pest Control is a QualityPro-approved company. This means that we always go above and beyond industry standards. To learn more about protecting your Denmark home or business from common South Carolina pest invaders, get in touch with Aiken Pest Control today.
Home Pest Control In Denmark, SC
To protect your Denmark home and family from pests, the professionals at Aiken Pest Control offer year-round residential pest control services, which work to quickly eliminate any current pest problem and put in place routine follow-up services to prevent a re-infestation throughout the rest of year. Our quality, affordable home pest control programs include the following:
A no-obligation, free home inspection

The identification of existing pest problems

Noting conditions, which may be attracting pests to your home

Figuring out where pests are entering into your home

The development of a pest control program specific to your home

Quarterly service visits - which includes an inspection, provide treatment, sweep away spider webs, and provides the removal of exterior insect nests

If pests return in-between our service visits, so will our professionals
Give us a call to learn more about implementing our effective and affordable year-round home pest prevention program in your Denmark home.
Are There Dangerous Spiders In My Denmark, SC Home?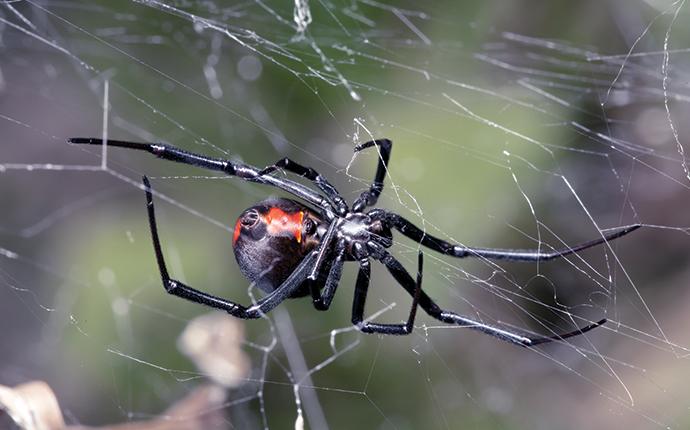 Yes, unfortunately, there are dangerous spiders living in and around Denmark. Both the black widow spider and brown recluse spider are venomous spiders found in our area, and their venom is strong enough to cause serious problems for people and pets. However, the good news (when it comes to these dangerous spiders) is that they are not aggressive and don't seek out human contact. The bad news is, it is not uncommon to accidentally make contact with spiders hiding in quiet dark places, places such as cardboard boxes, gardens, inside clothing, in shoes, and under furniture. If dangerous spiders become a problem on your Denmark property, it is never a good idea to try to take care of the problem on your own. Contact Aiken Pest Control and let our trained professionals handle the problem for you. At Aiken, we provide the services needed to quickly find and eliminate spiders in the safest manner possible and put into place a year-round program to prevent their return. To learn more about how our home pest control services can solve your home's dangerous or nuisance spider problems, contact us today!
Protect Your Denmark, SC Property From Termites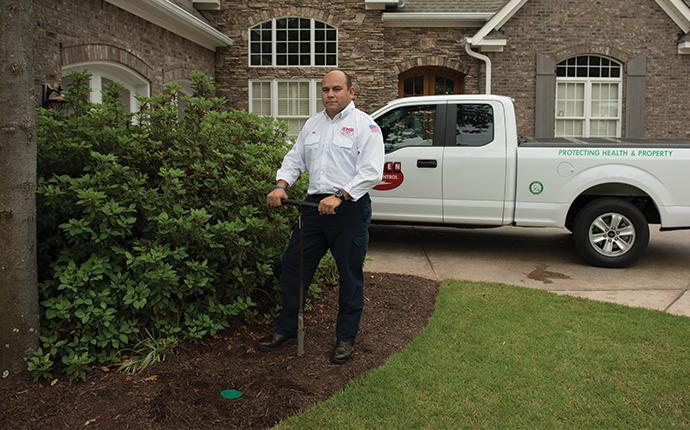 The reason you need to protect your Denmark property from termites is this: In South Carolina, it is never a question of "if" termites will invade your property, but rather a question of "when" they will invade. Don't leave whether or not your home is damaged by wood-eating termites up to chance. Partner with Aiken Pest Control and protect what is most likely your biggest investment. A termite infestation, if left untreated, will eventually cause enough damage to the structural wood in a home to make it an unsafe environment in which to live. In addition, the damage caused is not cheap to repair and typically is not covered by homeowners insurance. To protect your property from termites, Aiken offers customers two termite control options.
The first option is the Sentricon® System with Always Active™. Aiken Pest Control is an Authorized Operator of Sentricon® with Always Active™. As soon as this eco-friendly system is installed on your Denmark property, it begins working immediately to eliminate the entire termite colony. It then remains on your property to protect it from future termite infestations.
Our second option is Navigator®, which is a very effective liquid termiticide available on the market today. Navigator® offers a unique mode of action, unmatched control, a long residual, and the ability to manage termite colonies and eliminate them completely.
To learn more about protecting your Denmark property from termites, get in touch with Aiken Pest Control today, we would be happy to go over our termite control options with you.
Commercial Pest Control Solutions In Denmark, SC
Protect your Denmark business from common area pests with the assistance of the highly trained, experienced, and professional experts at Aiken Pest Control. Our commercial pest control professionals are continually being educated on the newest industry technologies and are able to provide the most effective services possible to maintain a pest-free environment in your business. By choosing Aiken to take of your Denmark business's commercial pest control needs, we provide the following services to eliminate your specific pest problems from your specific commercial facility.
An accurate pest identification

A customized pest-management program

The implementation of Integrated Pest Management strategies

Comprehensive documentation

The knowledge that we comply with industry regulations
Give us a call to learn more today.