The dreaded fire ant. There are few who have not felt the fiery stings of these irritating pests. Often, they attack without warning and appear in large numbers all at once. In Aiken, the species of fire ant we deal with most is the red imported fire ant. Red imported fire ants are found in 46 South Carolina counties. While mostly considered lawn pests, they are known to enter buildings and can do so in large numbers. Whether outside or inside, fire ant bites present a unique threat as these ants are a danger to individuals who are insect-allergic. If you own a business, it is wise to learn as much as possible about fire ants so that you can prevent them from harming your employees and your customers. Join us today as we look at where fire ants in Aiken establish their nests and what to do when you spot fire ants on or inside your property.

Before we get started, we would like to remind you that immediate assistance is available if you have an urgent need for fire ant pest control in Aiken. Navigate to our contact page and connect with us. We'll send a licensed technician to quickly address your problem.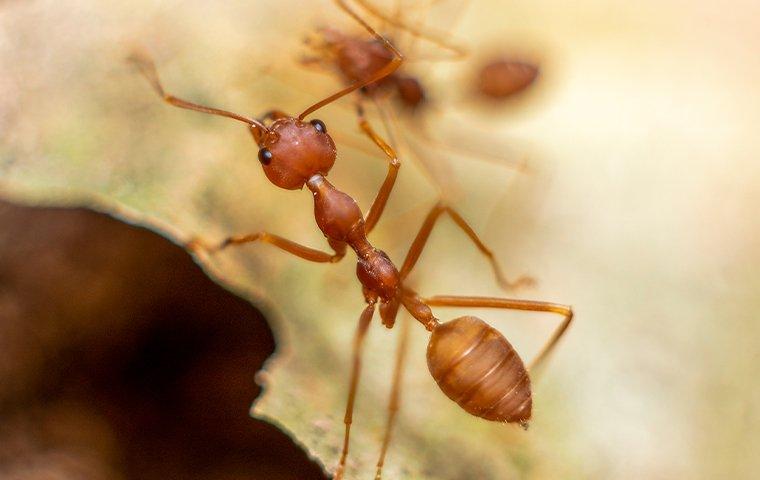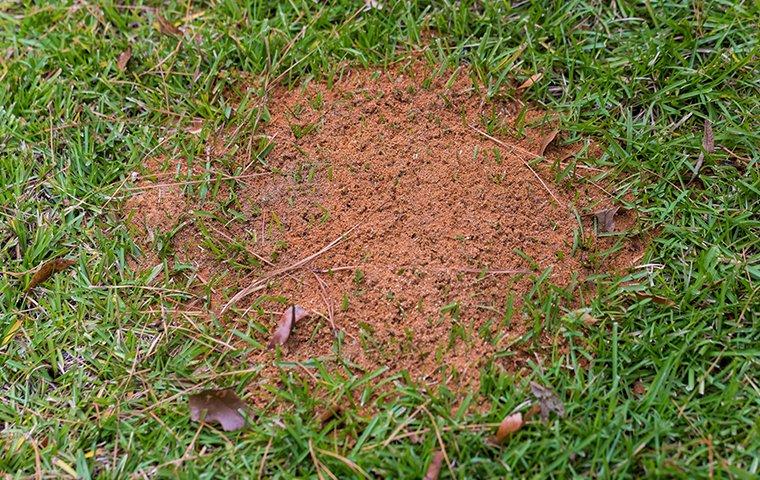 When Are Fire Ants The Most Active?
The first step in preventing fire ants from taking over is to evaluate when and where they are likely to be active. Temperature plays a big role. We get a short reprieve from fire ants through the winter but, when temperatures rise, they appear again. Spring is a good time to start thinking about fire ants in Aiken.
When fire ants are active: What temperature is perfect for fire ants? Studies have shown that they prefer to forage when the temperature of the ground at a depth of one inch is between 70 and 95 degrees. While they can forage outside of this range, this is the sweet spot and the best time to set bait for these ants. You won't have success baiting fire ants when ground temperatures are below or above this range. As a side note, this is only one of the challenges of broadcasting fire ant bait and getting desirable results. There are many ways baits can be rendered inert, unsuccessful, or even counterproductive. Licensed professionals use strict guidelines to get the best results.
Where fire ants are active: Ground temperature plays a role in where fire ants are likely to nest. They won't choose a location that is densely shaded and they won't stay in a temperature-control structure for long. You'll find them in open areas, such as your lawn, dirt next to driveways, and hills.
You can protect yourself, your employees, and your customers from fire ants by performing routine inspections or by having someone else perform these inspections. Locate fire ant mounds on the grounds around your business and look for evidence of fire ant activity indoors.
Fire Ant Mounds: What To Do If You Spot Them
If you find a fire ant mound in your yard, what should you do? Our recommendation is to have a licensed pest management professional handle this problem due to the health risk associated with these ants. No business needs the fallout of a lawsuit, and fire ants have the ability to significantly impact employee morale and productivity. There are also many risks associated with attempting to control fire ant problems without proper training or by using methods that have not been scientifically proven to have any success on these ants.
Are you in Aiken, South Carolina? If so, contact Aiken Pest Control for guidance on what to do about your fire ant control issue. Our on-staff experts can help you decide on the best course of action for your specific situation and help you get your control solution within your budget. If you have budgetary constraints, we get it. But, it is far better to get a small percentage of an ant control plan that works than to waste time, money, and energy doing something that isn't going to work—or that costs you much more money in the long run.
Why DIY Remedies Aren't Worth The Risk In Commercial Spaces
There are a surprising number of ways business owners go after fire ants. The worst fire ant control is using DIY remedies. We're not talking about practical DIY methods, such as increasing sanitation, sealing potential entry points, storing foods in sealed plastic containers, or addressing moisture problems around the exterior of your business. The DIY remedies we're referring to are the use of boiling water, club soda, orange peels, diatomaceous earth, coffee grounds, grits, dish soap, and other products found in kitchens and storage rooms. These methods aren't just ineffective, they can have a negative impact and make your problem worse.
Many DIY methods attack the symptom, not the problem. You can exterminate ants all day every day and never get rid of a fire ant problem. Your control method needs to strike at the source of the problem—the queens hidden in the heart of the fire ant nest, which can be more than ten feet under the ground.
When a fire ant colony is threatened, budding can occur. Budding is a process by which one colony splits into two or more colonies. This often happens when ant control is applied improperly. Many DIY remedies trigger budding and make the problem worse.
When misguided methods are used, such as mound mixing, harm can come to your employees with little or no impact on your ant problem. The idea behind mound mixing is that worker ants from one nest will exterminate the queens of another nest. Unfortunately, this idea only has marginal efficacy. Can worker ants kill queens from other nests? Yes. But, fire ant colonies have many queens and worker ants move from mound to mound routinely.
When fire ant treatments fail, fire ants are allowed to keep presenting a threat to your employees and customers. You can have an improperly treated problem for months and not realize the impact it is having on your bottom line.
When dangerous methods are used, such as boiling water or worse, your maintenance staff can harm themselves and this can lead to workman's compensation claims. Does boiling water work? It can. Studies have shown that pouring approximately three gallons of boiling water onto a fire ant mound has a 60 percent chance of arresting fire ant activity. When dish soap is added to the hot water, it increases the efficacy to 70 percent. While this is a somewhat eco-friendly option, it isn't really worth the risk.
There are many pitfalls to using DIY Remedies, but even when appropriate measures are used, they can still fall short. Fire ant species need to be properly identified, products need to be appropriately selected and applied, and inspections must be performed to evaluate the effectiveness of the treatment programs. It pays to have a trained and experienced commercial service professional handle the complicated issue of fire ant control. Not only will you get the results you want, but you'll also avoid putting the burden of fire ant control on the shoulders of employees who are not trained to handle this kind of work.
Getting Rid Of Fire Ants In And Around Your Aiken Commercial Space
At Aiken Pest Control, we use a scientific approach to fire ant control. When we address your fire ant problem, you don't have to wonder if the ants are gone, and you don't have to worry about the ongoing ramifications of fire ant infestation. Our technicians are trained in Integrated Pest Management, which is the gold standard for pest control.
We perform an inspection to locate mounds, track ant activity and routes, evaluate conducive conditions, and select appropriate control methods.
We use eco-friendly solutions, such as sealing potential entry points the ants are using to get inside and altering conditions that promote activity.
We select appropriate baits and apply them according to strict guidelines and ensure the greatest chance of success.
We treat mounds with trusted products when necessary to arrest activity.
We follow up to make sure your treatments got the job done. Our technicians are trained to look for warning signs and track fire ant activity.
Your Aiken Pest Control commercial specialist is licensed, highly trained, and experienced at addressing commercial pest control threats. When you need a fire ant treatment in Aiken, or ongoing pest protection to prevent fire ant problems, our team is the right choice. Navigate to our contact page and reach out to us. We'll schedule a pest control evaluation for your business and guide you toward a solution that will work best for your needs. We know your industry and we understand your pest problems. Best of all, we offer guaranteed service. There is no guesswork and you never have to wonder whether or not your business is protected. We have a track record of success and the online reviews and high rating on Google to prove it. Connect with us today.