Professional Pest Control For Edgefield, SC Property Owners
Edgefield, SC considers itself to be the "Gateway to Southern History". Edgefield is home to caring, diverse people, great neighborhoods, a quaint downtown district, and many historical sites. To help prevent your Edgefield home from becoming a "gateway to pests", partner with Aiken Pest Control and put into place the professional pest control services needed to keep pests out of your home and away from your family throughout the entire year. Our independently owned and operated company is completely committed to its customers and to providing exceptional pest control services that always exceed expectations. Our fully guaranteed services are completed by our highly knowledgeable, friendly, and dedicated professionals. Trust Aiken, a QualityPro approved company that has been in the business of pests for over 50 years to take care of your Edgefield residential and commercial pest control needs.
Home Pest Control In Edgefield, SC
At Aiken Pest Control, we take great pride in being able to tailor our home pest control program to meet each of our customer's exact needs. To begin our professionals provide a free, no obligation home inspection. During the inspection, our professionals look for potential pest entry points as well as any conditions that are attracting them to your home and property. We then will develop a comprehensive pest control program that is specific to your home that provides quarterly pest control service visits. For added peace of mind that your Edgefield home will become and stay pest free we offer a satisfaction guarantee, if pests return between our visits so will we at no additional cost to you. In addition to our year-round home pest control services, we also offer the following to help control pests in Aiken homes: mosquito control, fire ant control, bed bug control, nuisance wildlife control, and moisture control.
Give us a call to learn about any of our home pest control services!
Are Clover Mites In Edgefield, SC Dangerous?
Clover mites are usually found living outside feeding on clover and other grasses, however, in the spring and fall they tend to migrate inside homes and other buildings to find dry warm shelter to overwinter inside or to lay their eggs in. The good news is that clover mites are not dangerous to people, they don't bite or sting and aren't known to transmit any diseases. The bad news is that these tiny pests can find their ways into your Edgefield home by the thousands and will not only become a huge nuisance to deal with, but tend to leave behind red stains on paint, furniture, curtains, and flooring when they are inevitably squished. The best way to prevent these tiny invasive pests from being able to make their way inside your home is to put into place a year-round pest control solution from Aiken.
Contact us today to schedule a free inspection for your Edgefield, SC property to prevent clover mites and other household pests from being able to invade.
Tips To Avoid Termite Damage In Edgefield, SC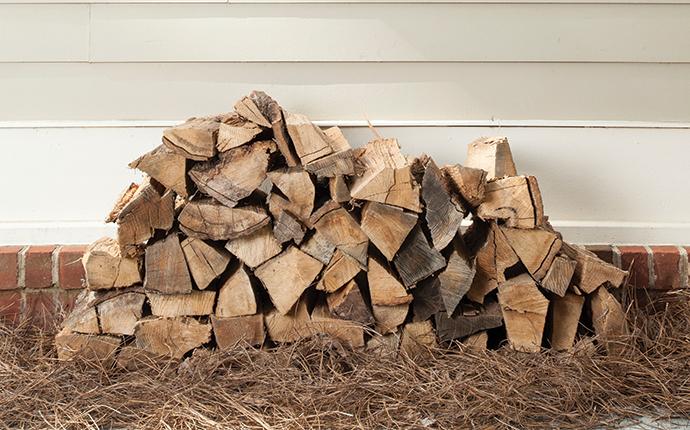 To combat highly destructive termites and remove them from your Edgefield property Aiken Pest Control offers two different highly effective termite control options. To begin eliminating termites from your property, Aiken's experienced termite control professionals provide a thorough inspection of your property looking for signs of termites, their damages, and any conditions around your property that may be attracting them. Based on our inspection, we'll recommend the termite solution that would suit your needs and, most importantly, eliminate your property's termite infestation. At Aiken, we offer two solutions to termites: The Sentricon® System with Always Active™ and Navigator®. In addition to implementing one of these highly effective termite solutions, doing the following in and around your home can help to deter termites and prevent termite damages. Termite prevention tips include:
Reduce or remove wood sources that are found around your home, things like excessive mulch woodpiles, fallen trees, and limbs.

Limit excess water sources around your home by making sure that gutters are clean and working properly, fixing leaky pipes and fixtures, using dehumidifiers in basement areas, and making sure that crawl spaces are properly ventilated.

Seal up all entry points, including all cracks and crevices that are found in the exterior walls and foundation that may allow termites to gain access into your home.

Remove any wood from inside your home that has been damaged by water.
To learn more about our termite control solutions and which is the best choice for your Edgefield, South Carolina property, call Aiken Pest Control today to speak with one of our highly trained and experienced termite control experts.
Commercial Pest Control Solutions In Edgefield, SC
Trust your Edgefield business's pest control needs to the South Carolina commercial pest control experts at Aiken Pest. Our commercial pest control professionals are highly trained and are continuously being educated on the newest technologies and are able to provide you with the most effective services possible to maintain a pest-free environment inside your business. Through vast experience we are able to successfully protect a wide variety of businesses and industries from pests including: grocery stores, retail spaces, restaurants, industrial facilities, hotels, and health facilities. By choosing us to take care of your Edgefield facilities commercial pest control needs, we will provide you with an accurate pest identification, a customized pest management program, the implementation of Integrated Pest Management strategies, comprehensive documentation, and the peace of mind that comes from knowing that we comply with industry regulations. To learn more about our highly effective pest control services that will be tailored to meet your company's specific needs, give us a call today.