If there's one pest you don't want to have to share your Aiken property with, it's wasps. These aggressive stinging insects think they can lay claim to land anywhere, and they won't hesitate to sting anyone who gets too close. So, what can you do to get rid of them?
Here's what local homeowners in Aiken should know about identifying wasps in their yard, how dangerous these stinging insects may be, how to naturally deter them, and how Aiken Pest Control can help keep your yard safe.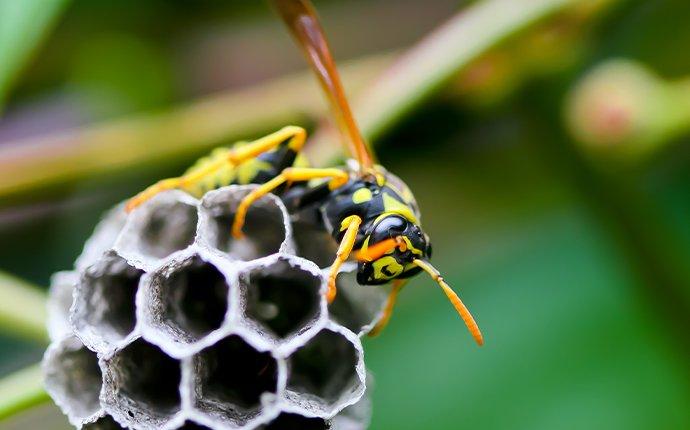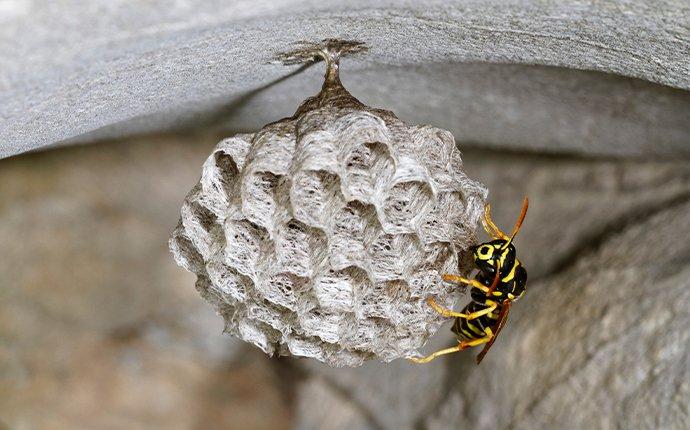 What Do Wasps In Aiken Look Like?
Many people tend to think of wasps as one collective group, but there are actually several different kinds. For Aiken residents, you're most likely to deal with four main types of wasps, including:
Paper wasps: Paper wasps typically have dark coloring with yellow spots, but they're most known for the paper-like nests they build around porches, decks, under eaves, and in other wall cavities.

Yellow jackets: Yellow jackets have bright yellow marks on their black bodies and are considered to be one of the more aggressive species of wasps. These insects tend to attack in swarms and won't hesitate to defend their nest from anybody they view as a threat.

Cicada killers: Since it's a solitary wasp, cicada killers aren't considered as much of a danger as some wasps, but they can still sting. These wasps build their own nests with their offspring and prefer to burrow or dig into the soil when they create their nest. You can identify these large wasps by their dark brown to black bodies and bright yellow markings.

Bald-faced hornets: Bald-faced hornets have black and white coloring, large bodies, and can be almost as aggressive as yellowjackets when it comes to defending their nests.
How Dangerous Are Wasps In Aiken?
Nobody likes encountering wasps, but these stinging insects are more than just a nuisance or an inconvenience. Wasps can be dangerous, and here's how:
They may trigger severe allergic reactions in some people: If you're allergic to bee or wasp stings, spending time around these pests can be extremely dangerous or even deadly. While some bees may only attack you if they have to, wasps are especially dangerous for people with allergies because they're more aggressive.

They may attack in swarms: Since many wasps live in colonies, they can also attack in swarms. This means that not only can each wasp sting you as many times as it wants to, but you could be dealing with multiple wasps at once. Even if you don't have an allergy, getting attacked by a swarm of wasps can be extremely painful and warrant immediate medical attention.
Natural Wasp Prevention Tips For Aiken Properties
While it's normal to spot the occasional wasp on your Aiken property, there are tips you can use to deter them from spending too much time in your yard or building nests, such as:
Don't leave any food scraps out in your yard, including rotting or ripe fruit, as many wasps have a big sweet tooth.

Make sure you keep your outdoor garbage can completely closed so that the rotting food doesn't attract wasps.

Use a sealant like caulk to cover up any open cracks or crevices around your home.

During the warmer months, make sure you don't leave doors or windows to your home open for wasps to fly inside.

Replace any torn or ripped window and door screens around your home to prevent wasps from coming inside.
The Safest Form Of Wasp Control In Aiken
The natural wasp deterrent tips above are a good place to start, but what should you do if you discover a wasp nest on your Aiken property? Unfortunately, there's only one safe form of wasp control in Aiken, and that's working with Aiken Pest Control.
Even if you think the nest may be abandoned or no longer active, you should never put yourself at risk. For complete and total wasp control, don't try to solve the problem on your own. Call us today at Aiken Pest Control to learn more about how our wasp control in Aiken, SC can help you.