Cockroaches. Yuck. It is no fun catching one of these creepy critters in your home. Roaches have poor hygiene. It isn't good to have them lurking around in your home, particularly your kitchen and pantry. They're also surprisingly hard to get rid of as they are resistant to conventional treatments. So, when you find a roach indoors, what can you do about it? Join us today as we look at how to identify the different types of cockroaches in Aiken, what you can do to drive them out of your home, and how to keep cockroaches out once they're gone. If you need help, remember that Aiken Pest Control is available to assist you with cockroach control in Aiken. Our experienced technicians use advanced products and methods to get results. Jump to our contact page to ask questions or schedule a service visit.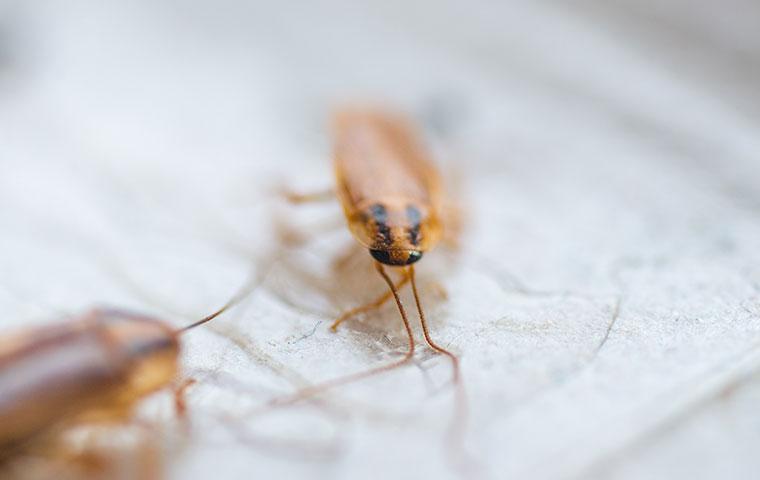 Types Of Cockroaches: Identifying Common Species
We have several species of cockroach in Aiken. We're not going to dig into each of them in detail today. Let's look at a few common traits they have and how you can use these traits to drive roaches from your home without the use of pest control materials.
Water Bugs: Cockroaches are often called water bugs because they have a strong connection to damp conditions and high humidity. You can use this knowledge to manage them, both indoors and outdoors. Inside your home, repair plumbing and regulate humidity to make your home less desirable for roach habitation. The two roach pests with the highest moisture requirements are oriental cockroaches and American cockroaches. Oriental cockroaches are entirely black. American roaches are large insects with a chestnut coloration and yellow marking with two brown dots on their back.
Scavengers: Cockroaches are omnivores in the strictest sense. They eat practically anything. In fact, they eat things you would most certainly not consider food, such as cardboard, clothing, and fecal matter. One way to manage roaches and drive them out is to clean food debris, protect items made of paper and clothing, and store pantry foods in sealed containers. Almost all pest roaches are scavengers, with one notable exception. Wood cockroaches don't have a preference for human food and don't prefer to live indoors. You can tell these roaches from the others by the fact that they are active during the day.
Unhygienic Insects: Cockroaches get into dirty habitats as they search for food. When they climb into trash cans, dumpsters, and sewers, they pick up organisms associated with food poisoning and other diseases. The dirtiest pest roach is the oriental cockroach. When you thoroughly clean your home, including your bathroom, it will help drive roaches back outdoors.
Domestic Pests: Cockroaches frequently live in man-made structures and in close relation to humans. The worst two are German and brown-banded cockroaches. German cockroaches are tan and have two black lines on their backs. Brown-banded cockroaches have a tear-drop shape and bands of dark brown, pale, light orange, and reddish brown coloration. If you find either of these two pest roaches in your home, it is time to contact a licensed professional. It isn't easy to get rid of cockroaches in general, but these two are uniquely troublesome.
You can drive roaches out if you diligently work to remove the conditions that allow them to live with you. As you apply the all-natural tips here, keep in mind that your efforts will also reduce the risk of health issues. Let's quickly look at why this is the case.
Health Risks: Roaches Spread Disease And Trigger Allergies
If you find a cockroach in your house, it is best to take fast action to get rid of them because roaches can make you sick. When you roll your sleeves up and attempt to drive roaches out, you curtail their ability to cause illness.
Store your food in sealed containers. Cockroaches are able to chew through cardboard and paper packaging to access your food. When you put these items in sealed containers, you keep cockroaches out of your food and prevent them from contaminating these items.
Clean your interior trash receptacle, keep your trash covered, and routinely remove your trash before the items inside can decay. This prevents newly hatched roaches from picking up harmful organisms in your kitchen. Those newly hatched roaches have only ever been inside your home, so making your home a clean environment will help you keep them clean, relatively speaking.
Deep clean your kitchen and bathroom. These areas are where roaches commonly pick up germs. For example, cockroaches climb into the tight space on the side of your oven where grease, grime, and juices drip down. These organic materials decay and become a home for microorganisms.
Vacuum your home routinely. When you do this, you may remove food particles. Moreover, you may reduce cockroach allergens that can aggravate asthma symptoms.
Cockroaches can live in the cleanest of homes, but they don't prefer it. We recommend taking the time to clean spills, pick up food debris, remove grease, sanitize your bathroom, manage your trash, make sure waste is covered in any cat boxes, etc. All of these help to make your home less of a habitat for roaches and will deter them from picking up and spreading microorganisms.
Effective Ways To Keep Roaches Out: Essential Prevention Measures
If you manage to drive roaches out of your home, how do you keep them out? What repels cockroaches? There is no hard scientific evidence to indicate any natural scent that is effective at keeping roaches out of structures. Our recommendation, as we mentioned, is to use the same methods outdoors that you used indoors. Moisture control, food source control, sanitation, and habitat management all work to reduce cockroach activity near your home.
Clean your gutters or hire a company to do this for you.
Pluck up weeds in the landscaping near your foundation and trim your plants to reduce humidity.
Remove leaves in your landscaping and underneath your deck and stairs.
Remove organic debris from the ground near your home.
Move wood piles and dead branches away from your exterior walls.
If you have pets that eat outdoors, consider feeding them indoors instead.
Wash your exterior trash receptacles with soapy water and remove any smells that attract cockroaches. Once you've done this, make sure to get your trash to the curb weekly to prevent your receptacles from getting stinky again.
Once you've removed the attractants, consider potential entry points. You'll need a few cans of expanding foam and a caulking gun with some high-quality silicone caulk. Pay close attention to any objects that penetrate your foundation or exterior, such as pipes and wire conduits. Look for gaps, holes, and recesses. Check around your exterior door and window frames. Repair screens, weatherstripping, and door sweeps. All these steps will help block cockroaches from gaining access to your home.
If more control is needed, contact a licensed professional to learn how perimeter treatments keep insects out. Most residential pest control plans come with these treatments. Aiken Pest Control can help you put a pest control plan in place. We offer customized plans to cover over 30 common pests, including cockroaches. We'll help you get control of the pests that concern you most. The best part is that we lower your cost when we combine pests, so you can get more coverage for less. Check out our residential pest control page to learn more.
Professional Roach Extermination: Call The Experts Right Away
Cockroaches are dirty pests that can make you ill. Some roaches are extremely hard to eliminate as they are born with a resistance to control materials. While you have options to address cockroaches on your own, it's hard work. And buying a bunch of cockroach control products isn't likely to make the job any easier. Cockroach control requires a multi-pronged approach. It takes training and experience to get complete control of an infestation. What often happens is people struggle with roaches for months and finally give in and contact a licensed professional. Why not get rid of the middleman? Why not save your money and energy and just contact the experts right away?
If you're in Aiken, contact Aiken Pest Control for a pest evaluation. We'll take a look at your cockroach issue and help you zero in on a solution that will work best for you. We offer professional cockroach control in Aiken, and our technicians know what methods and products work best. It is easy to learn about our services. Navigate to our contact us page and tell us about your roach control issue. It is a stress-free way to get the information you need to solve your problem. We look forward to hearing from you. We also look forward to showing you why more and more Aiken residents are turning to Aiken Pest Control for long-lasting, sustainable, and smart pest control solutions.