Have you experienced having a wood splinter in your finger? When there is a sliver in your finger, you feel it whenever you touch an object or pick something up. If it is a wood splinter, you can usually get it out with a pair of tweezers, but what if it is a fiberglass splinter? Fiberglass splinters are invisible; although you can feel them, you can't see them. It is amazing how small things can cause problems!
Bed bugs are tiny annoying insects. The crawly creatures are difficult to see because of their size and because they move about while you are sleeping. You may not realize you have bed bugs until small bites appear on your body; even then, you may not understand what is causing them to emerge.
If you suspect bed bugs are sharing your house and are moving around on your body at night while you sleep, you need the best pest control in Aiken, Aiken Pest Control. For over 50 years, our independently owned and operated pest control company has removed bed bugs from local homes. Because of our dedication to quality service, we are proud recipients of awards, but the highest honor we enjoy is that many of our customers have been with us for over four decades. We understand how problematic and annoying bed bugs can be for homeowners, so in this article, we answer several questions to help you win the battle against bed bugs.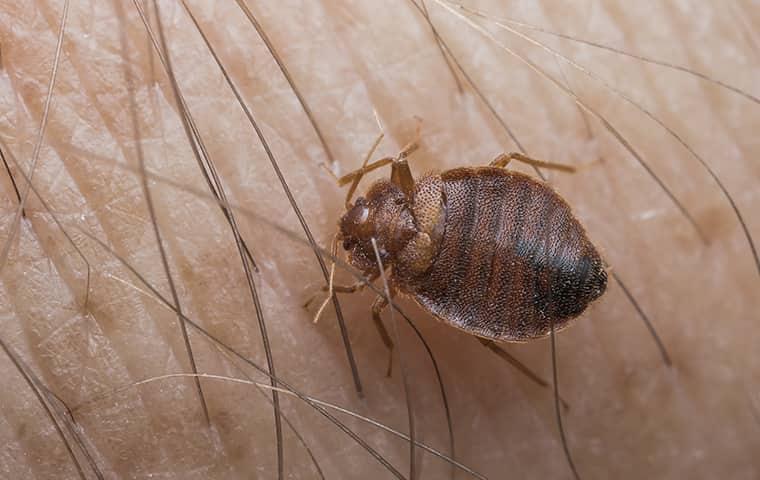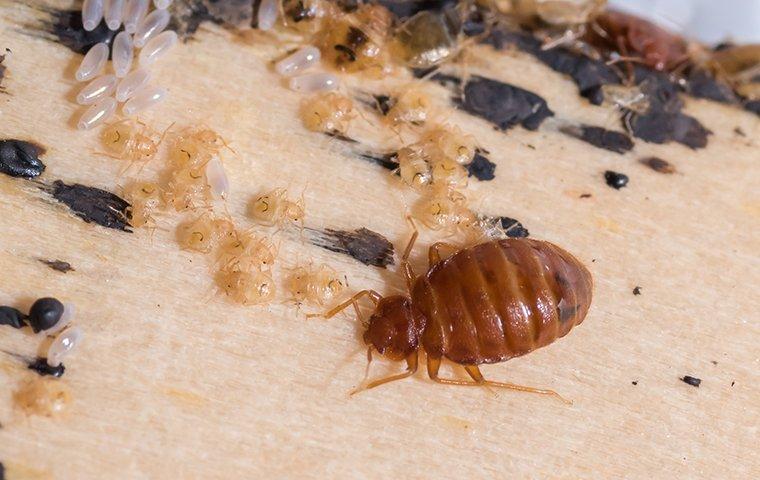 How Do I Check For Bed Bugs?
Bed bugs are elusive, nocturnal creatures that are active while you sleep at night. How do you know if you have bed bugs? How can you determine if the red bumps on your body are from bed bugs and not caused by spiders, mosquitoes, or fleas? To answer those questions, we need to know the signs of a bed bug infestation and where to investigate.
Since you don't have time to scour the entire house hunting for bed bugs, we will narrow our search to places bed bugs tend to use as hiding places. Search for indications of bed bugs in mattress seams, box springs, behind the headboard, picture frames, and wallpaper, inside electrical outlets, upholstered furniture, and in cracks between the baseboards and the wall. Adult bed bugs are visible to the naked eye. The colorless immature bed bugs (nymphs) are challenging to detect, so we recommend you use a magnifying glass as you investigate these areas.
What are the signs of a bed bug infestation? If you see the following, you need a bed bug treatment in your Aiken house:
Bed bugs: Adult unfed bed bugs have a 1/4 inch, flat, oval mahogany body. Bed bugs that have recently eaten have a reddish-brown elongated body. You can see adult bed bugs unaided, but the nymphs are colorless; you will need a magnifying glass to spot them.
Bites: Bed bugs feed on their host by piercing the skin, injecting an anesthetic that numbs the area and increases blood flow, which is why you don't feel them enjoying a blood meal at your expense. After about five to ten minutes, the bug detaches and retreats to its hiding place for several days. Eventually, an itchy, red bump appears at the wound site causing the host discomfort.
Eggs: Bed bugs hatch from cream-colored eggs deposited in their hiding places. A magnifying glass is required to see the eggs.
Eggshells: Like human children, bed bug nymphs do not clean up after themselves, and they leave their eggshells behind as they start their life hiding in the shadows. Discarded eggshells are the same color as the eggs and require magnification to detect.
Stains: Bed bugs produce reddish-brown fecal matter that stains walls, mattresses, and bed linens. Bed bugs that get squashed while feeding will leave a mark too.
Shells: Bed bugs are six-legged insects, and a characteristic of all insects is that their skeleton is outside their body (exoskeleton). Each time a bed bug nymph goes through a growth stage (instar), it must shed and discard its exterior skeleton.
If you see these signs of bed bugs, you know you need to secure local pest control for bed bugs like Aiken Pest Control. We have a proven, effective method to eliminate bed bugs from your Aiken home.
Is It Dangerous To Have Bed Bugs In My House?
Bed bugs may look like bloated cockroaches, but they do not spread bacteria, viruses, or parasitic worms like cockroaches. Although bed bugs draw blood from their hosts to satisfy their nutritional needs, they will not infect you with a virus or a tapeworm, like mosquitoes, fleas, and ticks.
The primary problem with bed bugs in your house is that they rob you of a good night's sleep and comfort due to their bites. The red, itchy welts that result from a bed bug's foraging on your body can become infected due to scratching.
Another cause for concern is the high rate of reproduction. One female bed bug produces one to five eggs daily and over 500 eggs during her short lifespan. With such a high reproduction rate, the bed bug population can double every few weeks; the greater the number of bed bugs, the more bites you and your family will experience.
Aiken Pest Control provides bed bug control services in Aiken because we understand how these insects complicate your life. Over the decades, we have seen the frustration these pests cause homeowners; our mission is to relieve stress in your life caused by bed bugs.
The Many Ways Bed Bugs Can Find Their Way Into Your Home
Many people are surprised when they discover bed bugs in their homes, particularly when they believe they maintain a clean environment. Open garbage cans, crumbs, and general uncleanness attract some pests, but there is no connection between lifestyle habits and bed bugs.
Bed bugs are in houses because they hitched a ride with someone or something. Public venues are transportation hubs for these tiny insects. You risk attracting bed bugs when you ride in buses, cabs, and other public transportation. Bed bugs can move from person to person in theatres, hotels, motels, and restaurants.
When you return from public venues, check the following for bed bugs before entering your home:
Shoes
Clothing
Shopping bags
Luggage
Another way bed bugs infest houses is through used furniture, electronics, and appliances. Before you purchase a used item, ask the seller if bed bugs have been present at the seller's location. If they have, do not purchase the item. If the seller claims to be free from bed bugs, inspect the furniture with a magnifying glass to search for eggs, eggshells, discarded exoskeletons, bed bugs, and nymphs. Pay attention to seams, cracks, and where fabric connects to the wood or metal. Perform your inspection of the item before bringing it into your Aiken home.
If bed bugs have managed to get into your house, you need the best pest control for bed bugs near you from Aiken Pest Control. Our bed bug removal method is the safest, most effective way to get rid of bed bugs in your Aiken home.
The Most Effective Way To Get Rid Of Bed Bugs
In the middle of the twentieth century, people thought DDT and other chemicals had defeated bed bugs and relegated them to history — at least in the western world. However, with the advent of mass transportation, and the bed bug's ability to resist and evade common chemical treatments, bed bugs have returned to America with a vengeance. Although some attempt to remove bed bugs using do-it-yourself products, these store-bought products do not work because bed bugs have developed a resistance to many chemical-based treatments and can detect and avoid treated areas.
Our decades of bed bug extermination have taught us that heat is the safest, most effective way to eliminate bed bugs in houses. Unlike chemical products, heat penetrates all areas of the house, and bed bugs cannot avoid the heat as they can with chemical-based products.
Years ago, we decided to invest in heat technology as our primary tool to destroy bed bugs because it is safe, effective, efficient, and produces guaranteed results. Heat treatments eliminate bed bugs and nymphs, are environmentally safe, and often require only one treatment.
When a technician from Aiken Pest Control arrives at your house, they will inspect the home to determine if bed bugs are the problem. If bed bugs are causing your problems, our trained technician will work with you to prepare the house for heat treatment, answer questions, and schedule a convenient time to heat the home. Fortunately, our heat treatment takes only one day, and you will soon be back in your home.
Aiken Pest Control provides effective, safe bed bug control with guaranteed results. Contact us today to learn more and get a free quote. Do not spend another day scratching and being annoyed by bed bugs. Take control and call us today!