When you see a big, fat, brown rat scurry across your lawn, that rat is a Norway rat. Quick identification can provide you with volumes of information. Norway rats are common outdoor pests, but they sometimes invade Aiken homes and establish indoor nests. These nests are typically found on ground floor levels or in basements. More often, Norway rats create ground burrows outdoors. If you have a rat infestation in your yard, they're likely not limited to your yard. Norway rats, like Templeton in Charlotte's web, hunt for food and other items and deposit them in their burrows. One of the places they're sure to look for collectibles is in your home. So, what do you do about that? Join us as we discuss how to detect signs of rats in your home, where they hide, and how to get rid of Norway rats in Aiken. If you're thinking, "How do I skip to the part where I just get rid of rats?" You can jump to our contact page and reach out to us for rat pest control in Aiken. Our service professionals are glad to help you address any pest control issues you're having. We know what is needed to control these troublesome rodents. If you want to have a better understanding of how Norway rats behave and you'd like to learn some tips to help you drive them out and keep them out, read on.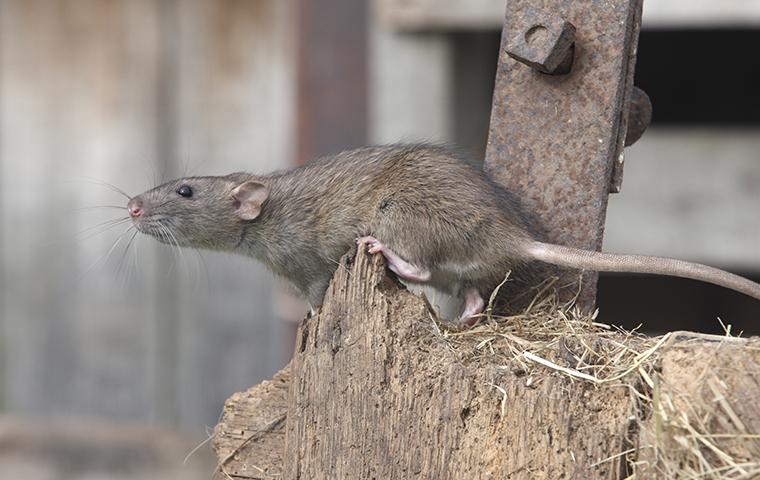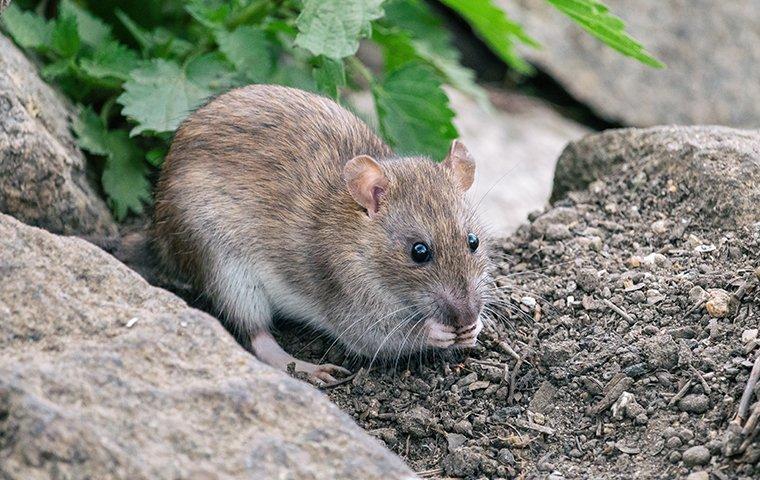 Signs Of Norway Rats In Your Home
Step one in any pest control plan is to perform an inspection. Your inspection provides valuable information regarding your rat problem. But, more than anything else, it will let you know whether or not rats are getting into your home—because it is possible that they aren't finding a way inside. If they're currently limited to your yard, you can work to keep them out. Here are a few tips to help you locate rat activity.
Look For Droppings: Norway rats leave their black droppings as they explore. You'll find these droppings behind or under appliances, in cabinets, on shelves, on insulation, and in secluded spaces within your home.
Inspect Baseboards For Grease Marks: Norway rats have oily fur. As they run along baseboards, they leave black stains. You can use these stains to tell if these pests are moving about in your home.
Use Your Nose To Detect Urine: Norway rats leave droplets of urine. Some say it is to mark their territory, but it is actually more for navigation. They don't just use their whiskers to feel their way around in the dark. They use their noses to create a map of their surroundings.
Look For Rat Holes Or Gnaw Marks: Norway rats chew holes to get into wall voids and to come out of wall voids. You may find these if you get down low in your kitchen or pantry. Consider pulling your oven out. You may find a hole behind it. Keep in mind that a full-grown rat can get through a hole about the size of a quarter. You're not looking for big holes.
Listen: Sometimes Norway rats will make noises you can detect. They'll bump and scrape inside your walls. If you can't hear them, your dog or cat may. Watch your pet to see if they act funny in the kitchen.
These are the easiest ways to find evidence of Norway rats in your home, but what about outside? Let's take a look at some common places these rats hide in your yard and near your home.
Where Do Norway Rats Like To Hide?
It is helpful to know where Norway rats hide outdoors. If your inspection does not turn up any signs of indoor rat activity, you can work to address the rats in your yard and keep rats away from exterior vulnerabilities. Let's look at some of the locations Norway rats hide and what you can do to alter conditions to prevent their entry into your home.
Deck And Stairs: The void underneath your deck or exterior stairs might be perfect for a Norway rat to establish a nest. They also provide hiding places. Use hardware cloth to guard these voids and keep rats out.
Crawlspace: Do you have a crawlspace under your home? Norway rats will love this dirty and humid space. A crawlspace encapsulation can keep them out and reduce moisture and other pests in this space.
Shed: Your utility shed has a void underneath. If you notice a hole on the side, you can bet an animal is hiding in that void. If so, contact a professional to remove the burrowing animal before protecting the space. Apply hardware cloth around the edges of your shed if no holes are detected.
Stacked Wood: Norway rats love stacked wood. Store wood on an elevated platform to prevent Norway rats from finding an ideal soil and wood environment for nesting.
Junk Piles: Norway rats love to create ground burrows underneath piles of junk. Any junk will do, but they are particularly attracted to piles of cardboard, paper, and scrap wood.
Ground: Look for ground holes in your landscaping or other areas of vegetation on your property. Fill the holes in and see if the holes reappear a day later. If so, you may have an active Norway rat. Keep in mind that other pest animals create ground burrows as well.
Along with addressing potential harborage, consider sealing entry points in your exterior. These pests typically get in by way of ground-level or basement entry points.
Gaps around utilities
Gaps around exterior doors, particularly double doors
Door and window frames
A gap under your garage door sweep
Rotted wood holes
The gap at the base where your storm cellar doors touch
Sealing entry points requires handyman skills. If necessary, hire a contractor for this work. It is well worth the investment. Norway rats aren't the only pests that use these points of entry.
The Safest Way To Get Rid Of Norway Rats
What do you do about Norway rats in Aiken? The safest option for residents is to use food and moisture control to drive them out. Control products can have unwanted results, such as rats dying in your walls. You can have surprisingly effective results simply by limiting what Norway rats want to find in your home. These animals prefer to establish themselves as close as possible to food sources, and they're big rodents. They're not going to live on tiny morsels in the way a house mouse will. Here are some suggestions to help you convince Norway rats that your home isn't a great place to live.
Store food in sealed containers, particularly dry dog food. Sealed containers trap food smells inside. When Norway rats don't know there is food in those containers, they won't chew through the plastic to get into the food. Norway rats mainly eat slugs, snails, meat thrown away by humans, pet food, cereal, grains, nuts, and certain fruits.
Pick pet food up before bedtime. Norway rats are nocturnal animals that come out at night and may feed on your pet's food while you and your pets sleep.
Manage trash in ways that reduce the smells that attract Norway rats. This will help prevent them from getting inside. Get receptacles with tight-fitting covers. Consider small receptacles that require you to remove trash more frequently which will reduce the odors that develop as food rots. Use scented bags to further mask the smell of decaying food in your trash.
Address plumbing issues in your home. While Norway rats derive much of their water requirements from the foods they eat, they'll want to find a water source in your home. A dripping faucet is ideal for these pests.
Reduce the clutter in storage areas and attic spaces. Get wires, pipes, wood, and other items up off the floors. Norway rats have poor vision and use floor clutter to navigate.
Do you see how the puzzle pieces fit together? Food, water, and ground clutter make your home a viable place for Norway rats to live. You may drive them out by altering the conditions that make harborage possible. If you don't have the time to deal with the hard work of rodent control, there is another option. You could get ongoing rodent control for your home.
Total Rodent Prevention For Aiken Residents
Whether you have rats in your home or rats in your yard, we can help you deal with them. It doesn't take long for a group of rats to cause a lot of trouble. Our customized residential pest control service plans provide coverage for rats. We'll apply control products within your home to remove any Norway rats that have gotten inside, and apply ongoing pest control around your home to keep them out. If you'd like to learn the details and discuss what options work best for you, we'd love to talk with you. Aiken Pest Control has served South Carolina and Central Savannah River residents and business owners since 1967. We have the experience and professionalism to get the results you want. Connect with us today.