There are a few factors to consider when evaluating a spider control and management strategy. First, you need to know what spiders commonly get into homes and what spiders tend to stay outside. Common house spiders are hard to keep out because they like living in structures. Harmful spiders are easier to keep out, but they're harmful—so there's that to consider. Second, you have to have a reason to want to stop spiders from getting into your home. Why? Because spider control isn't easy work. Lastly, you have to consider the factors that lead to spider infestations. Today, we'll cover each of these topics and give you some helpful tips for dealing with spiders in Aiken. We'll also quickly cover spiders and spider bites to let you know the health risks. If you need immediate assistance with a spider problem, help is available. You can click over to our contact page for professional spider pest control in Aiken. Our technicians are more than happy to help you figure out what you're up against and we will also offer advice to fix your problem.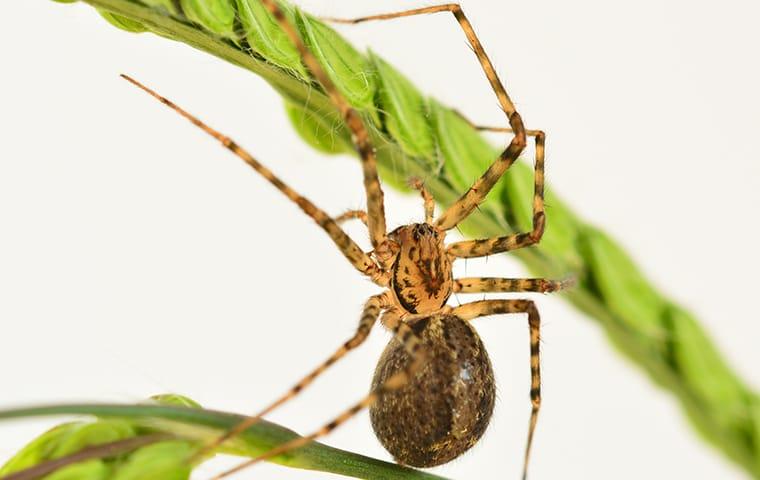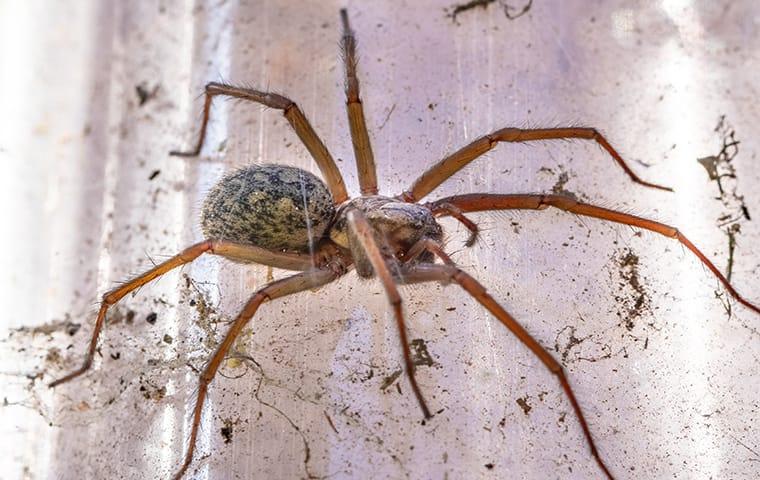 What Kind Of Spiders Are Commonly Found In Aiken?
In Aiken, we have primarily harmless spiders. These spiders have bites that only cause a small red and itchy bump on the skin and are so minor that you may not even wake from sleep when you are bitten. We also have spiders that do not possess fangs that are strong enough to bite you. Let's walk down through a few commonly found Aiken spiders and look at their ability and inclination to bite and whether or not they want to live in your home.
Long-bodied cellar spiders, commonly referred to as daddy longlegs spiders, can't bite you. They're just gross houseguests that make lots of webs in your basement or garage.
American house spiders have "house spider" in their name for good reason. They love living in houses. Fortunately, they rarely bite and a bite from one of these spiders is mild.
Jumping spiders are super creepy because they jump. But a jumping spider is more likely to jump away from you than jump toward you to bite you. They also have mild venom.
Wolf spiders. These are super creepy spiders because they are covered in hair and look a bit like a tarantula. The good news about wolf spiders is that they are often docile. Some people handle these spiders and are not bitten—though we wouldn't recommend doing this.
Garden spiders have a somewhat painful bite. You can compare a garden spider bite to a bee sting. But these spiders rarely bite. They're also not indoor spiders. You are not likely to find one crawling around in your home. They'll stick to hanging out in your landscaping and creating unsightly webs around your exterior.
Black widow spiders have potent venom and are native to South Carolina. They are found in yards and rarely get into homes for long.
Brown recluse spiders are not native to South Carolina but are considerable house pests. They are so good at living inside structures that they often spread by hitchhiking. You can get an infestation when purchasing used furniture or when someone brings a furniture item into your home from another state where brown recluse spiders have local populations.
These are far from the only spiders that get into Aiken homes, but they are the ones you should know about. Let's take a moment to zero in on the two dangerous spiders we mentioned. The more you know about black widow spiders and brown recluse spiders, the better.
The Side Effects Of Being Bitten By A Dangerous Spider
Dangerous spiders aren't always dangerous. A black widow spider can bite you and not inject venom. This is called a dry bite. So, if you or a child is bitten, watch to see if there are medical symptoms. You may not see any. Brown recluse spiders are feared for their necrotic venom but most recluse bites don't lead to a spread of tissue death. Recluse spiders are also not likely to bite. Many wounds attributed to these spiders are not brown recluse spider bites at all, according to experts. So there is a lot of good news regarding these two potentially dangerous spiders in Aiken, but it is important to take a moment to consider the bad news.
Black widow spider bites often have intense, localized pain.
Black widow spider venom can produce flu-like symptoms.
A black widow spider bite can send you to the hospital.
Keep in mind that the last known death from a black widow spider bite, reported to the American Association of Poison Control Centers (AAPC) was in 1983.
Brown recluse spider bites can cause disfiguring wounds.
Brown recluse spider venom can lead to hidden necrosis under the skin.
Brown recluse bites can have flu-like symptoms and lead to hospitalization.
The last known brown recluse spider bite death reported to the AAPC was in 2004. You need not fear these spiders. You just need a healthy respect.
We took a moment to share these facts to help you evaluate the risk of dangerous spiders and to give you the incentive to take steps to keep all spiders out of your home. Spider control isn't easy. Let's take a look at why.
Factors That Bring Spiders Into Our Homes
There is no easy fix to get rid of spiders and keep them away. You must consider what spiders eat, how they get inside, and how they breed. Then you must take steps to control these factors.
Tips To Control Spider Food: What do spiders eat? Bugs. Lots and lots of bugs. If you want fewer spiders attempting to enter your home, the secret is addressing the food source that attracts them.
Replace white lights. Insects are attracted to white light. Replacing white bulbs with yellow bulbs can have an impact.
Install motion-detecting light sources. It pays to only keep lights on when you need them.
Address weeds. Many pests eat nectar, and flowering weeds are a plentiful food source.
Address aphids. Many pests eat the honeydew produced by aphids. Stop these insects and you'll deter other pests.
Manage trash. Many pests are drawn to the scene of decaying organic matter. Keep your trash covered, get it to the curb weekly, and clean your receptacles as needed.
Control moisture. Many pests are drawn to damp habitats. Keep your gutters working properly to deter oversaturation of your perimeter.
Many of the steps required to control spiders are related to yard work and sanitation. If you get behind on this work, spiders can encroach.
Tips To Keep Spiders Out: A spider won't chew a tunnel to enter your home. It will invade your home by way of entry points that already exist. If you close entry points, you'll deter spiders.
Weatherstripping and door sweeps. A spider (and other pests) can slip through a gap around your exterior doors. Keeping your doors weather-proofed also keeps them pest-proofed.
Gaps around doors, windows, and pipes. Expanding foam or a caulking gun can keep pests from gaining access through gaps around foundation and exterior wall penetrations.
Damaged screens. A simple screen patch can stop a spider.
Foundation cracks. A foundation repair kit can fill in and patch cracks that may be deep enough to give entry to a spider.
Home repair work is key to keeping spiders and other pests out of your home. If you don't have the time, energy, inclination, or know-how, it pays to have a professional handle this work. A licensed pest management professional can assist you with exclusion work that specifically addresses potential pest entry, and will give you advice for locating and addressing home improvements.
Tips To Reduce Spider Populations: You know that spiders create webs around your home, but do you consider those webs as a reason why you have spiders in your home? Some spiders create egg sacs in their webs, and egg sacs can have hundreds of spiders inside! When those spider hatch, they may get into your home through the tiniest of cracks.
Use a spider web-removal tool to collect webs.
Wipe down surfaces to prevent web creation.
Attach your spider web tool to a poll to get webs in high locations.
When you find egg sacs, crush them.
You have to keep spider control on your mind when you take care of web removal yourself. But a licensed professional can handle web removal for you so you can spend your time thinking about things you'd rather think about, rather than creepy spiders.
The Most Effective Spider Control With Professional Pest Control
A pest management professional addresses pest populations around your home, which directly and indirectly helps to control spiders. Your pest professional will apply exclusion work to create long-lasting barriers to keep spiders out and will routinely collect spider webs to remove eggs. All of this is done automatically. You don't have to think about spiders! If you live in Aiken and want assistance with ongoing spider control for your home, we can help. Reach out to Aiken Pest Control for industry-leading spider control solutions. You don't have to wait until you have dangerous spiders in your home or harmless house spiders that are driving you nuts. You can get started today with year-round pest control. Drop us a line or give us a call. We're here to help.