If you've never had a run-in with a cockroach, consider yourself lucky. Cockroaches infest almost two-thirds of American homes, so most of us will experience a roach problem at some point. These scuttling bugs not only give you the creeps, but they are also a health hazard. Knowing the signs of a cockroach problem will help keep your family safe from these nasty bugs.
Cockroaches are skittish and avoid light, so it can be challenging to spot the insects themselves. However, there are other tell-tale signs that your home has roaches. In this post, we'll investigate the cockroaches commonly found in Aiken, how to identify a cockroach problem, and what to do if your home has an infestation.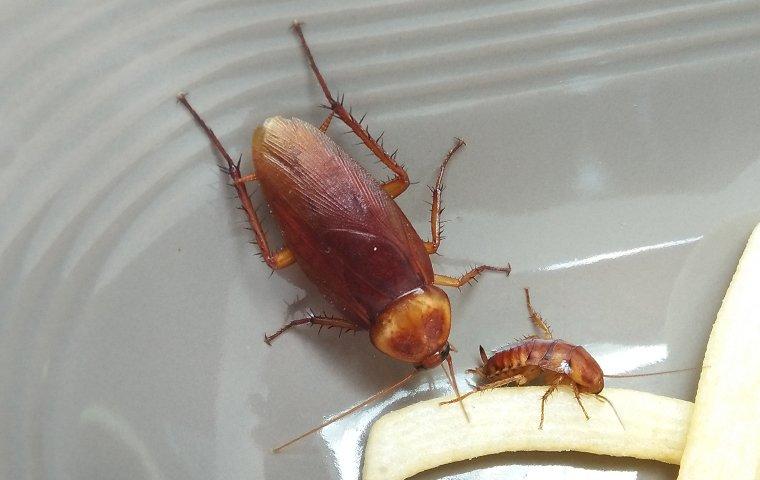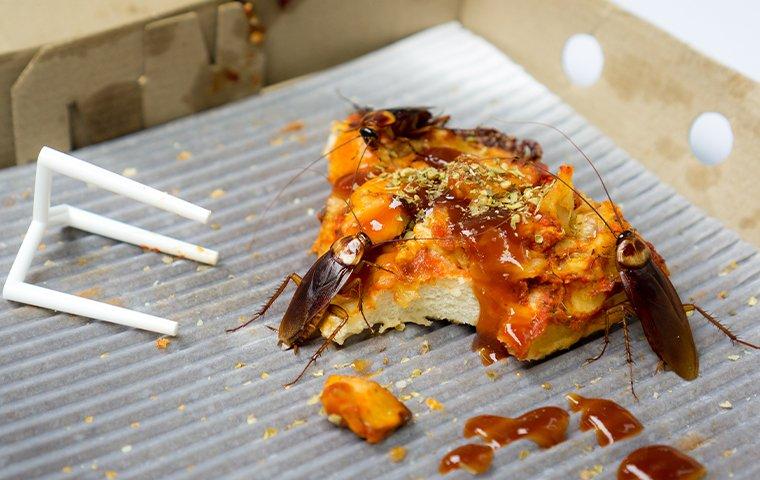 Types Of Cockroaches In Aiken
There are a few different species of cockroach you are likely to come across in the Aiken, SC area: American, German, and brown-banded cockroaches.
American Cockroach
The American cockroach, or palmetto bug, is the largest cockroach species in the United States. They range in size, but some grow to exceed two inches in length. American cockroaches are reddish-brown, with a trademark yellow figure-8 shape on the back of their heads. They have wings and can fly short distances but are more often found running across floors and walls.
German Cockroach
The most common species in the world, German cockroaches, are distinguished by the dark, nearly parallel stripes that run along their backs. The rest of their bodies are tan or light brown, and they are typically ½ - ⅝ of an inch long. Like American cockroaches, German cockroaches have wings but rarely fly.
Brown-Banded Cockroach
The brown-banded cockroach is aptly named for the two light brown bands across their darker brown bodies. These roaches are about a half-inch in length. Males have full wings while females have underdeveloped wings and are unable to fly.
How To Tell If You Have A Cockroach Problem
Cockroaches are sensitive to light and more active at night, so these sneaky bugs sometimes go unnoticed in Aiken homes. Even if you don't see any roaches, there may be other indications that your home has an infestation. Here are a few of the most common signs of cockroaches:
Small, dark droppings that the cockroaches leave behind- depending on the species, they may look like black specks or similar to mouse feces.

Cockroach egg capsules can be found in kitchens, laundry rooms, basements, under furniture, and behind appliances. These can be dark-colored or yellowish, depending on the type of cockroach.

A musty odor produced by cockroach pheromones may become increasingly apparent.

Fecal staining, which looks like smear marks or spots on walls and in corners of rooms may become apparent.

Cockroaches may leave shed skins from molting nymphs.
If you notice any of these signs, you are likely living among cockroaches. These insects are not only gross, but they also pose several health risks to humans.
The Dangers Of Cockroaches
Nobody wants cockroaches in their home, but many underestimate the dangers that these nasty bugs expose us to. Cockroaches are highly unsanitary and may contaminate food and cooking surfaces. They are also vectors of numerous diseases—at least 33 types of bacteria, six parasites, and seven other pathogens. These infectious diseases include E. coli, salmonellosis, typhoid fever, giardia, and dysentery.
Cockroaches also trigger allergic reactions and asthma attacks in people, particularly children, through proteins in their droppings, urine, and saliva. A cockroach infestation is a serious issue and should be promptly addressed, and preventative measures should be taken in all homes to safeguard against cockroaches.
How To Prevent Cockroaches In Your Home
Cockroaches are incredibly tenacious about entering human homes and can be challenging to prevent. However, there are ways to make your property less accessible and inviting for these pests.
Here are a few cockroach prevention tips for Aiken homeowners:
Barrier exclusion - seal any potential points of entry for roaches, including cracks in the exterior of your home or gaps around electrical sockets.

Install screens on windows and ensure that they are secure and tight-fitting.

Reduce moisture in your home, particularly in kitchens, bathrooms, basements, and crawl spaces.

Keep your home clean and organized - clean countertops and floors frequently, vacuum at least once per week, store trash securely, and dispose of it often.

Store food in sealed containers and don't leave pet food sitting out.
Implementing these habits is a great place to start, but if you do notice signs of cockroaches, be sure to seek professional assistance.
What To Do If You See Signs Of Cockroaches
If you notice any signs of cockroaches in your home - the insects themselves, droppings, egg capsules, shed skins, smear marks, a musty smell, etc. - contact the professionals at Aiken Pest Control. Cockroaches are difficult to control on your own, and store-bought products are unlikely to provide total cockroach elimination. The experts at Aiken Pest Control will thoroughly inspect and treat your home for cockroaches, effectively wiping out the entire roach population.
Since 1967, Aiken Pest Control has served the Aiken, SC area with quality cockroach control solutions. We pride ourselves on our fast, effective, and affordable pest control services. If your home has become overrun with cockroaches, we are here to help. Contact us today for your free cockroach control quote.