Professional Pest Control For Irmo, SC Property Owners
Gorgeous weeping willow trees, vibrant green parks and outdoor spaces, and friendly people are just some of the reasons why Irmo, SC is one of the most sought-after places to live in the entire country. It probably doesn't hurt that in addition to being beautiful, Irmo has been recognized as one of the most affordable places to live in the country! Located off of the shore of Lake Murray and a quick 10 miles from the capital city of Columbia, Irmo really does have something to offer everyone. To help keep properties free of the many pests that also thrive in the outdoor spaces and warm, humid weather found in Irmo, many home and business owners turn to Aiken Pest Control. Since 1967 Aiken has been committed to protecting people and properties from pests located throughout the CSRA and the Midlands of South Carolina. At Aiken we offer more than just full-service pest control solutions, we offer exceptional customer care, and the knowledge that your Irmo home or business will be free of South Carolina pests when you partner with us.
Home Pest Control In Irmo, SC
To keep your home free of common household pests trust the experts that have been in the business of pest control for over 50 years. Aiken Pest Control has a lot of experience controlling the pests that are common to our area and has the dedication needed to solve any pest problem. To begin controlling pests in and around your home we perform a no-obligation, free home inspection where our experts will:
Identify existing pest problems.

Discover the conditions that may be attracting pests to your home.

Figure out where these crafty critters are entering your home.

Develop a residential pest control plan that is unique to your home.
After our initial visit, we will return quarterly to complete an inspection, perform a treatment, sweep away spider webs, and remove insect nests found on the exterior of your home. If pests return in-between our service visits, we will return to take care of the problem at no additional charge to you! Get in touch with us today to learn more about implementing our comprehensive year-round residential pest control program for your Irmo, SC home.
Are Powderpost Beetles in Irmo, SC Dangerous?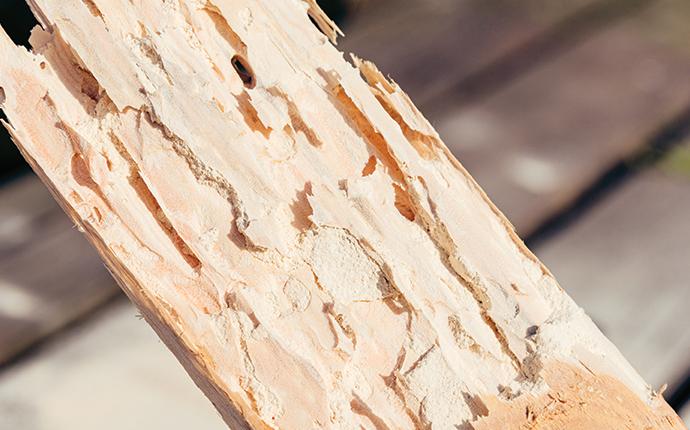 There is good news and bad news when it comes to powderpost beetles. First the good news, they don't pose any dangers or health risks to people, but the bad news is that they are dangerous to property. Powderpost beetles tunnel through and live their lives in wooden objects like flooring, walls, lumber, and antique wooden furniture; typically choosing to invade oak and other hardwoods. Powderpost beetle families live together in the same area or piece of wood for many generations, the tunnels that they continuously create can cause serious damage to the wooden structures that they are invading. These wood damaging pests are often introduced into homes in pieces of lumber or other products that are made out of wood; the larvae cause most of the damages to the wood by tunneling through and eating it. They are a difficult pest to identify without professional help; usually, the only sign of an infestation is noticing piles of fine sawdust underneath of small holes that enter into a piece of wood or wooden object.
If you are concerned that powderpost beetles are inside your Irmo home contact us at Aiken Pest Control. We can accurately identify an infestation and provide the necessary treatment needed to eradicate these damaging pests from your home. Our powderpost beetle control services usually involve the completion of conventional treatments or in some cases fumigation. Contact us today to learn more!
Bed Bug Treatment Options For Homes and Businesses In Irmo, SC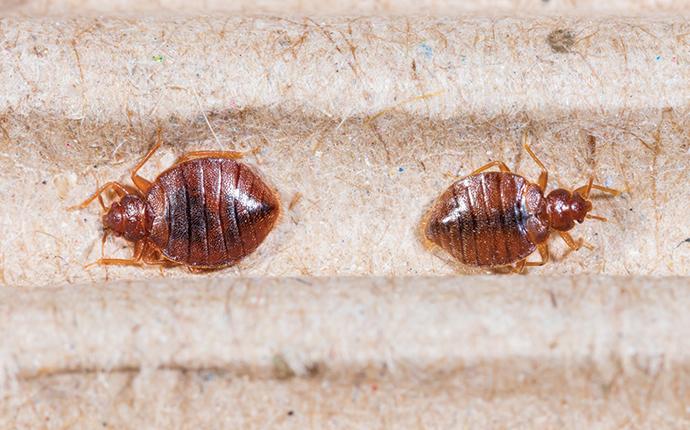 Bed bugs are a widespread epidemic and are found living across the entire United States. What was once an almost extinct species has come back and is thriving mostly due to the ease and affordability of travel. At Aiken, we understand how frustrating a problem with bed bugs can be which is why we offer several different options to control and prevent parasitic bed bugs from choosing your home to live in and your family to feed on. Aiken's bed bug control options include:
Bed bug dog inspections: Our highly trained bed bug dogs have the ability to quickly detect infestations that are not visible to the eye, in places that human inspectors can't access, and in a very non-invasive manner.

Conventional bed bug treatment using an EPA registered products: This method of bed bug treatment is a guaranteed, highly effective treatment which eliminates bed bugs on contact.

Bed bug heat treatments: Our heat treatments are effective, environmentally responsible, allow for immediate re-entry, kill every stage of bed bug found present, and are guaranteed.

Bed bug mattress and box spring encasements: Mattress and box spring encasements work to protect your bed from bed bugs in the case of an infestation; saving both time and money.
Get in touch with us today to learn more about protecting your Irmo home and family from bed bugs with the help of the experts at Aiken Pest Control!
Commercial Pest Control In Irmo, SC
The best way to protect your products, property, customers, employees, and reputation from pests is to get a professional commercial pest control program from the South Carolina pest control experts at Aiken Pest Control. At Aiken Pest Control we have decades of experience protecting commercial properties from pests. Our pest control professionals are highly trained and are continuously being educated to provide you with the most effective services possible. Through our decades of experience, we are able to successfully protect a wide variety of businesses and industries from pests including grocery stores, restaurants, industrial facilities, hotels, and health facilities. To ensure that your Irma business quickly becomes and remains pest free long into the future our professionals provide the following services:
Accurate pest identification

Customized pest management plans

Application of Integrated Pest Management strategies

Comprehensive documentation

Compliance with industry regulations
To stop pests from choosing your commercial facility to feed, breed, and live in, partner with the commercial pest control experts at Aiken Pest Control. Give us a call to learn more!