Professional Pest Control For Johnston, SC Property Owners
Johnston, South Carolina prides itself on being "The Peach Capital of the World." To protect this family-friendly, peach-loving town from the insects and rodents that also call Edgefield County home, Aiken Pest Control offers affordable and effective pest control solutions. We have been protecting homes and businesses throughout Aiken, the CRSA, and Midlands of South Carolina for over 50 years. To learn how we can work together to protect your Johnston residential or commercial property from common pest pressures, reach out and speak with one of our helpful pest professionals today!
Home Pest Control In Johnston, SC
Protecting property from damage, protecting food sources, preventing disease, and giving peace of mind are all things that a year-round pest control program can provide. Aiken Pest Control's home pest control program provides the protection needed to get rid of many house-infesting pests including ants and spiders. We begin by performing a free, no-obligation home inspection. During the inspection, our professionals look for potential pest entry points as well as conditions that are attracting pests to your home and property. We then develop a comprehensive pest control program that is specific to your home that includes quarterly pest control service visits. More benefits of choosing Aiken to meet your pest control needs include:
Coverage against 30+ pests

Exterior spider web removal

Fire ant control

Guaranteed protection
To schedule a free inspection for your Johnston home, please give us a call today!
Problems Fire Ants Cause
In Johnston, SC Yards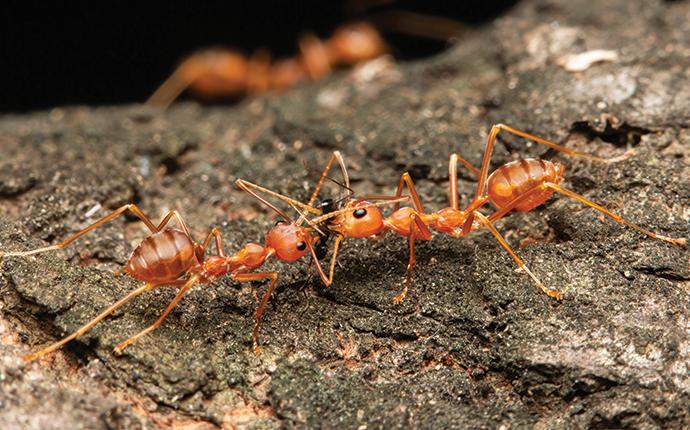 Fire ants are small but aggressive ants that deliver painful bites and stings. Fire ants create many problems for homeowners including preventing people and pets from being able to safely enjoy their outdoor spaces. Fire ants are very invasive and they like to create their nests in open sunny areas. Unfortunately, this makes residential lawns prime targets. Fire ants are territorial and work together to attack any perceived threat. They bite their victim and then use their stinger to inject toxins. Being attacked by fire ants is very painful and the toxins have the potential to trigger severe allergic responses that may require immediate medical attention.
To stop fire ants from taking over your Johnston yard, Aiken pest offers specialized treatments. Our seasonal fire ant treatments are completed once or twice a year (depending on the size of your lot) to control these dangerous pests. To learn more about taking back your property from invasive fire ants, reach out to our experts today.
Why Your Johnston, SC Property Needs Termite Protection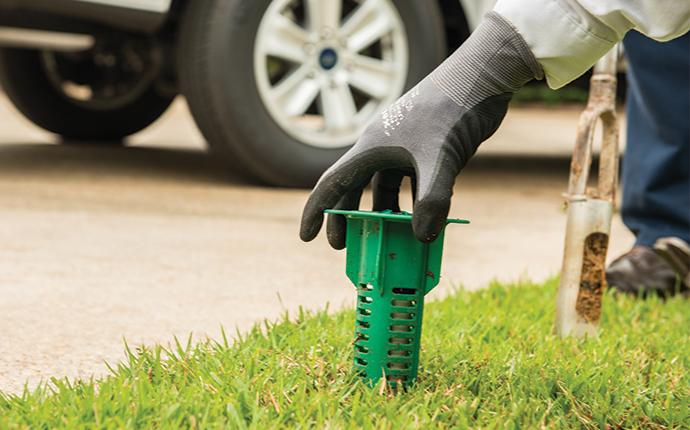 If there was only one word to describe termites it would probably be relentless. The termite's relentless nature is why your Johnston property needs consistent termite protection. Termites invade properties without any fanfare and relentlessly feed on its structural wood until their presence is finally discovered and they are stopped. Protect your South Carolina property from the threat of termites with the help of Aiken Pest Control. We offer two different options for termite control. Each begins with a thorough inspection to look for signs of termites, termite damage, and conditions around your property that may be attracting termites. Once the inspection is complete we sit down with you, go over our findings, and recommend an appropriate solution.

Our termite control solutions include:
Sentricon® System with Always Active™ - Bait stations containing Recruit HD are discreetly placed in the soil around your home or structure. Termites consume the bait and introduce it to the colony ending the colony's ability to eat and breed. The stations are routinely monitored and annual inspection and maintenance are performed to prevent a re-infestation.

Navigator® - Navigator® is a very effective liquid termiticide available. After termites come into contact with it, they ingest it and infect every termite that they come into contact with.
To learn more about protecting your Johnston property from relentless and destructive termites, call Aiken Pest Control today.
Commercial Pest Control In Johnston, SC
Take charge of your commercial property's pest control needs by contacting Aiken Pest Control and implementing a commercial pest control program. Our professionals are continuously being educated on the newest industry technologies to help maintain a pest-free environment inside a wide variety of commercial businesses. Our commercial and industrial pest control services provide accurate pest identification, a customized pest management program, Integrated Pest Management (IPM) strategies, comprehensive documentation, and compliance with your industry's regulations. To learn more about the benefits of partnering with Aiken Pest Control to protect your Johnston business from destructive, dangerous, and invasive South Carolina pests, reach out to us today.