We all want positive feelings of happiness, satisfaction, and peace, and they often accompany us when we feel we are in control. For example, when your day goes as planned and you accomplish everything on your list, you feel in control and subsequently satisfied with your day. Conversely, when your life is spinning out of control, you feel anxious, stressed, and overwhelmed.
We want to control events in our lives, and when a pest defies our wishes, we don't know what to do. All pests resist human control, and in many cases, as long as they stay outside, we don't worry too much about them. However, one outdoor pest that does cause concern is fire ants. Predators and weather regulate most pests, but fire ants defy the odds. Once they invade your property, they quickly overtake your yard creating many problems for family members and pets.
If fire ants are ruining your outdoor experiences or, even worse, infiltrating your house, you need a local Aiken pest control team. From our humble beginnings at Aiken Pest Control in 1967 to achieving the status of a QualityPro Approved company, an honor awarded to only 2% of pest control companies in the United States, we have only one desire: to provide quality pest control service. Our team of highly trained, dedicated technicians know how to remove fire ants and other pests from your home.
As part of our devotion to providing our community with unparalleled pest control, this article supplies answers about fire ants. Please keep reading and learn how to stop feeling out of control regarding fire ants on your property.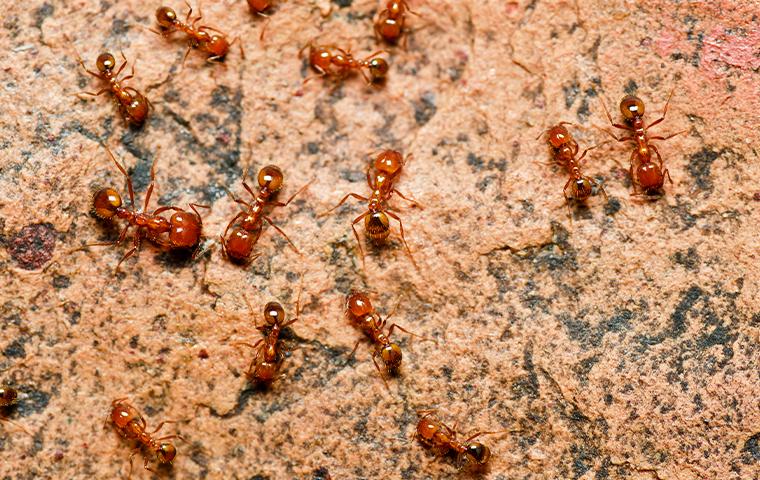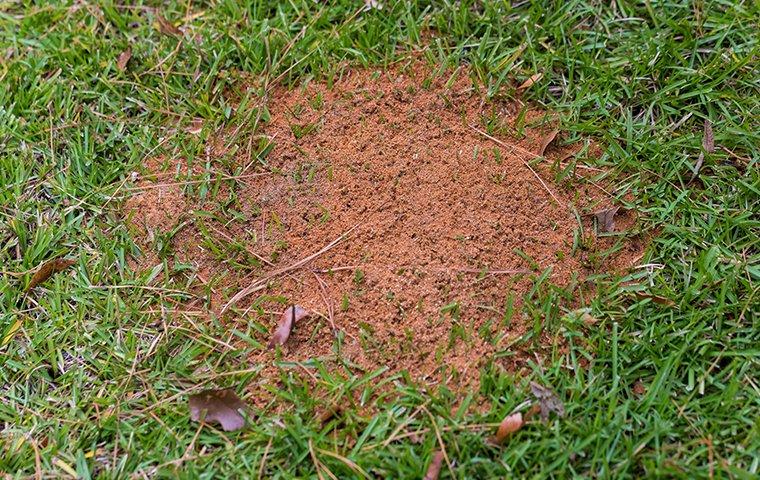 How To Tell If It's Fire Ants In Your Home
Ants are the number one nuisance pest in the country. Although all ants can contaminate food and food packaging in the kitchen and pantry, most ants in Aiken are simply an annoyance and embarrassment for homeowners. Most of the 700 species of ants in the United States do not spread disease or trigger allergic reactions like cockroaches, but fire ants are different. Fire ants do not spread disease, but they can trigger allergic reactions.
Before we discuss fire ant stings, we need to identify whether or not the ants you see in your Aiken home are fire ants. So, we will start with a general description and then get more specific.
Ants are insects. Insects have six jointed legs, a body consisting of a head, thorax, and abdomen, two elbowed antennae, compound eyes, and an external skeleton (exoskeleton). Although we associate wings with insects, not all ants have wings.
An ant colony has a reproducing queen, sterilized female worker ants, soldiers, and males (drones) whose sole purpose is to keep the queen continually fertilized. Once a drone fertilizes the queen, it dies within two weeks. Once a year, in the late spring or early summer, winged reproductive males and females will leave the colony to begin new nests. If they survive the flight, predators, and the elements and find a nesting area, they discard the wings and mate. The male dies shortly after mating, and the female eats the discarded wings to use them for nutrition as she produces offspring to begin a new colony.
Now that we have a general description, here is how you can identify fire ants:
Color: Reddish to dark brown
Size: 1/8 to 3/8 inch
Location: Nest in the soil near landscaping or structures
Mounds: Two to four-foot flat or doom-shaped irregular mounds
Typically, you will see a fire ant mound next to the foundation, landscaping, or a tree in a sunny area. Sometimes, fire ant mounds are in open fields. Although fire ants do not readily enter houses like odorous house ants, they may access your home through AC units or HVAC systems or cracks in the foundation. If you believe these ant types have infested your home, you need fire ant control for your Aiken home from Aiken Pest Control. A highly trained technician will inspect your location to determine access points and fire ant hot spots.
Why Are Fire Ant Stings So Painful?
A fire ant mound in your yard is a sign they are on your property, and these two to four-foot irregular hills contain numerous fire ants. For example, a pile 18 inches high and two feet wide may have over 100,000 workers ready to attack if they perceive a threat to their home. When a fire ant mound is disturbed, the ants quickly swarm from their nest to attack the interrupter and defend their colony. When they find the perpetrator, they bite to create a foothold and then sting their victim. Fire ants are so-called because the venom in fire ant stings creates a burning sensation.
Fire ants and wasps are in the same animal kingdom order (Hymenoptera) and have similar body types. Likewise, when it comes to stingers, they both have smooth stingers. Not all ants have stingers, and of those that do, most are ineffective against humans. Because a fire ant's stinger is not jagged, it can sting its victim multiple times, just like a wasp. When hundreds, if not thousands, of fire ants swarm a victim and each ant stings the person or pet numerous times, the target may have a severe allergic reaction to the large dose of venom the ants inject.
Those who are hypersensitive to the venom may experience anaphylaxis, a potentially deadly reaction. Anaphylaxis causes blood pressure to decrease and airways to narrow. Other symptoms include nausea, dizziness, slurred speech, fainting, and breathing difficulties. Wounds at bite sites swell, itch, and within a few days, become fluid-filled pustules. Although not as painful as the initial bite, the wounds stay sensitive and sore for several days. Wash the bites with soapy water, disinfect them with rubbing alcohol, and use an antihistamine to reduce itching and burning.
Although fire ants inside a home are less likely to build large mounds with tens of thousands of ants, they can still hurt if even a few attack. Perhaps you are reading this article because you have been awakened at night by fire ants in your bed inflicting painful bites on your body.
If you see fire ant hills in your yard or suspect the dark reddish-brown ants in your house are fire ants, contact Aiken Pest Control for fire ant treatment in Aiken. Even if they are not yet in your home, you have a higher possibility of them entering if they are in your yard.
The Factors That Can Attract Fire Ants To Your Home
Fire ants require food, water, and shelter to survive. Before fire ants enter a house, they create mounds first in the yard. Items that collect water, poor drainage, or damp areas with dense vegetation on your property attract fire ants. Open garbage cans and rotting fruit are other food attractants for fire ants. Fire ants build mounds initially underground near sidewalks, driveways, landscape timber, mulch, and next to foundations in sunny areas where the soil temperature is higher. Fire ant mounds appear after heavy rains causing them to build above ground to escape groundwater.
If fire ants are on your Aiken property and an extended dry season settles in, they may seek to find these needs in your house. It is common for fire ants to create their nests against the foundation, driveway, or sidewalk. If cracks, crevices, or gaps exist in the house's footing, they will enter it. Air conditioning units and HVAC systems also attract fire ants due to the higher moisture levels around the condensation units.
Once fire ants enter a house, they seek food and water sources. These are factors that attract fire ants inside a house:
Leaky pipes
Damp crawl space
Poor sanitation
Stagnant water in plant trays
When fire ants find these sources, they leave a trail of pheromones directing other fire ants to those areas. Aiken Pest Control offers fire ant control because we have fire ants in Aiken; we know the problems they cause homeowners.
How Can I Get Rid Of Fire Ants Permanently?
No one wants fire ants on their property because of the painful stings they leave on their victims. The last thing you want is to step barefoot on a fire ant mound. The best way to remove fire ants is to secure fire ant control for your Aiken home from Aiken Pest Control.
When we arrive at your house, we will inspect the exterior and the yard to determine attractants, access points, and mound locations. We will investigate the interior to determine the extent of the infestation inside your house. Once we gather data, we will create a custom treatment plan that initially treats the interior and exterior of the house to destroy the fire ants.
Since fire ants inside a house come from the outside, follow-up treatments focus on the outside; however, we will treat the interior if they are still active in the home. If you have problems with fire ants between scheduled treatments, we will revisit and treat your home at no additional cost. Contact us today and schedule your free, no-obligation inspection and learn about our treatment plans.