A common perception of house mice is that they come in from the outside. While they certainly do this, you need to know that they don't only originate outside your home. If a house mouse, or two or three, have gotten into your home, they can create offspring indoors. Therefore, sealing gaps and holes in your exterior is only one part of the solution. Traps are also only one part as it is hard to remove house mice faster than they can reproduce. If you hope to arrest a mouse infestation and keep mice out of your home, you need to understand how mice appear in your home. Where mice come from is only one of the important facts Aiken homeowners need to understand about these pests. Today, we're going to look at a few more. If you want to learn more about how mice enter homes, check out our other blogs or contact us to schedule an appointment with one of our licensed technicians. Aiken Pest Control offers industry-leading pest control in Aiken and we are happy to answer your questions.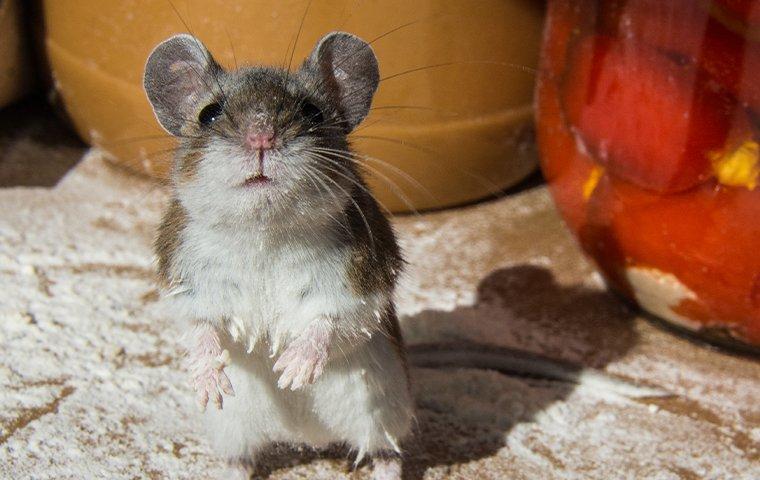 What Do Mice Look Like?
It may seem like a strange question to ask what a mouse looks like, but it is no stranger in its nature than digging into how mice can enter your home without getting in through a gap, crack, or hole. It isn't readily apparent that mice can come from female mice living indoors. While we're sure you know what a mouse looks like, there is more to know if you hope to diagnose a rodent control issue. You may see a mouse that isn't actually a mouse. You may see a mouse that is an outdoor mouse. More than anything else, you may see droppings and think you have house mice when you don't. Let's explore each of these.
Do you have a mouse? If you see a fat, brown mouse in your yard, that little rodent isn't a mouse. It is a vole. There is a big difference between voles and mice. A vole is content to stay in your yard. It won't enter your home and invade your pantry or kitchen cabinets. The food source voles require is found in your yard. They'll nibble on your grass, ornamentals, and seeds that drop to the ground. House mice eat seeds too but they aren't going to thrive on a diet of grass, roots, and bulbs. They want to eat cereal, bread, nuts, and other tasty morsels that you eat. House mice become indoor pests, but you don't have to worry about keeping a vole out of your home. We recommend contacting a licensed professional at the first sign of house mice. They are typically active at night, not during the day, like voles. If you see a house mouse, it is a warning sign of a high population because mice start to appear when food resources aren't plentiful enough to sustain their population and they must compete for food.
Do you have an indoor mouse? Some mice are content to stay outside or only get into sheds, barns, and outbuildings. Deer mice are a good example. These deer-colored mice rarely infest homes. When you see them in your yard, keep this in mind and inspect appropriate areas for nesting, such as an outdoor storage locker.
Do you have a rodent? You may know that mice leave tiny black droppings as they explore. This is definitely true. While house mice are domestic rodents, they are not domesticated rodents. They are comfortable around people but they don't go outside to use the restroom or go on a piece of paper. If you find black feces, keep in mind that some insects, like cockroaches, leave feces that are sometimes misidentified as mouse droppings. A mouse will leave droppings that are slightly smaller than grains of white rice. Insect droppings are half that size.
Now that we've laid the groundwork, here are a few quick visual characteristics to help you identify house mice.
They are dusty gray with a belly that is cream-colored.
They have bodies that are 2 ½ to 3 ¾ inches long with tails that are the same length.
Their heads are smaller than their bodies and they have pointed snouts.
Their big ears are flesh-colored and noticeable.
Their feet are flesh-colored.
When you see a house mouse on your Aiken property, contact Aiken Pest Control for a professional inspection and advice regarding what to do about those mice.
The Dangerous Diseases Mice Are Known To Spread
Mice groom themselves frequently. Some experts estimate that a mouse grooms itself 40 percent of the time that they are awake. But they also frequently get into dirty places as they explore the urban jungle, and they have no problem leaving their waste where they sleep. They are not clean animals. There is no way for a mouse to stay on top of all the grooming necessary to keep themselves free of the harmful microorganisms they pick up. They also ingest certain organisms that are expelled when they leave droppings. It is hard to say how much of a disease risk these animals will present in your home. The best we can do is provide a few words of caution.
Mice are known to spread salmonellosis, leptospirosis, lymphocytic choriomeningitis, tularemia, and more.
Mice are prone to chew holes in food packages and accidentally contaminating the contents.
Mice move across surfaces and accidentally leave microorganisms behind, such as hookworms.
Mice are wild rodents. As they move about in the wild (ie. landscaping, parks, and wooded areas) they pick up ticks and fleas. While they are tiny rodents, a single mouse can have as many as a hundred seed ticks on its body. Ticks and fleas spread harmful diseases such as Lyme disease, Rocky Mountain spotted fever, Murine typhus, and bartonellosis. Check the resources at the CDC for more information about tick-borne and flea-borne diseases. There are many.
It is not commonly known that mice spread harmful diseases. We strongly recommend taking the time to determine for yourself how concerned you should be. We guarantee the results of your research will startle you.
Why Do Mice Invade Homes?
Keeping with our theme of sharing information that may surprise you about mice, do you know that mice don't know you have food in your home? A little mouse doesn't come into your yard and look at your home like it is a fast food restaurant. There are no glowing arches. So how does it know to get inside to find the food in your pantry or kitchen? Mice often get into homes because they are thigmotactic animals. If you're not familiar with the word, thigmotaxis is an attraction to touch stuff. It is why you see mice running along walls, skirting around objects on the ground, and squeezing into holes. We are simplifying this somewhat for the purposes of our point, but the reason mice get into your home in Aiken is that they are drawn to squeeze into gaps. They don't need a reason. A mouse that chances upon a gap around your water main is likely to climb right in. That little mouse will also squeeze right through a gap in your weatherstripping or a gap under an exterior door. It can't help itself. So, getting back to the point we made at the beginning of this article, sealing entry points is important. While not a complete solution on its own, exclusion work removes a strong attractant that brings mice indoors.
What's The Best Way To Get Rid Of Mice?
If you have mice in your home, the best way to get rid of them is with traps, right? We also mentioned that at the start of this article. But, we pointed out that traps are not a complete solution. Like exclusion work, traps are helpful but they don't get the job done completely. The mice in your home can produce mice faster than you can convince them to get into your traps. What works? Licensed pest control professionals use a multipronged strategy to locate mouse activity, identify conducive conditions, select several control methods, implement the treatment program, evaluate the success of the treatment program, and work the problem until there is no problem left to work. The secret to rodent control is understanding the unique behavior patterns of these pests, the warning signs of infestation, and what methods work for each of the types of rodents we have in our area. If you have voles, you'll need an entirely different strategy than what will work on house mice.
There is no easy way to describe mouse control. Effective mouse control requires training and experience. If you have a mouse or vole problem, reach out to Aiken Pest Control for assistance. We have solutions for all the rodent pests in our area. We can guide you toward a control plan that is appropriate for your pest problem. Connect with us today to find out the next step.