Why do cockroaches get into your home? What is it about your home that would make these dirty insects want to live with you? And how bad is it to have roaches in your home? The answers to these questions can actually help you drive cockroaches out and keep them out. Join us as we look at common cockroaches in Aiken and how to get rid of cockroaches naturally. We'll tell you which roaches are the hardest to control, which roaches are the dirtiest, and when it is the right time to get professional assistance. If you don't care to learn about Aiken cockroaches and you just want those roaches gone, we can help you with that too. Jump to our contact page for professional cockroach pest control in Aiken. We'll guide you toward an appropriate solution to your roach pest problem.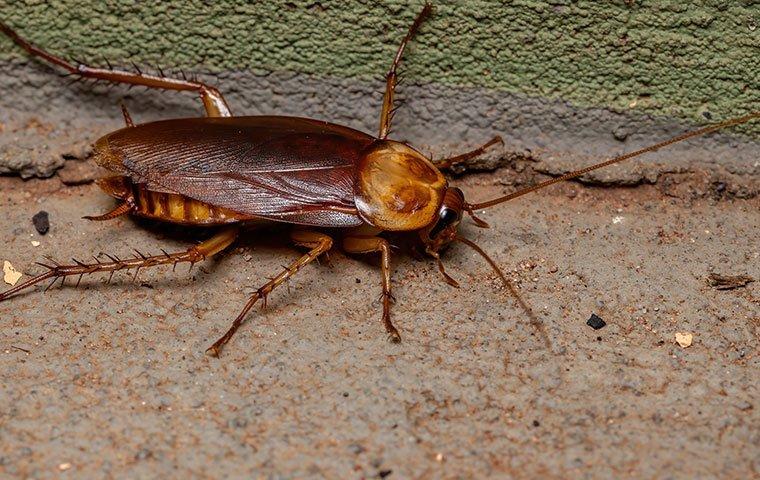 How To Identify A Cockroach
When considering how to drive cockroaches out and keep them out, the first step is cockroach identification. Why? Because some roaches are easier to control than others. The three most common cockroach pests in Aiken are German cockroaches, American cockroaches, and oriental cockroaches. The worst of the three is German cockroaches. If you have a German cockroach infestation, it is best to bypass the suggestions given in this article and go straight to hiring a professional to perform a German cockroach treatment. What makes German roaches so hard to control? They do extremely well inside structures, and, through the centuries, they have become indoor pests. While you can find these roaches outdoors, they don't prefer outdoor living. They'll quickly get into man-made structures if they can. They'll also travel from one area of infestation to another by hitchhiking in furniture and other items.
American and oriental cockroaches are somewhat easier to deal with if you understand why they enter your home and why they may want to stay. These two are attracted to garbage, food debris, dust, hair, and other decaying organic matter. They prefer humid spaces and damp conditions. And like all roaches, they thrive in cluttered environments. When you take steps to clean your home, protect food sources, reduce humidity, and remove clutter, you'll be on your way to controlling these two pests.
What do cockroaches look like? Here are a few quick visual characteristics that can help you tell which of these roaches you have, or whether or not you even have cockroaches. Yup. It happens. Some people think they have roaches when they actually have beetles or some other tiny insects.
Oriental Cockroaches: If you see black insects with spiny legs and an armored appearance, those are likely oriental cockroaches. If you notice a bad smell, then you can know for sure that they are these dirty pests—not beetles. The nymphs of this species aren't black. They are reddish-orange at first and grow dark red and eventually a color that is so dark red they appear black.
German Cockroaches: If you see a tan cockroach with a black equal sign on its back, you have these roaches. First of all, sorry. We know this is bad news. Second, it is essential to know that the two black stripes on a German cockroach aren't stripes at first. A German cockroach nymph is entirely black. Do you see how this can be a problem? Yup. You may mistake German cockroach nymphs for oriental cockroaches because adult oriental roaches are black. We hope you don't make this mistake, since one is far easier to control than the other. Take note that a black German cockroach nymph will develop tan coloration down the center as it develops and will start to have two clear bands of black. When it reaches its adult stage, the bands underneath the wings are covered, and all that is visible is an equal sign between the head and the wings.
American Cockroaches: These are the largest roaches that get into Aiken homes. You can easily tell them by their size and chestnut coloration. If you need more, look for a yellow mark on the back between the head and the wings that resembles a figure eight. American cockroach nymphs are yellowish-orange, and they look similar to oriental cockroach nymphs.
There is one more kind of cockroach that is worth mentioning. We have wood roaches in our area, and they can make pests of themselves. But there is good news when you find these roaches in your home. Wood roaches don't want to live with you, and they aren't nearly as dirty as other pest roaches. You don't need to know what these roaches look like because it is easy to tell them apart from the other pest roaches listed above; wood roaches are active during the day and are drawn to light—not repelled.
Can Cockroaches In My House Really Make Me Sick?
Yes. Cockroaches can really make you sick—and they can make you really sick. Just how sick? There are many factors associated with cockroach-related illness. The most important is sanitation. If you have unsanitary conditions, the roaches in your home will come in contact with harmful microorganisms that feed on decaying organic matter and waste. Cockroaches themselves are also attracted to unsanitary things and feed on these things, so they are sure to get exposed. When this occurs, the roaches become a vehicle for these invisible, illness-causing organisms. Therefore, cleaning your home and guarding unsanitary areas, will help you reduce the risk of illness. Keep this in mind as you consider what is required to drive roaches out of your home and keep them out.
Eliminate Factors That Attract Cockroaches Into Your Home
It isn't easy to control cockroaches with all-natural methods, but these methods provide cockroach management without exposing you and your family to potentially harmful over-the-counter materials. All-natural methods also reduce the risk of cockroach-related illness and sometimes provide long-lasting control. Here are our best suggestions to help you get roaches out and prevent cockroaches from continuing to get in.
Exclusion work is essential. Use a caulking gun, cans of expanding foam, and mortar to patch cracks, seal gaps, and fill in holes or voids. Replace weatherstripping if you have even the tiniest of openings around your exterior doors. You can apply exclusion work on the interior as well. Interior seals deter cockroaches from moving about inside your home. Seal around pipes, along baseboards, and up any crown molding.
Address food sources that lure cockroaches into your yard. The most important source to address is garbage. Store your trash in scented bags, put them in covered containers, and consider keeping your exterior receptacles as clean as possible. All of this will remove the smells that attract cockroaches and many other pests.
Address moist conditions. When you have too much moisture near your home or in landscaping, cockroaches will take notice. Clear out clogged gutters, make repairs to broken gutter portions, and only give your landscape vegetation the water your plants need for healthy growth. It also helps to remove weeds, unwanted grass, and other vegetation that can prevent the plants in your landscaping from staying dry.
Remove objects that cockroaches can hide under. They'll use any objects to hide from the drying effects of the sun but are particularly drawn to wood, leaves, stone, and other natural materials. A clutter-free yard with proper management of dead branches, grass clippings, and leaves will deter cockroaches significantly.
Address anything that stinks. Even if you don't see food present, an unsanitary smell will attract cockroaches, including the smell of pest waste. Clean stinky items, mix any compost sources, refrain from overfertilization, and pick up dog droppings if you have a dog.
Do you see how all-natural methods work? They limit access to food and water and put physical barriers in front of cockroaches. That second one is often overlooked because roaches are so adept at scaling walls and squeezing in through the thinnest of gaps. But don't underestimate the power of exclusion work. Cockroaches don't chew holes. They have to use openings that exist. Seal openings to keep roaches out and to deter them from easily moving about in your home.
How Do I Get Rid Of Cockroaches?
Once you've identified the roaches in your home, considered the health implications of having a cockroach infestation, and addressed factors that lead to your infestation, the next step is to do something about the roaches in your home. You can use the tips provided above to drive cockroaches out or you can contact a licensed professional to apply cockroach control products. We don't recommend using all-natural methods for German roaches, but you may have success dealing with oriental, American, or wood cockroaches. Keep in mind that it is far better to get professional control for all kinds of cockroaches because, although easier to control, oriental and American roaches are often much dirtier than German roaches because they go in and out of structures. If you don't want your exterior trash receptacles sitting in your kitchen, you can easily see why oriental and American roaches are more of a health concern.
If you need an indoor cockroach treatment or assistance with outdoor cockroach exclusion, reach out to Aiken Pest Control. We offer several treatment options and our licensed technicians have the training and experience to address cockroach problems, no matter how complicated. We can help!