Professional Pest Control For Prosperity, SC Property Owners
The small southern town of Prosperity is found in Newberry County, South Carolina. This quaint town offers an idyllic downtown area, a family-oriented community, and quiet neighborhoods. To protect your Prosperity home, business and family from our area's toughest pests, partner with Aiken Pest Control. For more than 50 years, South Carolina residents throughout the Central Savannah River Area (CSRA) and the Midlands have been trusting us to provide them with quality pest control services. In fact, we were recently voted Aiken's "Best Pest Control!" To discover the benefits of implementing one of our full-service pest control programs, get in touch with Aiken Pest Control today.
Home Pest Control In Prosperity, SC
Let the professionals at Aiken Pest Control help you to maintain a pest-free home. By working together, we can eliminate current pests and prevent future ones from making your home into theirs. Safeguard the health of your family and protect your property from pests with the help of our dedicated professionals. Our year-round home pest control program includes an initial inspection and service visit, quarterly follow up services, and guaranteed comprehensive pest protection. If a pest problem arises between scheduled visits, we return to take care of the problem at no additional cost to you. To learn more about our Quarterly Service Program or to schedule a free inspection for your Prosperity home, give us a call today and speak with one of our helpful professionals.
3 Most Common Signs Of Bed Bug Infestations In Prosperity, SC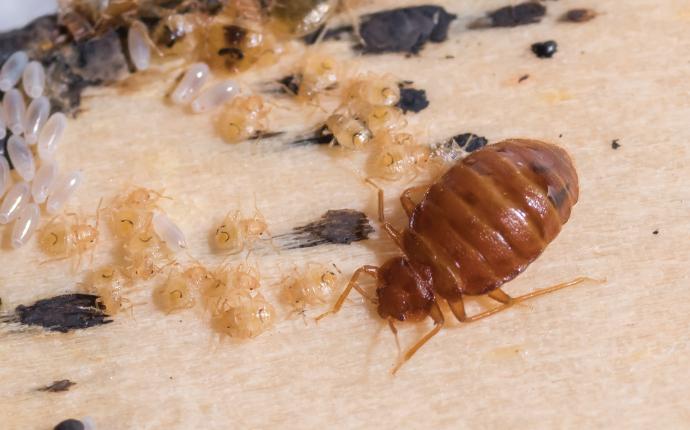 In South Carolina, bed bugs are a threat to homeowners throughout most of the year. Bed bugs are continually moving around and hitchhike their way into new homes. Knowing what to look for is important so you can seek professional help sooner rather than later—helping to minimize the infestation. If bed bugs find their way into your Prosperity home, you will likely see these three common signs:
Living or dead apple-seed shaped bugs or piles of shed skins in the seams of mattresses, box springs, or upholstered furniture.

Blood drops or black streaks (excrement) on sheets, pillowcases, mattresses, walls, or the floor.

Waking up with unexplained bug bites in clusters or lines.
If you are suspicious that bed bugs have found their way into your Prosperity home, immediately contact Aiken Pest Control. At Aiken, we rely on environmentally-friendly bed bug heat treatments to eradicate bed bugs from homes. Heat penetrates all surfaces, reaching and eliminating all the bed bug stages—adults, nymphs, and eggs. To learn the details about all our bed bug inspection and control options, reach out to Aiken Pest Control today.
Mistakes We Make With Termites In Prosperity, SC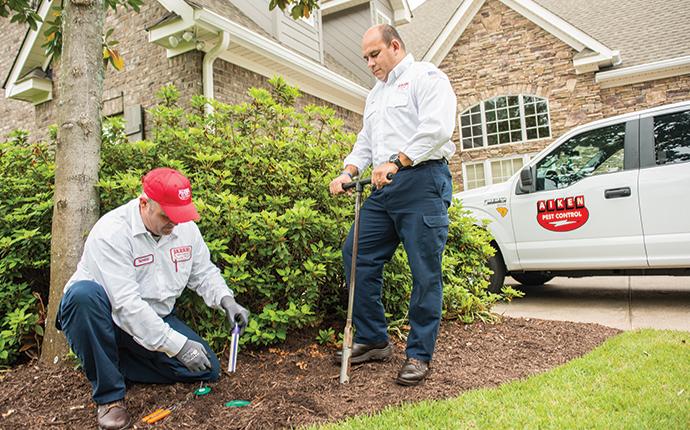 The biggest mistake people make with termites is underestimating their ability to invade and feed on the structural wood of any Prosperity home. Termites are relentless and feed on wooden structures all day, every day, throughout the entire year. When it comes to termites in South Carolina, it is not a matter of if they will invade, but rather when they will invade. Another mistake that people often make when it comes to termites is not seeking professional help to prevent or treat an infestation. Professionals have the knowledge, technology, and methods needed to protect properties from wood-eating termites completely.

At Aiken Pest Control, we rely on the Sentricon® System with Always Active™ to guard Prosperity homes and properties from wood-eating termites. We are an "Authorized Operator" of the Sentricon System and trust its unparalleled ability to eliminate and prevent termites in a remarkably non-invasive and environmentally-friendly manner. Don't wait another day to start protecting your Prosperity home from termites. Call Aiken Pest Control today and let us begin to protect your home from termites with the help of our professional termite control services.
Commercial Pest Control In Prosperity, SC
Don't trust just anyone with your business's commercial pest control needs. Put your trust into the hands of the experienced, knowledgeable, and trustworthy experts at Aiken Pest Control. We offer the commercial and industrial pest control solutions necessary to protect your business, customers, and employees from pests. Our customized pest control programs are always in compliance with industry regulations and provide advanced, cost-effective protection against insects and rodents. Our commercial pest control programs protect a wide variety of businesses and industries, including:
Food and beverage processing facilities

Grocery stores

Restaurants

Retail stores

Hotels

And more
To make your Aiken Pest Control your business's commercial pest control provider, schedule a free inspection today!