The world is full of rodents. Do you know that there are over 2,000 species worldwide and that rodents are the largest order of mammals by a wide margin? Experts say that over 40 percent of all mammals belong to the order Rodentia. But, only three kinds of rodents commonly break into our homes and businesses. They are mice, rats, and squirrels.
The worst culprits to invade our space are rats and mice because they can live indoors permanently. Several species exist in these two families, but three rise to the top as the worst structural pests—house mice, roof rats, and Norway rats. Today, we will take a quick look at these three troublemakers. We'll tell you how to keep rodents out of your garden and fruit trees, reduce rodent activity near your home, and prevent these critters from getting inside. Does that sound like a plan? Great.
Read on to learn more, but before you get started, remember that you're never alone in solving pest problems. You can contact your Aiken Pest Control team whenever you need a solution to a pest problem or have to manage a pest concern on your property. Jump to our contact page for information about professional pest control in Aiken or price estimates for rodent services in our area.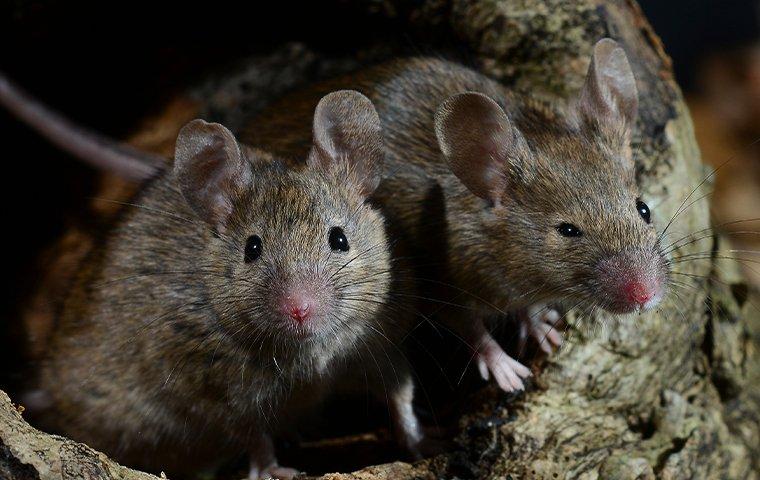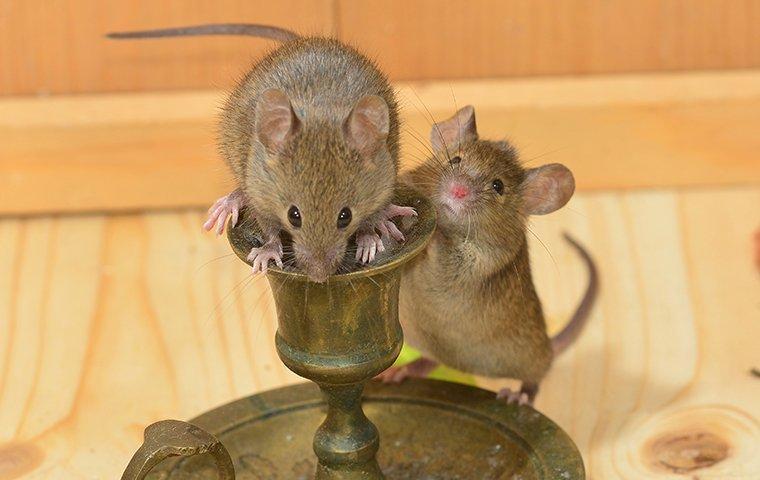 Signs Of Rodent Activity: How To Detect A Problem Early
When rats or mice enter your yard, they will likely do so at night. They prefer nocturnal activity, so you won't see them scampering around your yard like squirrels do. You'll also have difficulty seeing roof rats and house mice because they're gray to black. Norway rats are brown, so they are a bit easier to see.
If you look for rodents in Aiken, you may uncover them in secluded spaces, such as inside a crawl space or underneath a shed. But you are more likely to find evidence of rodent activity than live rodents in their hiding places. Here are some common signs:
Black, shiny, moist droppings: Rats and mice leave their droppings as they run along walls and feel them with their whiskers and body hair.
Small holes chewed in wood, rubber, plastic, and other building materials: A mouse can squeeze through an opening the width of a dime and will use their teeth to enlarge the space so they can fit through.
A hole in the ground under objects: Norway rats use existing holes and make them larger to create a ground burrow.
Soft nesting materials: Mice will shred materials for nests, and you'll likely find them in a drawer or a piece of furniture in storage.
When you find evidence of rats or mice, it is critical to understand what these animals do when they get into your home. They aren't harmless woodland critters. Wild rodents can seriously threaten health, safety, and property.
Rodent Dangers: Health Risks And Property Damage
A rat or a mouse isn't much to look at on its own. But don't underestimate these animals. Their propensity for trouble is unmatched. Here are a few quick facts every property owner should know about these two different types of rodents:
Rodents often chew on wiring and are considered a fire hazard. A tiny mouse can start a blaze inside a wall void.
The holes rodents create in structural materials can allow rainwater to enter, leading to mold and wood rot.
Rodents carry parasites, like ticks and fleas. While the fleas they have do not prefer dogs and cats, the ticks they carry readily move from rodents to dogs and cats.
Rodents commonly explore trash to find food. A rodent is exposed to germs once they raid a trash pile, dumpster, or receptacle. As they move about indoors, they spread the germs onto the things they touch.
Rodents leave their droppings and urine in walls, attics, and on insulation.
It is best to keep rats and mice outdoors. The work required is challenging, but it is worth your time. When you take steps to keep rats and mice out, you'll also have protection from many other potential pests. Let's take a look at how it works.
Rodent-Proof Your Property: Key Steps To Keep Unwanted Guests Away
The key factor in rodent prevention and the problems they bring with them is removing food options. What do rodents eat? Their primary foods are seeds, nuts, and fruit. If your yard has any of these, you can invite a rodent problem. Use these tips to deter mice and rats:
Remove bird feeders or make them inaccessible. Put the feeders on metal poles if you want the birds but don't want the rodents. Rodents can't get a claw hold on metal, making it too slippery to climb.
Do you have fruit trees? You can install a guard around the trunk of most trees to stop rodents from climbing up.
Also, clean fruit up off the ground as often as possible.
Do you have a garden? If so, you must use fencing material to keep rodents from accessing your veggies.
Do you have trees that produce nuts? Just like fruit, you'll need to clean up the nuts routinely.
Ensure all trash receptacles have covers, refrain from overfilling, and get your trash out to the curb each week.
These tips will help to reduce food as an attractant. Along with these tips, you'll need to adjust the environment to make it less inviting. Try these tips:
Pick up your yard. The objects that lay on the ground help rats and mice navigate.
Remove weeds and grass from your landscaping and trim plants near the base to make it harder for rodents to hide in your vegetation.
Remove any junk underneath your deck so rodents don't have a hiding place.
Store campfire wood and construction materials on an elevated platform to get the wood off the ground.
Once you've removed attractants and made your exterior less welcoming to rats and mice, you'll need to seal your exterior. You'll need expanding foam, which comes in cans for this job.
Seal any rotted wood holes.
Fill in structural voids, such as cavities behind joists.
Seal gaps around plumbing.
Patch gaps along the sides of your chimney stack if you have one.
Fill in any holes that appear in your door or window frames.
Patch damaged screens.
Make sure to seal all of your exterior doors completely.
Install covers on vents if they're missing.
There is one more piece to the prevention puzzle. Along with sealing potential entry points, you'll want to block rodents from using common routes.
Cover your downspouts to stop rats and mice from getting in and climbing up. Use a material that allows water to flow out.
Cut tree branches that hang near or touch your roofline. If you can't get up there, consider installing a guard around the trunk to block rodents from scaling your trees.
If you have pipes that run up the side of your exterior walls, you can use guards to stop them.
If you have power lines that attach to your roof or roofline, use guards or something pointy to keep rodents from getting onto your roof.
If you have the skills to apply these strategies, they are well worth the effort. Along with keeping rats, mice, and squirrels out, you'll have protection against bugs and other pests.
Professional Rodent Control: Why Expertise Matters
If rodents find a way into your home, it pays to contact a licensed pest management professional to remove them. Why call an expert? Because rats and mice are surprisingly smart and resourceful. Here are just some of the pitfalls you may face when attempting to get control of rats or mice.
The rodents may smell you on the traps you set, and avoid them.
You may place traps where rodents will not connect with them.
You may trap a rodent and have it chew off a limb to escape, which can lead to a smell of decay in your wall if the rodent doesn't fully survive the experience.
You may catch a few rodents and think your problem is solved when the rodents continue to infest your property silently.
These are only some of the many ways rats and mice can elude rodent control. A licensed professional offers a complete and effective solution to arrest rodent activity.
We inspect your property to track rodent activity, routes, entry points, and conducive conditions.
We properly identify the rodents that require control and apply appropriate methods suited for the particular pest.
We monitor rodent activity and evaluate the control plan to ensure efficacy.
We use a multi-pronged strategy to stop rodent activity and prevent continued access by other rodents.
We follow up until there is no more rodent activity.
When you want to know for sure that your home is free of all rodent activity, it pays to let a trained professional handle this job. Are you in Aiken? Contact Aiken Pest Control for professional rodent control near you. We use trusted products and methods to get great results every time. For assistance, call, text, or email us. We're here to help.