Have you had the experience of working a job that you did not enjoy? Perhaps you had terrible co-workers, a boss with unrealistic expectations, or you felt the company used people without care or concern about their needs. Whatever the reasons, you dreaded going to work. You searched for other employment opportunities, and one day, you received a notification that you had a new job. Do you remember the feeling as you packed up and said good riddance to your old job?
When ants invade your house, they create tension. You feel itchy whenever one travels across your body. When you see ants crawling over the bananas in the fruit bowl, you feel like you need to throw them out. Perhaps you've attempted to end the ant invasion by purchasing a few traps, but they keep appearing in your home. If you are at the point where you want to say "Good riddance" to ants in your home, you need ant control in Aiken from Aiken Pest Control.
We have removed ants and other pests for over a half-century. Our independently owned and operated company is a QualityPro Certified business, an honor achieved by only 3% of pest control companies in the United States. As a QualityPro Certified company, we meet and exceed 16 local, state, and federal regulations; our employees have passed background checks, are drug-free, and are certified. When you partner with us to remove ants from your Aiken home, you work with an award-winning company with decades of experience that has earned the highest achievement in the pest control industry.
Education is necessary to learn how to end an ant infestation and keep them away for good. Please keep reading to learn how ant infestations occur, the problems they cause, and what you can do to end a current ant problem and prevent future ones.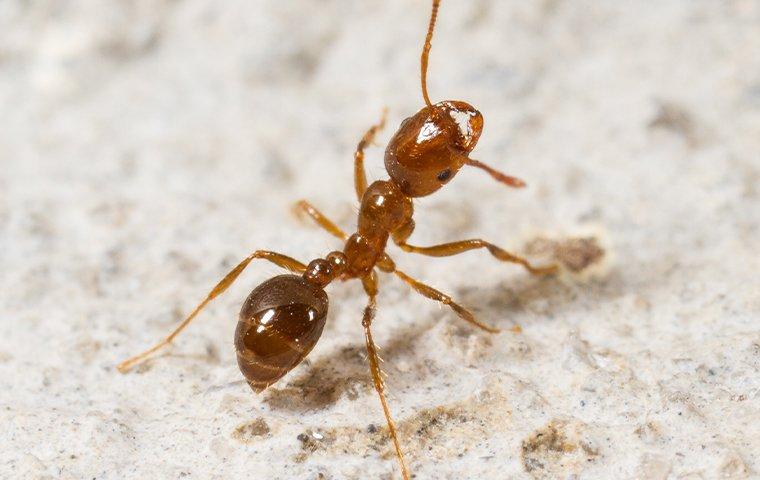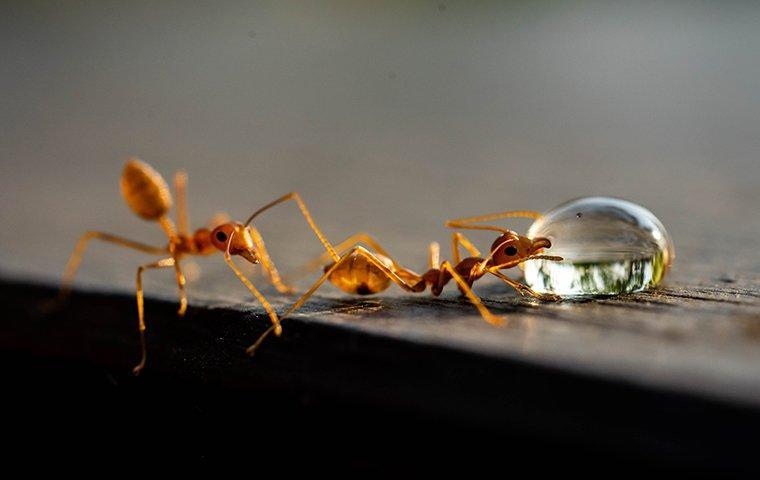 One Ant Usually Means More
Before you searched for help on the internet for pest control in Aiken, you had probably seen an occasional ant crawling across your kitchen floor. Undoubtedly, you quickly dispatched the ant, assuming the random insect somehow managed to find an entry point into your Aiken home. However, each day, you continued to find ants, and before long, you noticed a line of ants marching along your baseboards or gathering around trash containers. An infestation usually begins with a few ants randomly appearing but quickly devolves into a full-blown manifestation of these six-legged crawling insects.
Ants enter homes searching for food and water during dry spells, unseasonable weather conditions, or the swarming season. When ants find access to the house via cracks in the foundation, roofline, or gaps between incoming pipes and wires, they deposit pheromones. These chemicals alert ground-traveling ants and serve as trail markers to guide them into your home. Once ants arrive and find the promised subsistence, they create nests in cracks, behind the baseboard, wall voids, appliances, crawlspace, and other areas in the home.
As previously mentioned, another way ants enter houses is during the swarming season. A fertilized queen establishes an ant nest in the soil or wood (carpenter ants) and produces sterile worker ants. These ants expand the nest, forage for food, and attend to the queen and her offspring. Once the nest has enough worker ants, the queen produces winged, reproductive ants (alates). In the spring, these ants leave the nests, mate while in flight, and land when they detect a potential nesting location. The males die soon after mating, and the fertilized females begin a new ant colony. A few winged ants in the window sills, doorways, or discarded wings in spider webs indicate that you have an ant problem.
Although most ants create new colonies using flying reproductive swarmers, a few ant species in Aiken (Argentine, some red imported fire and odorous house ant species, and pharaoh ants) begin new satellite colonies through a process known as budding. In these situations, the queen produces wingless reproductive ants that mate while in the nest. The fertilized females and several sterile worker ants flee the nest to begin a new satellite group nearby whenever there is a threat to the colony.
Another reason the presence of a few ants indicates many more are in the house is their rapid reproduction rate. Queen ants remain fertile throughout their lifetime and can lay as many eggs as desired. Under favorable circumstances, the queen will deposit many eggs. Ants go through the egg, larva, and pupa growth stages before adulthood. The process from egg to adulthood may take only a couple of months.
Ants in the house indicate established nests and entry points; the best way to secure the ant control service near your home is from Aiken Pest Control. Our trained technicians know where to search for entry points and nesting locations inside Aiken homes.
Ants In The Home Can Create Many Problems
Thousands of ant species exist worldwide, but over our 50-plus years of ant eradication, we have noticed that the following six species are usually the culprits in Aiken homes:
Argentine ants
Crazy ants
Carpenter ants
Odorous house ants
Red imported fire ants
Pharaoh ants
While some create more significant problems than others, each ant species causes issues for Aiken homeowners.
No matter which ant species, all ants are a nuisance for homeowners. Ants in the house cause embarrassment, anxiety, and frustration as they crawl over cooking and eating surfaces, on sleeping people, and in bedding materials. No one likes the experience of watching ants come out of a kitchen drawer when guests are visiting.
In addition to being a nuisance, all ants contaminate surfaces. While the ability of these insects to climb verticle masonry walls may seem to defy gravity, they can carry out that feat using the claws at the base of each of their six legs. Ants crawl over garbage, drains, animal feces, and other unsanitary surfaces. As they travel through these areas, bacteria stick to their claws. Later, when they move through a house, the pathogenic materials transfer to surfaces and contaminate them. Beyond the nuisance factor and issues associated with contamination, some species create other problems.
As their name suggests, carpenter ants live inside wood. When a swarming carpenter ant queen detects a fungal odor from a moisture-ridden wood, she lands and burrows into the soft timber. As she produces worker ants, they continue boring smooth tunnels deep into the wood. Unlike termites, carpenter ants do not consume lumber but use it for nesting locations. Every spring, swamers leave the nest to build new colonies nearby. After a few years, many carpenter ants groups may be chewing through wood in the attic, crawl space, or basement. Sagging floors, ceilings, and warping window and door frames can result from years of an untreated carpenter ant infestation.
Although red imported fire ants occasionally invade Aiken homes, they are primarily an outdoor threat. Unlike most ants, these reddish-brown ants have stingers, which they use to subdue their victims. A fire ant mound contains thousands of ants and multiple exit locations. When a threat occurs, the fire ants race to attack by biting and repeatedly stinging their prey. Fire ant venom causes painful, itchy wounds with fluid-filled blisters to appear. Individuals with allergy sensitivities can go into anaphylactic shock.
Protect your family and home by using ant control for homeowners from Aiken Pest Control.
Five Useful Ant Prevention Techniques
Although ants live in the yard around your house, that does not mean they have the right to invade your home. Once Aiken Pest Control ends the current infestation, implement these five ant prevention tips to deter a future problem:
Prune tree branches and shrubs away from the structure
Seal cracks in the foundation, roofline, and between incoming pipes and wires
Repair holes in window and door screens
Install door sweeps on exterior doors
Vacuum the house regularly
We can provide additional tips for your location when one of our experienced service technicians inspects your home to get rid of ants.
Call Us For All Your Ant Control Needs
If you want to say "Good riddance" to ants inside your Aiken home, you need the ant pest control services from Aiken Pest Control. A trained technician will inspect your home for entry points, attractants, and hot spots. We will also work to identify the ant species invading your house because if you improperly treat ants that spread through the budding process, you can create a worse problem.
Once we gather data, we create a strategic plan targeting the species infesting your Aiken home. As a QaulityPro Certified company, we adhere to proven pest control practices that meet all local, state, and federal regulations. Our initial treatment includes the interior to eliminate ant nests inside the house and exterior treatments to prevent ants from following pheromone trails into your home.
We also create a barrier around your home to discourage new ants from invading. Our routine follow-up plans ensure the boundary stays active and effective against future infestations. Although rare, if you encounter ants between our scheduled visits, we will return and treat the home at no additional cost.
Contact us today for a free quote and schedule your free, no-obligation home inspection.