How much do you know about silverfish? Do you know that they don't have larvae and that they emerge from their eggs as six-legged nymphs that look like tiny adult silverfish? It's true. Baby silverfish aren't worms, maggots, grubs, or caterpillars. They begin life as insects. And do you know that silverfish are food for other pests such as centipedes and spiders? If you see silverfish, you can bet there are other pests creeping around inside your home. Those silverfish aren't alone. Here's a big one: Do you know that all the silverfish in your home don't come from the outside? They can originate from a source within your home—namely, female silverfish. You can seal every crack and crevice in your exterior and continue to have silverfish emerge as you attempt to get rid of them. If you don't understand this, a silverfish infestation will be frustrating to address. The secret to silverfish pest control in Aiken is understanding how silverfish behave. That is our subject today. We'll look at the habits and behavior patterns of silverfish, why it is not good to have them in your home, how they get in, and the best way to get them out and keep them out. If you don't want to learn how to keep silverfish away and would rather have a licensed pest professional take care of your problem for you, we can help with that as well. Click through to our contact page or give us a call to set up a service visit. We're here to help!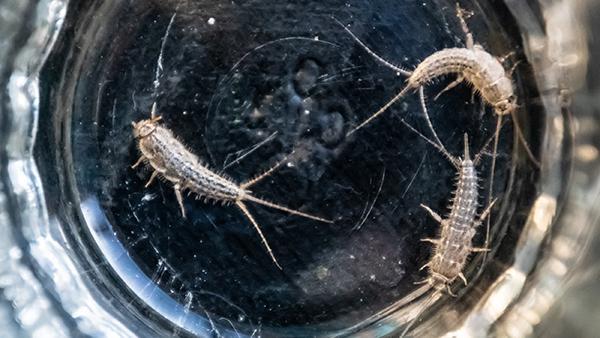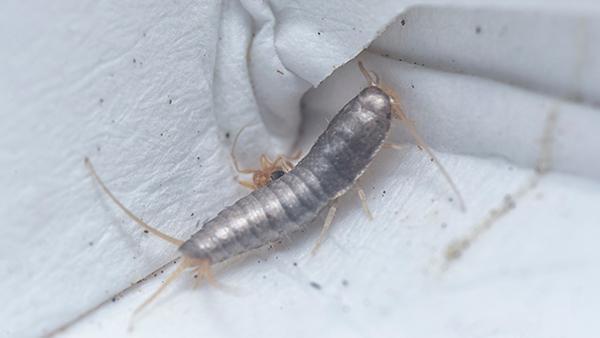 Habits And Behaviors Of Silverfish
Silverfish are mysterious pests because they live in wall voids and the spaces between your floors and subflooring. Hidden spaces like these can have many pests if your home doesn't have exterior pest protection. But you aren't without options if you don't yet have an ongoing pest control service plan for your home. You know this. We're sure you already take steps to control pests, such as keeping your home clean, fixing damaged screens, and ensuring all of your exterior doors are sealed. That first one is the most important. Pests eat pests. But silverfish are somewhat different than most other pests. They aren't predators. They don't eat living insects. But they are more than happy to dine on dead insects and shed insect skins. They also eat shed human skin cells. It is critical to understand this because if you are under the impression that silverfish will only survive on the food source you've found them eating, you won't recognize the magnitude of your problem. Here are some examples:
Silverfish can get into certain foods, such as rolled oats and cereal. If you get rid of the food or put your food in sealed containers, the silverfish in your home won't starve.
Silverfish eat books and clothing. If you find damaged items in storage, you may put all of your stored items in plastic totes and assume the silverfish will no longer have anything to eat.
Silverfish can eat wallpaper. If you find silverfish damage on a portion of the wallpaper in your home, you may put down traps in the area to catch them, or you may try something drastic, like removing the wallpaper and painting your walls.
You can't remove all the food sources silverfish eat. While it is good to protect items that silverfish may damage, these insects can live on the dust in your home. That dust has particles of human skin cells and provides a food source for silverfish. If you hope to get rid of silverfish naturally, you must thoroughly address all food sources or these insects can keep reproducing indoors. While it is impossible to stop silverfish by controlling food sources alone, you may arrest an infestation and stop silverfish damage by applying two other natural control tips.
Address Moisture: Silverfish need moisture to stay hydrated. A home with moisture control will not provide a suitable environment. How do you control the moisture in your home? There are a few ways to consider. You may already do some of these:
A bathroom fan vents moisture when you take a shower or bath. But many people don't turn that fan on. Removing moisture in your bathroom (a key location for silverfish activity) has a bigger impact than you might think.
Plumbing issues can increase moisture problems. If you have a leaking faucet, that constant drip provides a constant moisture source.
Every home has moisture in the air. A dehumidifier can take the moisture out of the air. It may shock you just how much moisture is in the air of your home.
Silverfish thrive in humid, moist, or damp habitats. They prefer to find a paperback book stored in a damp storage room or humid basement. Consider the impact moisture has on silverfish to help manage what silverfish eat.
Seal Gaps: Exclusion work is critical when addressing a silverfish infestation. It has a big impact because it helps to stop silverfish from getting inside. When combined with yard work around your exterior, you may stop an infestation if your home already has humidity control indoors, but many homes have issues with humidity and other vulnerabilities that aren't readily apparent. You may further deter silverfish if you consider interior gaps. Silverfish don't chew holes to go from one room to another. They use available gaps, cracks, and holes. A caulking gun can seal those pathways.
It is challenging to apply all-natural pest control to manage a silverfish problem, but it is worth the hard work because these tips control a wide and diverse group of pests known as moisture pests. Silverfish are far from the only pests impacted by sanitation, food protection, moisture management, and sealing gaps.
Why You Don't Want Silverfish In Your House
Some people ignore silverfish. They're small and harmless insects. But a silverfish on the floor of your bathroom is a warning sign of other pest problems. Since silverfish are food for other pests, it is a good idea to deal with an infestation as quickly as possible. On top of this, silverfish can damage your belongings. If you have valuable keepsakes in storage, they are the most vulnerable.
How Do Silverfish Find Their Way Into Homes?
Silverfish get into your home because they can. As we pointed out, you can stop them. But you need to know where they get in. Here are a few common entry points.
Gaps around pipes and wire conduits are perfect, particularly if there is also an outdoor habitat, such as leaf litter, stacked wood, or overgrowth.
Gaps around your exterior doors. Damaged door sweeps and worn-out weatherstripping can provide tiny entry points big enough for silverfish. Stand outside your home at night and look to see if light leaks out from around your doors. If so, silverfish can get in.
Gaps around window panes. You may stay on top of keeping your screens repaired but miss the fact that silverfish can squeeze through the tiniest gaps around your frames.
Foundation cracks. If a crack is deep enough and provides a complete route to the interior of your home, a foundation repair kit can patch that route quickly.
Use these suggestions to help you find all of the tiny entry points silverfish are using to get into your home. A little muscle will go a long way toward keeping silverfish and other pests out of your home.
The Best Way To Keep Silverfish Out Of Your Home
All-natural pest control is the best first step, but it doesn't provide the greatest level of pest control possible. If you want to get silverfish out of your home and keep them out for good, it is necessary to apply pest control materials. We recommend getting a licensed professional to apply these materials so that appropriate materials are used in appropriate amounts and in appropriate locations.
Some of the products Aiken residents use to control silverfish present a health risk. It doesn't make sense to use something harmful to your health to control insects that present no danger to your health. Contact Aiken Pest Control for silverfish control. Our technicians use field-tested strategies to locate silverfish activity, identify conducive conditions, apply all-natural methods and appropriate materials, and work the problem until there is no problem left to work. It takes sustained effort, extensive training, and field experience. We deal with silverfish all the time. We know how they behave, how they avoid treatments, and how to apply the right amount of control to get effective and sustained results. You don't have to live with silverfish and other annoying, and slightly destructive, moisture pests. We can apply layers of protection to stop those pests in their tracks.
Are you in Aiken or the surrounding area? Contact Aiken Pest Control today and we'll walk you through your options or send a technician over to check out your specific issue and get you on track to finding the solution. We're here to help.