Aiken is regarded as the home of polo and racehorses, which is how this small community has gained a dose of fame. But Aiken has far more to offer its residents, whether that's breathtaking gardens, family activities, museums, or themed eateries. Life in Aiken is pretty good, except for the pesky mosquitoes. This charming area is known for the amount of warmth and humidity it experiences on a seasonal basis. These factors are largely responsible for drawing out mosquitoes and creating a season that can last from April through October, and sometimes longer. Because mosquitoes are such a prevalent pest in the Aiken area, it's important for you to understand what they look like, the potential health risks they pose, and what you can do to protect yourself from them.
At Aiken Pest Control, we are dedicated to delivering mosquito pest control in Aiken that people and businesses can trust. This has been our mission since 1967 and we continue to uphold it to this day. We hope that the following guide provides the necessary information to understand mosquitoes better, and if you're ready to start receiving mosquito treatments, please visit our mosquito page right away!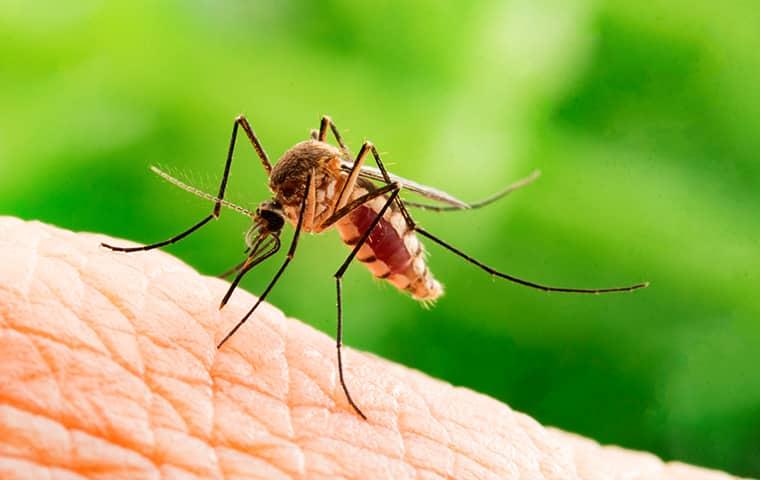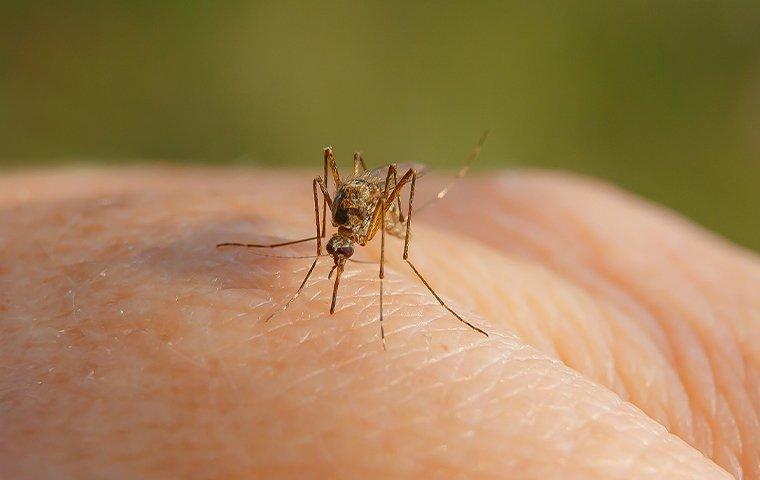 Mosquito Or Not? How To Identify Them At A Glance
There is a wide variety of insects that fly and buzz around Aiken, but they're not all the same. When some of them are so small and move so quickly, it can be challenging to determine whether or not they're mosquitoes. Here are a few quick ways to determine if the pesky pests that are present are mosquitoes:
Often black and white in coloring, sometimes with red markings
One set of wings
Three sets of long, spindly legs
A long abdomen that's segmented into eight parts
Very lightweight and featherlike in movement
Primarily active during the hours of dusk and dawn
At Aiken Pest Control, we are the area's most trusted pest experts. We have been servicing the area since 1967 so we know a thing or two about local pests and how to identify them. If you need assistance in determining whether or not you have an active mosquito problem, we are here to help. We'll dispatch one of our QualityPro-certified technicians to your property and will provide a comprehensive property inspection. This process will help us to understand if mosquitoes are present and to what extent. We are in constant conversation with our customers and will make them aware of the types of pests that they have on their property, whether that entails mosquitoes or something else. If we do find mosquitoes, we are happy to offer our mosquito control services to reduce populations. For more information on mosquito identification in Aiken, call us today.
Mosquito Dangers: Understanding The Risks Of An Infestation
Each mosquito season, mosquitoes are buzzing around the Aiken area looking for people to bite. Their nibbles can create itchy bumps that people can't help but scratch. In some instances, these bites are merely annoying, but there are other times when they are more harmful to a person's well-being. Mosquitoes in the area are linked with health issues such as Eastern equine encephalitis, St. Louis encephalitis, La Crosse encephalitis, and West Nile virus. Some of the symptoms of West Nile virus include sore throat, joint pain, a sudden high fever, muscle aches, and nausea. Many people who develop WNV will never develop symptoms and may not know that they even had the virus.
Across the globe, they are also associated with Zika virus, dengue, Chikungunya virus, and malaria. Not all mosquitoes are hazardous; however, if they're fed off of an ill animal, then they can pass along those pathogens to the people that they bite. Unfortunately, it's not possible to tell by looking at a mosquito whether or not they are carrying the pathogens that could lead to these health issues.
Mosquitoes can also be the cause of heartworm in both family cats and dogs. Transmission is similar in that they must have feasted on an infected host. Once the mosquito has bitten a cat or dog, the female heartworms release their offspring into a pet's bloodstream. From there, the disease spreads to the animal's lungs and can have harsh lasting effects. Some of the symptoms of heartworm are getting easily fatigued, loss of appetite, a hacking cough, rapid weight loss, and a bloated stomach. It only takes one bite for animals to be infected with heartworm, which is why it's important to consult a veterinarian for protection options.
Another threat that comes with having a mosquito population present is the possibility of other pest invasions. One of the most notable predators of mosquitoes is bats, which is a pest problem that homeowners do not want to encounter. Having bats roosting in a home due to an excess of mosquitoes can lead to guano buildup, which can then lead to histoplasmosis, the spread of fleas, and severe property damage. It's hard to imagine that mosquitoes could set off this domino effect, but they can.
To better understand the threats of a mosquito infestation, call Aiken Pest Control today.
Mosquito Prevention: Eco-Friendly And Effective Tips
Mosquitoes are on the search for people to bite because they must obtain human blood in order to lay their eggs. Preventing exposure to mosquitoes doesn't have to be a harsh process with these eco-conscious tips:
Plant a garden. There are certain plants that contain properties that are naturally repelling to mosquitoes. Some of these plants include rosemary, basil, geranium, mint, marigolds, citronella, and lavender. Homeowners can spread these throughout their property and enjoy some fresh herbs for cooking as well.
Tend to other areas of landscaping. Mosquitoes will seek dark and damp areas of yards to hide out amidst during the daytime so that they don't dry out. Overgrown trees and hedges as well as yard debris will provide them with these areas. Homeowners ought to prune regularly and get rid of any organic rubbish so that mosquitoes don't have a place to rest.
Be cognizant of water. Mosquitoes are pests that thrive in damp and humid conditions, and they also require wet spaces in order to lay their eggs. Mosquitoes prefer standing water, which often collects in pet bowls, flower pots, bird baths, and children's play structures. If any does appear, be sure to flush it out and replace fresh water where it's needed.
Curb human attraction. There are lots of factors about human existence that attract mosquitoes, from blood type and body sweat to pregnancy. There are also certain traits that people can control. Consider applying an EPA-approved topical such as lemon eucalyptus oil, skip wearing perfume, use unscented laundry detergent and hygiene products, opt for light colors when dressing, and try to limit alcohol consumption.
Turn on fans. Not only may using fans help to reduce sweating but it will also circulate air and make it more difficult for mosquitoes to latch onto people.
Work with a reputable pest control company. Professional pest control companies can provide eco-conscious, quality-driven mosquito treatments on a seasonal basis.
For more information on eco-friendly mosquito prevention tips, call Aiken Pest Control today.
Pro Mosquito Control: Regular Maintenance And Long-Term Prevention
While there are key DIY steps that you can take to help limit your exposure to mosquitoes, there is no substitute for professional mosquito treatments. When applied on a regular basis, these treatments mean you will be able to experience far fewer mosquitoes around your property and feel long-term relief. At Aiken Pest Control, we are a longstanding member of the community and also a QualityPro-certified company. What this means is that when you entrust the livelihood of your home to us, we will abide by the most rigorous quality standards while we're treating mosquitoes. We also aim to be affordable and efficient, while guaranteeing our services, too.
Whether you're actively dealing with mosquitoes on your property or you want to get a jump start in preventing them, we have the solution for you! At Aiken Pest Control, we provide homeowners the option of either one-time services that are fast and effective for special events and outdoor gatherings, or recurring services during mosquito season for lasting protection. If you seek a one-time visit, we typically recommend a treatment between 24 and 48 hours before your event to see maximum results.
Regardless of the frequency of services that you desire, we'll begin the process by performing a comprehensive walkthrough of your property. We survey your yard to identify the level of mosquito activity as well as hiding sites and breeding grounds. You can expect that our technicians will become intimately familiar with your property so that we can treat it most effectively.
Once we have the relevant information, we can move forward with treatments, which are odorless and leave no detectable residue. We use a backpack mister method to apply our fast-drying product to all of the notable sites that we've located around your property. This approach allows us to target hard-to-reach areas while delivering a broad range of coverage. For customers who desire continued coverage, we return on a monthly basis between April and October. And to maximize your coverage and savings, we have a mosquito and outdoor pest plan that might be a fit for you! To learn more about our mosquito prevention treatments, call us today.