Termites in Aiken are sneaky pests that lurk in dark, secretive places. If you hope to prevent them from taking a bite out of your home, it helps to know where they hide. Today, we're going to cover all the bases. We'll discuss what termites look like and how to see visual cues that let you know trouble is brewing. Then, we'll dig deeper and show you how to find subtle signs of a termite problem. Once you're an expert on locating termite activity, we'll tell you what the professionals use to get rid of termites. If you stick with us all the way to the end, we'll finish by sharing some smart, eco-friendly ways to make your property less interesting to these wood-eating insects. As always, your Aiken Pest Control team is here if you need us. We offer professional pest control services in Aiken, including inspections, removal, and prevention. Contact us by phone or internet for assistance in Aiken.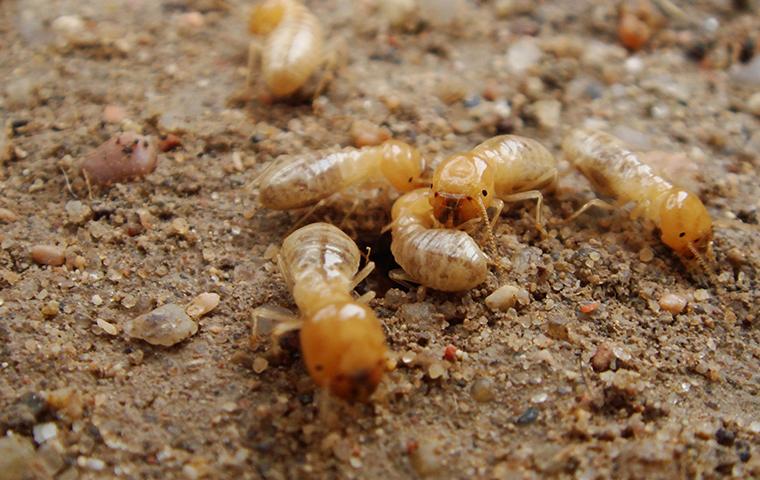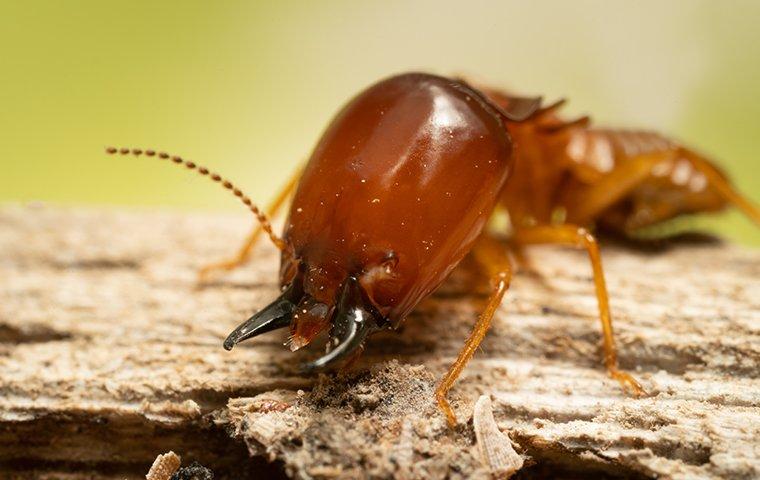 Identifying Termites: Signs And Visual Cues
Termites are super sneaky, but you can detect them if you know what they look like and where you might find them. Here's what you're looking for.
A termite swarmer. If you see one tiny black insect with white wings, take a closer look. It might be a swarmer. A termite swarmer is ⅜ of an inch long and has wings that stack on top of each other. These wings have rounded tips. Keep in mind that, at only ⅜ of an inch, you'll have to look closely to recognize a termite swarmer.
A termite swarm. It is much easier to see dozens of winged termites. Once again, their wings give them away. If you see lots of white-winged insects crawling or flying around together, you're looking at a termite swarm.
A termite worker. It is rare to see termite workers because they live in the ground or inside the wood they infest. But there are a few ways you might stumble onto a few worker termites. The most common is finding termites under a log or stick in the yard. When you pick up a decaying piece of wood, take a peek at the bottom. If there are termite workers on it, you may see them. They are about ⅛ of an inch long and look like fat, pale-yellowish ants.
Shelter tubes. Termite workers create tubes on surfaces. They use these tubes to shuttle in and out of structures without exposing themselves to the air. You won't see workers running around on your foundation walls like ants do. They'll hide in these tubes. Most shelter tubes look like thin, wiggly mud lines. As workers build from the ground to the wood of your home, they may branch off, which will make the tunnels look like muddy veins on your foundation walls.
Clicking. It is rare, but you may sometimes be able to hear termites. What you'll hear is not the workers chewing on your wood; it is the sound of soldier termites banging their tiny heads on tunnel walls to warn the workers of a threat. If you hear a light clicking noise in your walls, you may have termites.
These are the warning signs you may notice without stopping to do a proper termite inspection. But we don't recommend waiting to see termites. It is far better to go looking for them. All of these signs are subtle and rarely seen. Termites have a propensity to hide in dark places that are just out of view.
The Silent Destroyers: Uncovering The Threat Of Termites
If termites in Aiken are lurking on your property or in your home, there are a few ways you may detect them. You'll need a flashlight, some work clothes, and a pinch of determination.
Here's where you need to look and what you're looking for:
Move objects in your yard that sit on the ground. See if you can find any termites crawling around underneath.
Get into your crawl space and look for shelter tubes. If you have concrete piers, use a flashlight and a mirror to check for tubes inside.
Dig soil away from the base of any wooden posts that go down into the ground. Look for termite workers in the soil or signs of termite damage in the wood.
Examine wooden supports. Look for any damage or mud tubes.
Tap on wood and listen. If a solid support beam does not sound solid, you may have termites inside.
Inspect the ground in sheltered locations for shed swarmer wings.
Inspect spider webs. When termites shed their wings, the wings can end up in spider webs. Look for white wings that are uniform in size.
Now, you're armed with what you need to know in order to catch termite activity on your own. Does that mean you should wait to contact a termite professional after you've seen the warning signs listed above? Let's take a look.
Professional Termite Extermination: Know When To Call In The Experts
Termite workers don't ever have to reveal themselves. They can crawl up through a crack in a foundation, enter the wood of a home, and devour it one bite at a time. As termites feed, they'll grow a population and eventually start to produce winged reproductives. While winged termites are more noticeable, you're not likely to see them. A nest can be as much as a hundred yards from your home. When the swarmers take to the air, they mate in less than two hours and disappear back into the soil to create new nests. If you miss the swarm and don't catch the kings and queens before they tunnel into the soil, you're not going to know you have an infestation – or that it is about to get worse. The right time to call a termite control expert is now.
When you contact Aiken Pest Control for professional termite removal, we install The Sentricon® System with Always Active. The Sentricon® System is a termite bait solution that provides active termite colony elimination from the moment it is installed. If you have termites in your home, they'll find the bait as they go out to their nest and back in for more food. Termites feed on multiple food sources and are sure to find the bait because they're always looking. When they find the bait, they share it with the colony, and the colony is eliminated. If you don't have termites in your home yet, The Sentricon® System can help you keep it that way. The Sentricon® System bait is scientifically proven more interesting to termites than wood, so they're going to take the bait long before they build the determination to feed on the wood of your home. Sentricon® System bait is like cake for termites.
Stay Termite-Free: Helpful Tips To Prevent Reinfestation
As you can see, the best solution for Aiken termite control and prevention is the award-winning Sentricon® System. But is it the only way you can prevent a termite reinfestation? No. There are ways to make your property less interesting to termites. These termite prevention tips can help you prevent reinfestation or stop termites before they infest your home.
Pick up dead branches and store them where termites can't feed on them. The worst thing to have in your yard is a brush pile. Consider putting those sticks in a bin.
Pick up logs, firewood, and construction wood. You should remove all wood sources from the soil and store them on a mat or elevated platform.
Pick up junk piles. Termites eat cellulose, which is found in many household items, such as books, documents, shirts, pants, bedding, etc. Store junk as you would dead branches. Put it all in a bin, or remove the junk pile from your yard entirely.
Replace wooden structures, like fences and structural skirting. If wood touches the ground or is inserted into the ground, it can provide a meal for termites. Consider replacing these structures with vinyl materials. Modern vinyl fences look amazing, and you can get a real-wood appearance without providing a food source for termites.
Reduce soil moisture. Termite workers need moisture because they dry out easily. That is why they make shelter tubes. So, keep the perimeter of your home as dry as possible. One helpful and effective way to do this is to get rid of any blockages in your gutters. A clogged gutter allows rainwater to overflow and soak the soil next to your home.
These tips are all-natural and require no unique knowledge of termite control. When you combine them with yearly inspections, your home will have basic protection against termites. If you don't want to do the hard work inspecting your property, contact us for a professional termite inspection in Aiken. Termite damage is preventable, but it takes knowledge, effort, and dedication. Connect with Aiken Pest Control today to learn more about our residential and commercial pest control services in Aiken.