Most people do not spend their days thinking about mosquitoes either because they have learned to ignore these pests or because they do not spend enough time outdoors to be bothered by their terrible bites. Seeing that you are here today, it is safe to assume you are not ignoring these annoying little insects. This is good.
There is a lot you should know about mosquitoes and the serious problems they cause around local properties. Today we will take some time to talk about the dangers of mosquito bites, common diseases these pests spread locally, DIY prevention tips, and professional options to protect your yard from infestations.
If you are interested to learn more, keep reading. For direct help in dealing with an active infestation on your property, call our team at Aiken Pest Control. We are a dedicated local provider that offers advanced options to handle these and other yard pests. Let us walk you through your options for yard pest control in Aiken and find a permanent solution to annoying mosquitoes.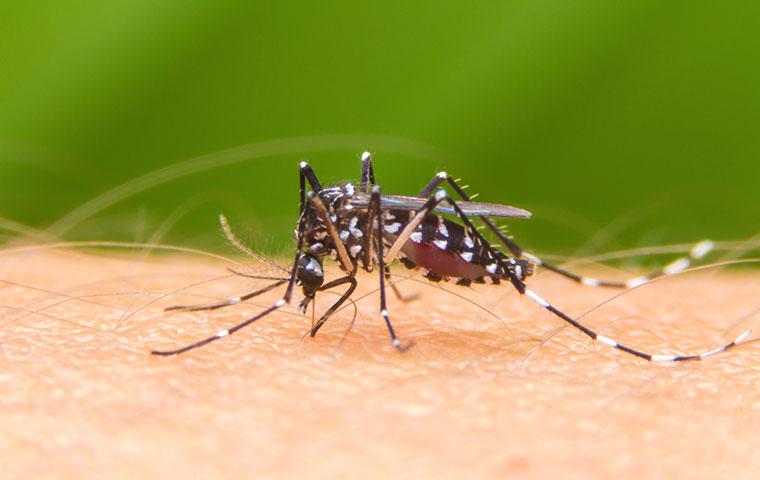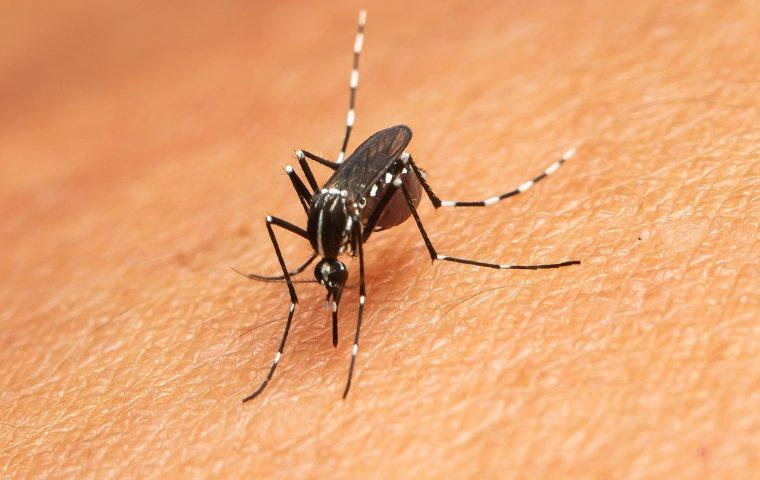 Just About Everyone Has Been Bitten By A Mosquito
We have all had the negative experience of being bitten by a mosquito. These pests are all over the place here in Aiken. What you might not know is what drives these pests to bite and when they are most likely to bite. Let's start with their motivation.
Despite what many people think, adult mosquitoes do not need blood to survive. In fact, male mosquitoes lack the ability to steal blood from humans and animals. Considering this, you may ponder the question, "What do mosquitoes eat?" Like bees and wasps, mosquitoes eat nectar.
These tiny insects are actually great pollinators and provide unique benefits to the environment. The only reason they need blood is to provide nutrients for their eggs. Females use their needle-like mouth parts to pierce the skin of humans and animals to draw blood. They then inject this blood into their eggs so they can grow healthy.
Mosquitoes in Aiken lay their eggs on sources of stagnant water. They find these sources inside birdbaths, clogged gutters, playground equipment, and other similar locations. We will talk more in a bit about how you can address these breeding grounds around your property to discourage these pests from hanging around your yard.
Now that you know why mosquitoes bite, let's talk about when these pests are most active. There are a few things that might raise your chances of being bitten on a day-to-day basis. If your home is next to a marshland, swamp, flood zone, or other popular breeding grounds, you will naturally have more trouble with these pests. You are also more likely to be bitten at dawn and dusk, as this is when mosquitoes are most active.
We will make some recommendations later in this piece on how to avoid mosquito bites on a day-to-day basis and some tips to make yourself less attractive to these pests.
Common Mosquito-Borne Diseases
There is a lot that you should know about mosquito bites with regard to diseases. First, you should know that these pests are responsible for close to a million deaths worldwide every year. The majority of these deaths occur in third-world countries where access to life-saving medications is limited.
A high percentage of mosquito-related fatalities are associated with malaria, one of the most common and dangerous diseases spread by these pests. Keeping all of this in mind, mosquito-borne diseases and blood-borne diseases, in general, are less common here in the United States for a few reasons.
In the United States, we have better access to healthcare services. If you do get sick, it is easy to go to the hospital, get diagnosed, and find a treatment to get better. Another reason mosquito-borne diseases are less common is because we have the CDC. The CDC (Centers for Disease Control and Prevention) works hard to address blood-borne diseases and other viruses when outbreaks occur in the United States, which, in turn, reduces your chances of getting sick.
With all this in mind, outbreaks still occur, and people still contract harmful sicknesses. The best way to avoid things like West Nile virus, dengue fever, chikungunya, and malaria is to avoid mosquito bites as much as possible.
Something you should know about mosquitos is how they pick up diseases. Most of these pests are completely harmless and only cause minor annoyances with their bites. The ones you need to be worried about are those that bite an infected human or animal.
Now, not all types of mosquitoes can spread diseases. Only certain kinds of mosquitoes do. For instance, Anopheles mosquitoes are the only species around the globe that spreads malaria. When these bugs bite an animal or human infected with malaria, they pick up this disease themselves. They then transmit it to other healthy individuals. The only problem is that it is impossible to know whether a mosquito is infected or not. The best thing to do is to avoid bites altogether.
One thing to consider is what mosquito-borne diseases look like. Most symptoms related to mosquito-borne illnesses present themselves within three to fourteen days following a bite. Common symptoms to look for include fever, body aches, headaches, nausea, a rash around the bite site, swollen lymph nodes, stiff neck, muscle weakness, and disorientation. Most severe symptoms take a bit to come on.
If you begin to experience any of the symptoms described above, we recommend you reach out to your local doctor. They can help you identify your sickness and work towards an appropriate treatment.
Five No-Nonsense Mosquito Prevention Tips
Mosquitoes are not complicated creatures. They need two things to survive; places to breed and individuals to feed on. Mosquitoes find breeding grounds inside water pools around properties. In order to find blood meals, female mosquitoes use things like body heat, carbon dioxide, and silhouettes to identify their prey.
If you want to avoid mosquito bites, you have to make yourself and your property less attractive to these pests. Here are five no-nonsense mosquito prevention tips to help you avoid these pesky little insects.
Mosquitoes will have an easier time spotting you if you are wearing dark clothing. If you plan on spending time outside, consider wearing a lighter-colored wardrobe. Light-colored clothes will make you less visible to these pests.
Mosquitoes are most active during dusk and dawn. Do your best to spend less time outdoors during these times. It also helps to avoid mosquito-dense areas like swamps, marshlands, and flood zones.
Mosquitoes are terrible flyers and have trouble landing on humans when there is a breeze. You can install fans around covered outdoor lounging areas to make it more challenging for these pests to take a bite out of you while you try to enjoy time outside.
Mosquitoes breed inside pools of stagnant water around properties. Do your best to eliminate as many potential breeding grounds as possible. To do this, try things like cleaning your gutters once a year and making sure they are in good working condition, eliminating sources of water buildup around your property, changing the water in ornate pools and birdbaths once every four days, and addressing conditions that might lead to moisture buildup in the future.
Mosquitoes often use bodies of water like ponds and lakes to lay their eggs. Stocking bodies of water with fish that eat mosquito eggs is a great way to reduce breeding and limit their ability to survive on the water.
Keeping up with prevention tips to stop mosquitoes is challenging. These methods are also not guaranteed to help you avoid bites here in Aiken. The absolute best option you have to deal with mosquitoes before they become a problem involves hiring our team at Aiken Pest Control for year-round mosquito control. Let us walk you through your options now.
Pro Mosquito Control Offers The Best Protection For Your Yard
There are many reasons why you might want to treat a property for mosquitoes. If you plan on hosting an outdoor event like a wedding or family reunion, you will want to invest in a single-service treatment to ensure the day is more comfortable for your guests.
If you want to enjoy your property year-round without the risk of mosquitoes, you will want to invest in a seasonal plan. We are here for whatever you need. Take a moment today to talk to one of our team members about our yard pest control offerings. We will share how our methods work and help you find freedom from annoying and potentially dangerous pests like mosquitoes, fleas, and ticks. All you need to do is reach out and speak to one of our pest professionals.
Call our team at Aiken Pest Control to start a dialog about our mosquito and yard pest control options. We will answer any questions you have and find the best strategy to help you avoid these terrible yard insects here in Aiken.