Naturally, we want to protect ourselves from danger. Every night before you go to bed, you probably have a routine where you go through the house to ensure all the exterior doors are locked. If you have an alarm system, you may arm it. You likely have exterior motion-sensitive flood lights that trigger should someone walk through the yard.
It is natural to want to protect yourself, your family, and your possessions. You probably have a homeowners policy to protect your home from burglary or an act of God because your house is perhaps the most significant investment you have made. Unfortunately, most homeowners' policies do not cover damage from termites. When you realize termites are in the house eating the floor away beneath your feet, you are probably facing several thousand dollars in repair damage.
The best protection against termites begins with the Aiken pest control termite experts at Aiken Pest Control. We have removed termites from homes in the Central Savannah River Area (CSRA) for nearly six decades. Various awards and the QualtiyPro designation, earned only by a small percentage of pest control companies, prove that our independently owned company is committed to quality customer service and your total satisfaction.
We wrote this brief article to help you protect your home and pocketbook from the devastating consequences of a termite. Please keep reading to learn about termites and infestation signs and get ideas to stop attracting termites to your home.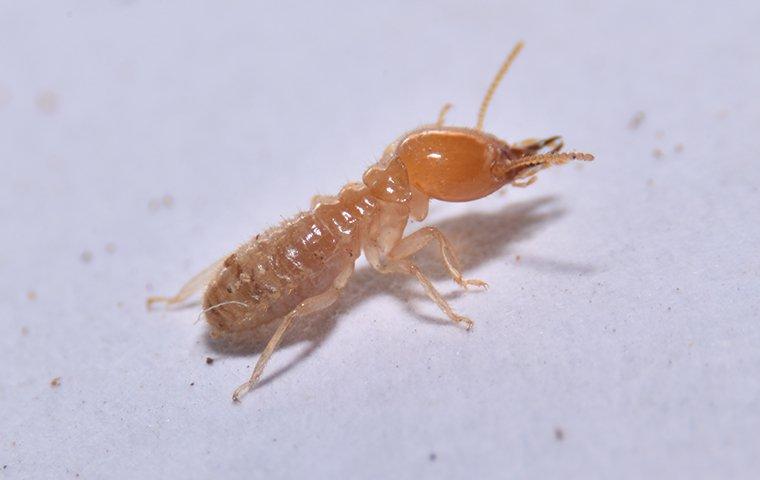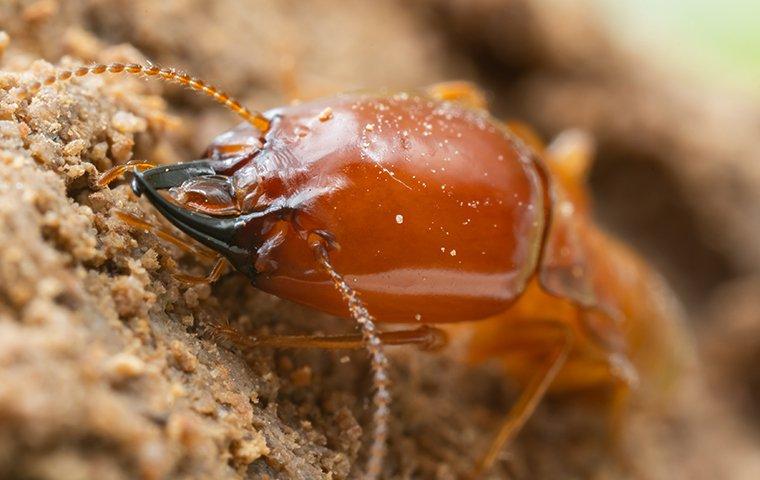 The Life Cycle Of A Termite Colony
A termite colony starts with flying adult termites on your property. In the spring, swarms of flying reproductive termites leave a nearby mature nest and float along on the warm springtime wind currents. If they survive bats, swallows, and other predators and weather conditions and find damp wood near the soil, they land and discard their wings.
They will dig a hole in the ground if they are subterranean termites. Once inside the dirt, they seal the opening to protect themselves from predators, breed, and the queen lays her first egg batch. If they are drywood termites, they will find a wood crack to use as a new nesting location. Subterranean termites are the types of termites in Aiken that affect most homes.
The first batch of eggs produces sterile, blind workers. The king and queen nurture them until they mature. Once the worker nymphs become adults, they assume the duties of caring for future offspring, foraging for food, and expanding the termite tunnels and chambers in the soil.
One duty not on the worker termite's resume is protecting the colony. Therefore, later egg batches produce soldier termites along with worker termites. This new caste of termites is blind and sterile like the workers, but they have large heads and powerful mandibles. Their job is to protect the entry points into the ever-expanding colony from ants and other predators.
The growth of a termite colony is slow. The queen may produce only about 50 eggs in her first year, comprised of workers and a few soldiers. However, as the queen matures, her egg production increases to about 1,000 offspring daily. After a few years, a third termite group is produced: reproducing, flying termites, also known as alates or swarmers. Once this group is active, the life cycle of a termite colony is complete. When the rains and warmer spring air arrive, male and female swarmers leave the nest to begin the process again in a new, nearby location.
A mature subterranean termite colony has 60,000 to over two million members. A subterranean termite subspecies known as Formosan termites are in South Carolina, and these so-called "super termites" create colonies ranging from 350,000 to over three million. In contrast, a mature drywood termite nest contains only about 2,500 termites. As you can deduce, the larger the termite nest, the more damage you will incur.
Aiken Pest Control is the best termite control company for your Aiken home. Our service technicians are certified to use the Navigator® SC system to target existing termite colonies and to prevent a future infestation.
Recognizing The Signs Of Termites On Your Property
Subterranean termites live under the soil near rotting trees, landscape timbers, and damp support beams in your crawl space, porch, or deck. Except when flying reproductive termites swarm in the spring to locate new nesting locations, only the worker termites exit the dirt to forage for food during the year. Since termites stay hidden, how do you know if they are in your house or on your property?
The following is evidence of termites in your home or property:
Termites
Swarmers
Mud tubes
Discarded wings
Hollow-sounding wood
Wood discoloration
Blistering wallpaper or paint
Warping window or door frames
Sagging floors
Collapsing structures
This list has three sections, so let's break it down and examine each group.
The first group consists of signs of termites in the home. Seeing live termites is evidence they are in the house, but how do you know if it is a termite and not an ant? Termites and ants are insects with six legs, two antennae, and a three-part body. Worker termites, the ones you are most likely to see throughout the year, are creamy-white to dark brown or black. Most ants are not white, so the body color is a good clue, but then again, some worker termites are brown or black, like many ant species. The easy indicator is their waists. Ants have narrow waists, but termites have straight bodies without a narrowing midsection. Also, ants have elbowed antennae, but the antennae on termites are straight.
Many ant colonies also produce winged, reproductive ants, so how can you tell the difference between flying ants and termites? Flying ants and flying termites have two front and two rear wings, but both sets of termite wings are the same length and are translucent; the front wings of reproductive ants are shorter than the back wings and are tinted brown.
If you notice flying insects around street lights or windows with the shades or curtains open at dust or dawn, they may be swarming termites. You can determine if they are flying ants or termites by looking at their wings, antennae, and body shape. The presence of discarded wings in windowsills is an indicator that termites or ants are inside the house.
Subterranean termites create mud tubes between their food source and the soil to protect them from dehydration by the sun and heat. The presence of these tubes on the foundation or wood beams is a sign.
Additional indicators appear in the wood and walls a few years after termites infest a house. Unlike drywood termites that eat along and across the grain, subterranean termites consume the soft wood between wood grains and cause the timber to sound hollow when tapped. Moisture introduced by the termites when they are in the wood cause the lumber to discolor. When termites are inside walls, they will consume the drywall paper for its cellulose content but will not break through to the outside. The thin layer combined with moisture from the termites causes wallpaper and drywall to blister.
The last group on our list appears when termites establish one or more mature colonies in your house. With tens of thousands of termite workers constantly consuming wood, it is only a matter of time before damage appears in the form of sagging floors, warping frames, and collapsing structures.
When you see evidence of termite damage, you need Aiken Pest Control to come to your rescue before more damage occurs.
Identifying And Removing Factors That Attract Termites To Your Home
The best way to protect yourself from termite damage is to deter reproductive termites from settling onto your property. The following will help prevent winged swarming termites on your Aiken property from selecting your location or infiltrating the house:
Remove dead trees, rotting tree stumps, and fence posts
Provide drainage to ditches and low-lying areas
Ensure water drains away from the house
Eliminate wood scraps and fallen tree branches
Elevate firewood piles and move them 20 feet from the home
Seal cracks in the foundation with caulk
Wrap wood posts in contact with the soil
Paint or seal wooden structures
Install a dehumidifier in the crawl space
Ensure good airflow from the crawl space vents
When a certified technician from Aiken Pest Control inspects your property, we can provide specific exclusion ideas for your Aiken home.
Contact The Professionals For Quality Termite Control
Aiken Pest Control is a top-rated, experienced termite service near your home. When you contact us, we carefully note your concerns and promptly dispatch one of our highly-trained service technicians to your home. Once on-site, we inspect your house for termite attractants, entry points, and hot spots.
If we find termite signs, we apply Navigator® SC. This product contains an active termiticide that worker termites cannot detect. Thus, the unsuspecting workers carry the product back to the nest, where it kills nest members. This product eliminates existing colonies and prevents future colonies from forming. Another benefit of Navigator® SC is it eradicates ant populations and other invasive insects.
Contact us today to learn more about our termite treatment plans and get a free quote.