Professional Pest Control For Wagener, SC Property Owners
In Wagener, SC and the surrounding area, residents and business owners turn to Aiken Pest control to deal with Wagener pests. In our service area, ants, cockroaches, ticks, spiders, stinging insects, termites, and rodents can be serious threats to health and property. Our QualityPro Certified team draws from over 50 years of experience to bring the highest level of pest control to our residential and commercial customers. If you live in Wagener, we want you to know that we're standing by to guide you in establishing an effective pest control program to meet your specific needs and budget. Reach out to us anytime. We're here to help.
Home Pest Control In Wagener, SC
There are many pests that can get into your Wagener home and/or plague you in your yard. When you have residential pest control service from Aiken Pest Control, you get coverage for over 30 of the worst pests we deal with within our area, and your service will be backed by a 100% satisfaction guarantee.
What Can You Expect?
Our team has a 5-star rating on 300 reviews with Google. That doesn't happen by accident. We work hard to make sure our customers get the results they're looking for.
Our team members show up in clearly marked vehicles and uniforms so you don't have to wonder who's walking around in your yard.

We perform routine pest control around your home every 3 months, like clockwork.

Many of the methods we use don't require chemical pest control products. Our focus is on effective, eco-friendly solutions first. If you see a technician using a long pole to get cobwebs around your home, that is because the webs can have hundreds of spider eggs in them. Removing those eggs gets rid of the spiders before they hatch.

The treatments we apply around your home are family-friendly and pet-friendly. They are designed to take down simple organisms like ants, centipedes, and mosquitoes. The products we apply are residual and work to repel and eliminate pests between visits.
If pests ever find a way into your home, no worries! We offer interior treatments, as needed. And if targeted pests return, so do we, at no extra charge.
Identifying Bed Bugs In Wagener, SC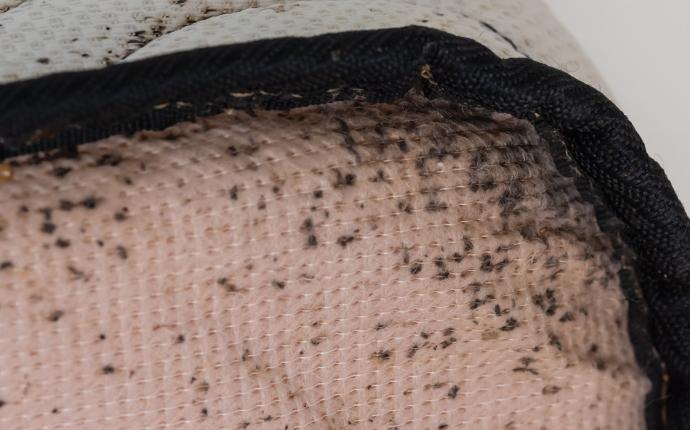 Bed bugs are a growing threat all over the United States and Wagener, SC is no exception. These bugs spread passively from business to home, home to business, and home to home. One of the best ways to prevent bed bug infestations is recognizing bed bugs when you see them. If you see them first, you could prevent them from coming home with you.
What does a bed bug look like? When a bed bug first hatches, it has six legs, three body parts and it is pale white. At only about 1mm in length, it is pretty small, but you can still see it. These newly hatched bed bugs are called immature nymphs. There is no larval stage for bed bugs, they're never wiggly worms, they start life as crawling insects. As a bed bug develops, it becomes tan and eventually reddish-brown. In all stages of development, its skin is transparent. You're going to be able to see blood in its abdomen if it is feeding on your skin. The older the bed bug, the less obvious the red color of your blood will be because bed bugs are less transparent as adults. An adult bed bug is oval-shaped, reddish-brown, and has horizontal creases on its abdomen.
If you see bed bugs in your Wagener home, contact Aiken Pest Control for immediate assistance.
Avoiding Termite Damage In Wagener, SC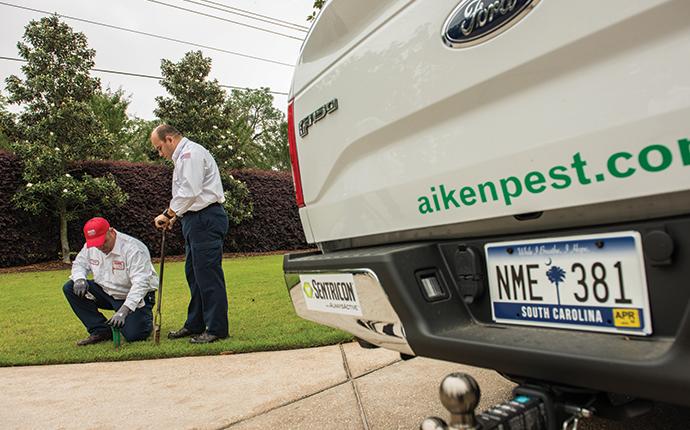 The best way to avoid termite damage is to hire a professional. Subterranean termites are incredibly sneaky pests. It just isn't worth it to try and detect them yourself. Without the use of a powerful monitoring product like the Sentricon® System with Always Active or Navigator SC, it can even be difficult for an experienced termite control professional to inspect for termites. At Aiken Pest Control, we don't take chances with your property. We use these products to make sure those sneaky termites don't get in.
Contact us for assistance with subterranean termites in Wagener. We're here to help.
Commercial Pest Control In Wagener, SC
No matter what business you're in, pests can be a threat to your bottom line. They can contaminate foods, bite and sting, lower employee morale, drive customers away, damage property, damage property you store for customers, cause failed health inspections, and much more. We help Wagener businesses keep pests out.
Why Wagener Businesses Choose Aiken Pest Control
Our team is QualityPro Certified. This is one of the highest marks of excellence in the pest control industry. It is given by the National Pest Management Association to pest control companies that show excellence in business management, employee training, environmental stewardship, and consumer relations. Only 3% of pest control providers in the United States have earned this distinction.
Our team uses Integrated Pest Management, which puts an emphasis on smart, eco-friendly solutions and limited use of chemicals. This makes our service programs perfect for schools and other government facilities.
Our team has the professionalism to make sure businesses in Wagener are up to code. We know what is required to stay in compliance with industry regulations.
We develop customized commercial pest control programs for our customers. We know that one size does not fit all. We get results. Reach out to us today to schedule a consultation. We look forward to working with you.