Professional Pest Control For West Columbia, SC Property Owners
West Columbia, SC is located on the Congaree River, and is lovingly known to its residents as the "jewel on the river". West Columbia is just across the bridge from South Carolina's capital city of Columbia. This city is made up of people who enjoy the small town feel that West Columbia provides, in addition to its tree-lined streets, small local shops, historic beauty, and plenty of nature to explore and enjoy. To help protect this South Carolina jewel from the many dangerous and damaging pests that also want to reside in West Columbia, the local pest professionals at Aiken Pest Control provide full-service pest control solutions. Whether you own a home or business in West Columbia, our South Carolina pest control experts can put into place the services needed to eliminate pests and to prevent future pests from wanting to choose your property to invade. Find out today why so many residents of South Carolina have been trusting Aiken Pest Control with their pest control needs for more than five decades!
Home Pest Control In West Columbia, SC
Ants, spiders, mice, silverfish, roaches, clover mites, box elder bugs, centipedes, and ladybugs are all common invaders of West Columbia homes. To keep those pests out and more from your home all year long, trust the pest control experts at Aiken Pest Control. We begin controlling pests in your home by performing a no-obligation, free home inspection. Our experts will identify existing pest problems, discover that conditions that may be attracting pests to your home, figure out where these crafty critters are entering into your home, and of course develop a pest control program that is specific to your home. After our initial visit, we will return quarterly to complete an inspection, perform a treatment, sweep away spider webs, and remove of insect nests found on the exterior of your home. If pests return in-between our service visits so will we to take care of the problem at no charge to you! Give us a call to learn more about implementing a highly effective, comprehensive year-round residential pest control program for your West Columbia, SC home from the pest control professionals at Aiken Pest Control.
How To Get Rid Of Clover Mites In West Columbia, SC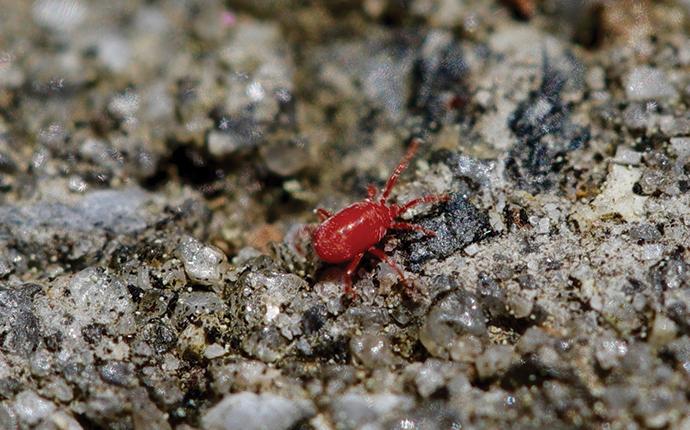 To see exactly what a clover mite looks like, you will probably first need to place them underneath of a microscope. Only then will you be able to see that these mites, which are only the size of a pinhead, have 8 legs, are oval in shape, and are either greenish or red in color. Clover mites are usually found outside infesting clover and other plants, but they will make their way inside, sometimes by the thousands, if attracted by damp conditions. These pests usually enter into homes through cracks found in the foundation or exterior walls and once inside can be very difficult to eliminate because they often hide behind walls and inside of wall voids.
The best way to get rid of clover mites from your home, is to not allow them inside in the first place, this can be accomplished by reducing moisture levels in and around your home, sealing cracks and crevices found in exterior walls and the foundation, and by putting into place a year-round pest control program from Aiken Pest Control.
Tips To Avoid Bed Bugs In Your West Columbia, SC Home Or Business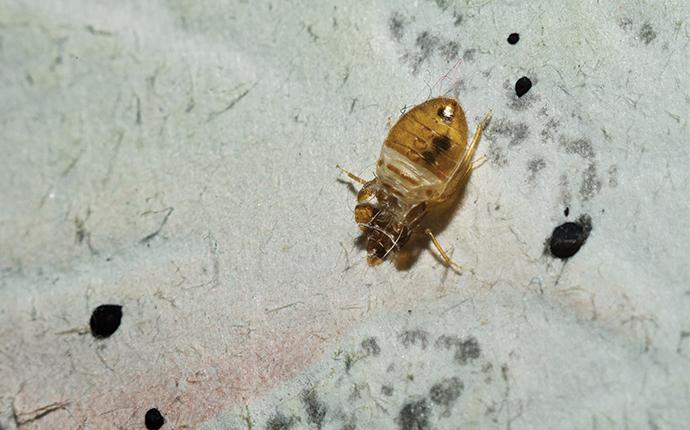 Bed bugs want to live in areas that are close to their main food source - human blood. This means that bed bugs can be found in almost any public place, and it also means that completely avoiding bed bugs can be a very difficult task. While you may not always be able to avoid bed bugs while traveling or just while out and about running daily errands, you can avoid having a large bed bug infestation in your West Columbia home by partnering with Aiken Pest Control. Our bed bug control options work to quickly and completely eliminate bed bugs and include bed bug dog inspections, conventional bed bug treatments using EPA registered products, bed bug heat treatments, and bed bug mattress and box spring encasement.
Bed Bug Dog Inspections: Our highly trained bed bug dogs have the ability detect infestations that are not visible to the eye, in places that human inspectors can't access.

Conventional Bed Bug Treatments: Using an EPA registered products, our conventional bed bugs treatments is a guaranteed, effective method of eliminating bed bugs on contact.

Bed Bug Heat Treatments: Our heat treatments are effective, environmentally responsible, and guaranteed. Heat treatments work so efficiently because of the simple fact that bed bugs cannot survive heat. Through heat treatments, hot air is circulated throughout your property penetrating all surfaces and killing bed bugs in areas where other treatments can't reach.

Bed bug Mattress and Box Spring Encasement: These special coverings work to protect your mattresses and box springs from being infested by bed bugs in the case of an infestation.
To schedule a bed bug inspection for your West Columbia property, give us a call today at Aiken Pest Control.
Commercial Pest Control In West Columbia, SC
Putting into place a professional pest control program for your West Columbia business is one of the best ways that you can protect it and its reputation from being damaged by pests. At Aiken Pest Control we have decades of experience protecting commercial properties from pests. Our pest control professionals are highly trained and are continuously being educated to provide you with the most effective services possible. Benefits to choosing Aiken Pest Control for your West Columbia business's pest control needs include:
Accurate pest identification.

A customized pest management program that is unique to your facility will be created.

Application of Integrated Pest Management strategies.

Comprehensive documentation of pest sightings, what and where products were used, and other relevant information.

Compliance with industry regulations.

Professionals with access to continual education, ensuring you are receiving pest control services that are utilizing the most up-to-date technology.
To learn more about implementing our commercial pest control services into your commercial facilities, get in touch with us today!