We take for granted many innovations that have changed the world. Today, you probably quickly heated leftovers in a microwave, made a phone call while driving, did work on a computer, and enjoyed relaxing in a comfortable environment created by a central heat and air conditioning unit. Nowadays, we don't think about all these gadgets and gizmos; without them, life would be completely different because they are inventions that have changed the world.
Things, events, and people can change our lives for the better or worse, and cockroaches are pests that adversely affect us. You may have enjoyed a good day with a lot of laughs, but when a cockroach runs across the floor in the kitchen as you reach for a late-night snack, your day has suddenly changed. You may be laughing with your friends in the living room, but when a cockroach scurries out from beneath the couch, your laughter morphs into embarrassment.
When you see cockroaches in your house, you need to act quickly and get help from your local Aiken pest control team at Aiken Pest Control. We have been removing cockroaches from homes before the first world-changing spacewalk on the moon.
Our decades of experience and dedication to quality, value, and ongoing training have earned us the coveted designation of a QualityPro company, an honor earned by only 2% of pest control companies nationwide. To help you win the war against these disgusting insects, we answer questions and give you action steps to combat these creatures in this article, so please keep reading.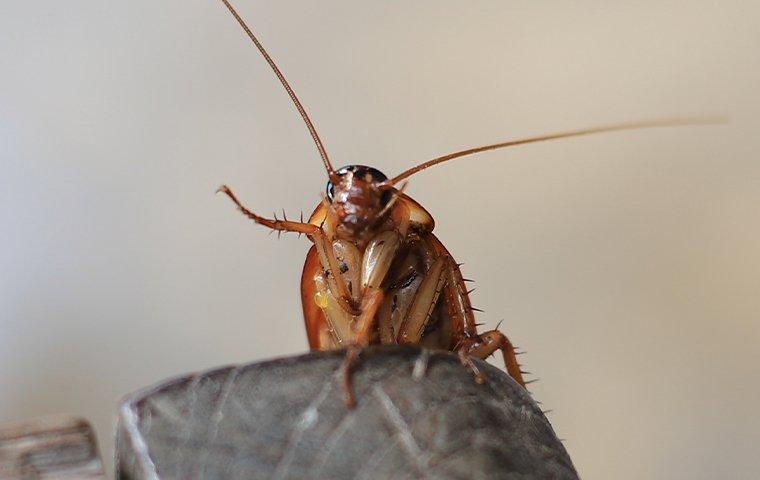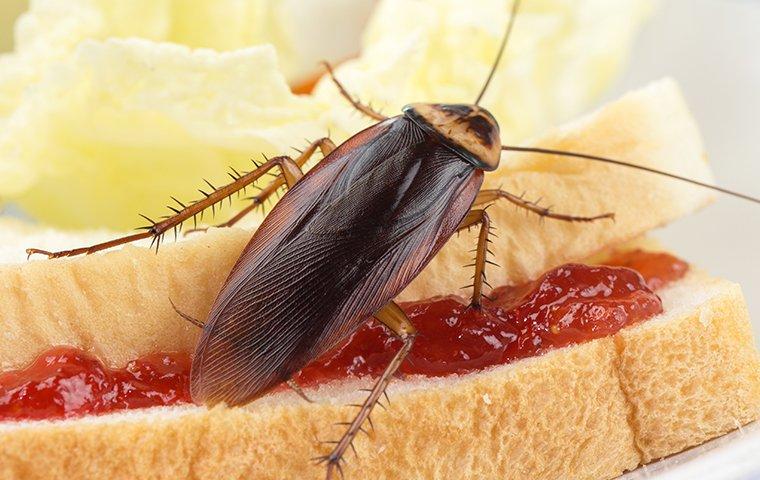 Spotting One Cockroach Almost Certainly Means More
If you see a cockroach run for cover under the bathroom towels when you turn on the light, does that mean you need cockroach control? A stray cockroach may have made its way into your house, and if you squash it, you won't see any more, but that is likely not reality.
Many cockroach species exist worldwide, but only a few are problematic for homeowners in Aiken. German cockroaches are the most common cockroaches found in houses in our area. These light brown to tan 1/2 to 5/8 inch long insects have oval bodies and two parallel dark lines on their backs. Unlike other cockroach species that invade homes, German cockroaches don't want to live apart from humans but need human accommodations to survive. This species does not invade houses from the outside but moves from location to location by hitchhiking rides in appliances, electronics, clothing, bags, luggage, etc.
If you witness a cockroach running from beneath the refrigerator, it is likely a German cockroach, and there are probably more hiding in the shadows or hatching from eggs. German cockroaches are prolific breeders. Female German cockroaches produce egg capsules; each capsule contains up to 48 eggs, more than other cockroach species. New cockroaches are born only two weeks after all those cockroach eggs in your home are produced. If only half of the 48 eggs survive, you have grown from one cockroach to 25 in less than two weeks. The females of the 24 new cockroaches will deliver egg capsules (ootheca) containing up to 48 eggs in about 60 days. At this rate, you can have thousands of cockroaches living inside wall voids, underneath appliances, and in kitchen and bathroom cabinets in only one year!
The other types of cockroaches in Aiken homes include American, oriental, and brown-banded cockroaches. American cockroaches can be over 2 inches long, making them the largest species in homes. In addition to their size, you can also identify reddish-brown American cockroaches by the yellowish figure eight pattern on the back of their head. Oriental cockroaches are easily identifiable by their shiny, jet-black bodies. American, German, and oriental cockroaches tend to live at ground level, but brown-banded cockroaches dwell in upper cabinets and corners near the ceiling. So, if you see 1/2 inch long brown cockroaches with bands across their wings, you can rest assured that you have a problem with brown-banded cockroaches.
American, oriental, and brown-banded cockroaches enter houses from the outside and, although not as prolific as the German cockroaches, also quickly produce numerous offspring. Whatever the cockroach species, Aiken Pest Control will remove them from your home and stop an infestation before it gets out of control.
Why Cockroaches Are Considered A Health Hazard
Cockroaches are insects; they have six jointed legs, a body with three segments, two antennae that extend the length of their body, compound eyes, and their skeleton is on the outside of their body. Bed bugs are another example of an insect, and although bed bugs share the same characteristics as cockroaches, they do not spread disease. Why do cockroaches spread disease, but others do not?
The issue with cockroaches begins with their foraging habits. Rotting organic matter in garbage cans, compost piles, sewers, and drains attracts cockroaches; animal feces is another magnet for cockroaches. The problem begins where cockroaches like to eat and roam, but the spines that jut vertically out from their cockroach legs are the real culprit.
As cockroaches crawl over areas strewn with bacteria, viruses, and parasitic worms, the infectious organisms attach themselves to the spines as they scrap across the surfaces. When cockroaches enter a home and travel to and from food sources, the pathogens fall onto cooking and eating surfaces, food products, kitchen drawers, and towels stored in bathroom cabinets. When humans interact with these contaminated surfaces, utensils, and other objects tainted by disease-causing organisms, they expose themselves to potential illnesses. Researchers link cockroaches to the spread of 33 different bacteria, numerous parasitic worms, and other human pathogens. Salmonellosis, typhoid fever, cholera, and E.coli infection are some of the many illnesses attributed to a cockroach infestation.
Do you want to hear a fascinating but disgusting fact? According to a report, workers found 5,000 cockroaches in a sewer opening. While it is abhorrent that nasty, unsanitary areas are attractive to cockroaches, it is equally stomach-turning when you realize they eat organic matter in those areas. Cockroaches constantly defecate as they move through houses, and they also chew on paper and plastic. So, they spread disease by shedding pathogens and disseminating disease-causing organisms through their feces and saliva.
But wait, there's more! Surprisingly, there is a proven link between cockroaches, allergies, and asthma attacks. In 1948 scientists discovered that some people experienced an allergic reaction to cockroaches crawling across their skin. Upon investigation, they determined that cockroaches produce a protein that causes rashes and other allergic reactions in some people.
Another way cockroaches affect household members is through dried feces. American cockroaches produce rod-shaped droppings, similar to mice droppings and German cockroaches leave behind pepper-like fecal matter. When the feces dries, it flakes off, and the particles become airborne. When household members inhale the particulates, they may experience a runny nose, coughing, sneezing, red, itchy eyes, and other allergic reactions. In some people, cockroach allergens trigger asthma attacks producing difficulty breathing, wheezing, chest tightness, and shortness of breath.
Aiken Pest Control provides pest control for cockroaches to protect our community from diseases and other problems caused by cockroach infestations.
What To Do If You Have Cockroaches In Your Home
We want you to understand the seriousness of a cockroach infestation in your Aiken house and why pest control for roaches is necessary, but we don't want you to feel powerless. If you have witnessed cockroaches scampering across the floor or darting behind a cabinet, here are some actions you can take:
Vacuum the house. Sweep the floors; suction corners and cracks between the baseboards and the walls.
Clean out the cabinets. Wipe out crumbs and gunk buildup inside the drawers and other areas.
Cover and outdoor indoor garbage cans. Avoid leaving garbage in bags in the garage or near the house.
Remove pet food from bowls at night.
Disinfect cooking and eating surfaces daily.
Repair leaking pipes and drains.
Pick up clothing piles and other debris on the floor.
Install a dehumidifier or provide proper ventilation to the crawl space.
Seal cracks in the foundation and along the roof line.
Fix holes in window and door screens.
Remove pet feces from the yard.
If you find a cockroach in your house, you can discourage them from staying by maintaining a clean, dry environment inside your Aiken home. Since most cockroach species enter homes from the yard, keeping a dry, clean yard free from standing water, leaf and wood piles, and other debris will deter cockroaches from occupying areas around the house. Although these actions discourage future infestations, you need Aiken Pest Control to end the current problem.
What's The Best Way To Get Rid Of Cockroaches?
Because cockroaches can rapidly reproduce, hide in cracks as small as 3/8 of an inch, and live in uninhabitable areas of the house, you need cockroach pest control in Aiken from Aiken Pest Control. We will inspect your home for cockroach signs, entry points, attractants, and hot spots. Based on the information our trained technician gathers, we will create a custom treatment plan targeting the cockroach species infesting your house.
Contact us to learn about our customized treatment programs to find the one that fits your needs. Our plans are affordable and come with a satisfaction guarantee. Call us today!