How much do you know about roof rats? Do you know that these city rats are often referred to as house rats? Understanding how they earned the house rat name provides quite a bit of insight into why it is best not to have these pests in your home. Roof rats don't just climb on roofs. They get into homes and stay permanently. Inside a house, these rats find what they need, even if there isn't a scrap of food to eat. What does a roof rat need? A safe place to live. You're going to have difficulty convincing these rats to live somewhere else. Their alternative is to live in a tree hole. If no one has told you, your attic is much nicer than a tree hole. Of course, they live in other places besides tree holes, but they prefer to nest in aerial locations and typically find trees to live in. The most important fact you should know about roof rats in Aiken is that they're likely to stay in your home permanently if they find a way into your attic. Join us as we examine a few more facts about rats that every resident should know. Stick with us to the end to learn how roof rat pest control in Aiken is a mixture of wildlife control and rodent pest management.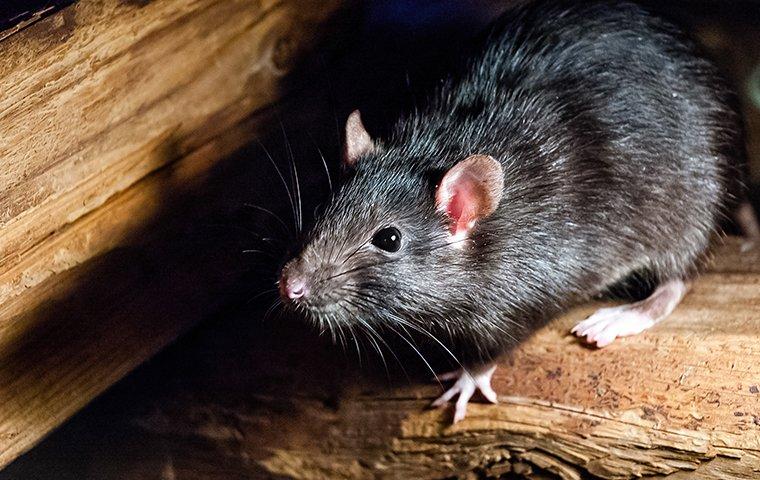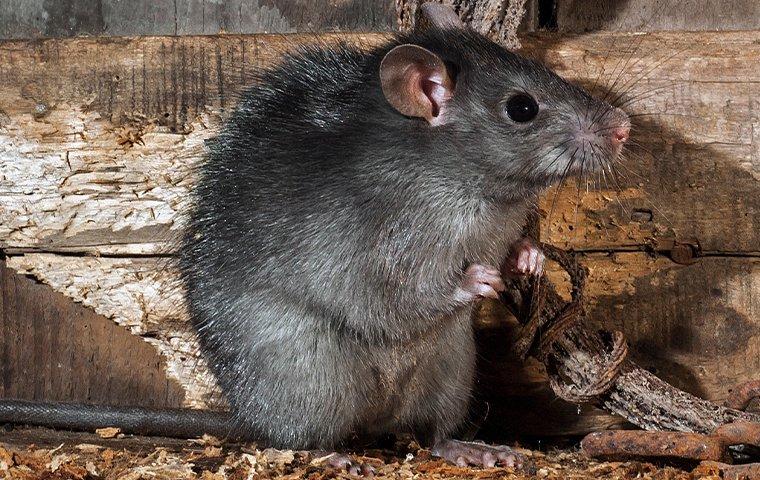 Identifying Roof Rats
When we get a call to deal with a black rat in someone's yard, guess what rat we expect to see? Yup. Roof rats are the black ones. If you see a brown rat in your yard, it is a Norway rat. In many cases, Norway rats nest in the ground. While they can take to creating aerial nests if needed, they prefer to dig burrows underneath piles of objects and to hang out at ground level. Roof rats climb trees, run along telephone wires, and get into homes through vulnerabilities on roofs.
In many ways, roof rats behave like squirrels. The key difference is that squirrels are likely to stay in your attic. Roof rats will explore every level of your home. They do this in search of food. While they can live on nuts, seeds, and fruit, like squirrels do, they also like human food.
Identification of roof rats in Aiken is sometimes tricky for two reasons. First, you may not see them, they are nocturnal animals, and they typically hide from sight. If a roof rat runs across your roof, its black coloration will conceal it in the dim twilight or the dark cover of night. The second reason you might have difficulty identifying a roof rat is that you might see a baby rat. There are a few ways to tell a baby rat from an adult mouse.
Rats have thick tails. Mouse tails are thin.
Rats have rounded snouts. Mouse noses are pointed.
Rats have small ears. Mouse ears are larger.
Rat ears tuck back. Mouse ears stand up.
Keep these visual characteristics in mind as you inspect your home for roof rats. You're not likely to see baby rats running around in your yard or on your roof.
Roof Rats Could Destroy Wiring In Your House
When rats invade your attic spaces and climb around in your wall voids, there is a danger. Rats chew on many things, including wires. It isn't that wires are a food source. Rats chew on everything. If a roof rat cuts a live wire, it will likely regret it. But you'll regret it more. A spark from a live wire can ignite a flame in your walls. How concerned should you be? We can't say for sure. All we can do is provide relevant statistics.
There are an estimated 358,500 home fires that occur annually in the United States.
It is estimated that 20 to 25 percent of fires caused by unknown sources are likely rodent-related, according to a 2012 study by the National Apartments Association.
The US Fire Administration estimates 50,000 to 60,000 residential fires of "unknown cause" occur yearly in the United States.
The Department of Homeland Security points out that only half of the fires that result from an "unknown cause" are reported by fire departments.
As many as 120,000 fires result from unknown causes, which means the number of fires that result from inadequate rat and rodent control is between 10,000 and 15,000 annually.
The National Fire Protection Agency (NFPA) estimates 2,620 civilian deaths and $6.9 billion in property damage occur annually in the United States.
That is a lot of information to digest. The bottom line is that it is best to effectively address roof rat infestations.
Ways To Deter Roof Rats In Aiken
If you don't have a roof rat infestation, there are many ways to prevent one. Every Aiken resident can benefit from knowing these facts.
Get up on your roof and address potential entry points, or hire someone to do this. A roof rat will make a small hole larger. The holes they find are often in concealed locations, such as in a roof/soffit intersection.
Protect vulnerable spots on your roof and roofline. If roof rats are chewing on your home, you may apply metal flashing to add another layer of protection.
Roof rats often chew and claw their way into roofline troughs. Inspect your roof to see if this damage is occurring or has occurred. Patch the holes you find.
Roof rats use tree branches to get onto your roof. Trim branches away from your roofline and trim any vegetation that touches your exterior walls.
If you have a tree close to your home, and managing the tree branches is impossible, you can deter roof rats by girding a portion of the tree with sheet metal. A rat can't climb this material. There is nothing for the rat to cling onto with its claws. If it can't jump to the bark above the metal, it can't scale the tree and get to the branches that hang over your home.
Roof rats run across power lines. If you have lines attached to your roof, put something prickly to stop roof rats before they get to your roof. Rats can jump four feet horizontally. Keep this in mind.
Roof rats are small rodents and may climb up to your roof by getting into your downspouts. Tuck some wire into your downspouts to allow water to flow out but keep rats from climbing up.
Roof rats use exterior pipes to climb up to roofs. There are devices to prevent this. They look like upside-down cones.
If your home has louvers, consider installing hardware cloth if this material is not already installed.
Put a wire mesh over gable ventilation.
Roof rats don't just get into your home by way of your roof. As you work to keep roof rats out of your home, you need to seal low entry points too. If a roof rat gets into your home and accesses the bottom of a wall void, it can climb up to your attic. These are relentless rats.
Use expanding foam to fill in gaps around pipes and utility conduits. While a roof rat can chew through foam material, it may not think to try. Roof rats commonly make small holes larger and are less inclined to create a hole when there is no incentive to do so.
Use a caulking gun to seal gaps around window and door frames, fill in wood holes, and seal gaps between wood members.
Repair or replace damaged screens, weatherstripping, door sweeps, and vent covers.
Once you've taken steps to seal and protect the exterior of your home, you should also consider how to keep rats away from your exterior. Roof rats are always looking for food and water and these are attractants. Here are a few ways you might be feeding a group of rats on your property.
Remove bird feeders or move them away from your exterior.
Keep on top of raking nuts up and removing them from your yard.
Keep your trash in covered containers.
Pick food and containers up after cookouts.
Refrain from feeding your pets outside or put food down only during meal times.
Taking these steps can give you complete protection from roof rats, but it's a lot of work, and residents turn to rat control products. Unfortunately, this is often a waste of money, time, and energy. Rat control requires training and experience.
Getting Rid Of Roof Rats For Good With Professional Help
If you want to get rats out of your home and keep them out, it is best to contact a professional. Choose a company, like Aiken Pest Control, that offers rodent management and wildlife management. Roof rats behave like squirrels and methods used to control squirrels help with controlling roof rats. Sometimes, these products and methods are all that are required. When more control is needed, rodent control methods, such as baiting and trapping, must be used.
Are you in Aiken or the surrounding area? Reach out to us for rodent or wildlife control. Our pest control technicians have the training and experience to provide you with effective rat control and ongoing protection against rat infestations. Connect with us today to learn more or to schedule a service visit. We can help.