If you find one little fly buzzing around in your home, what do you do? You swat it, right? Not only because that fly is annoying. But because it might lay eggs somewhere in your home and the next thing you know you have a swarm of flies. If you see one flea on your cat or dog, what do you do? It's probably time for a flea bath because you know that one flea can turn into hundreds very quickly. The same is true of clover mites—only worse. Here's what you need to know about these tiny little red pests.
Female clover mites, unlike other creatures, do not need a male to reproduce. These mites reproduce by a process called parthenogenesis. Now, this may be a great thing for clover mites, but for folks trying to get them out of their homes, it is not such a good thing. We humans would rather not have our Aiken homes taken over by little red bugs that stain surfaces when we try to eradicate them. And, the fact is, one single little female clover mite can lay up to 70 eggs at a time! And these babies mature in 30 days or less, at which time the females can reproduce. This can lead to a lot of clover mites in a relatively short period of time.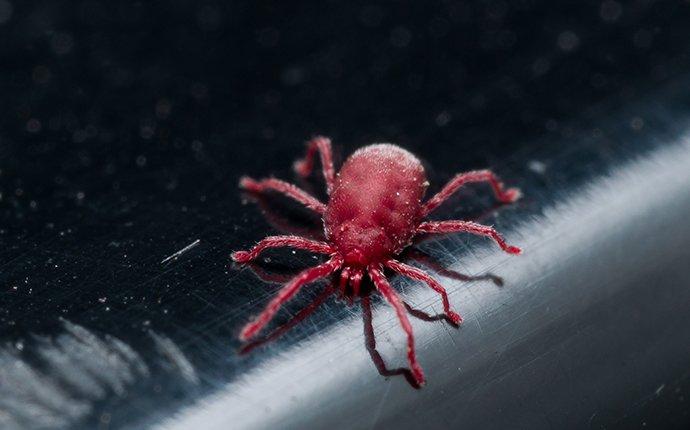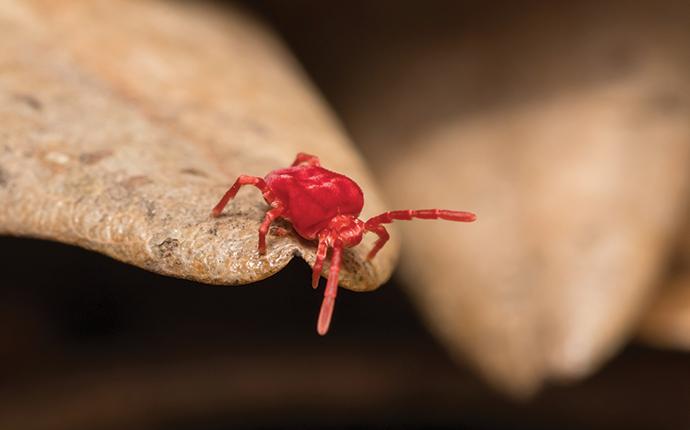 Identification Of A Clover Mite
An adult clover mite is one of the largest types of mites that infest plants. These mites have 8 legs, are around .75 mm long, and are oval-shaped. They usually come in either a greenish or reddish color. These creatures have a greatly elongated first pair of legs, which sometimes are mistaken for antennae, and they have feather-like plates (or scales) on their abdomen.
So What's The Big Deal About Clover Mites?
As mentioned above, clover mites leave a red stain when they are crushed. No one wants their carpets, drapes, furniture, or any other items stained with the pigment of clover mites.

Clover mites are sometimes indicative of larger problems. Often when pests get into homes, it can mean that there are moisture issues. Pests are drawn to moisture, and when the wood on the outside of your home is wet or rotting this allows pests like the lowly clover mite to enter. And if there are holes big enough for mites to get in, those holes can grow larger over time as larger and larger pests squeeze through or chew those holes bigger.

Sometimes clover mites hideout and multiply inside wall voids or other hidden areas where they can be difficult to eradicate. Because of this, it is beneficial to partner with a professional pest control company in order to completely eradicate them from your home.

These mites are difficult to control with chemicals that are safe to use inside homes. Again, a pest control professional is a good choice since they are trained in using EPA-approved products in accordance with all safety guidelines.
Clover Mite Prevention Tips
Since these creatures are so very tiny, it is difficult to completely seal them out. But there are some things that can be done to try to keep them out. These tips will also help in sealing out other types of household pests.
If you have mulch surrounding your home, consider replacing it with crushed rock, pea gravel, or some other dry material. If you want to keep your mulch, make sure it is not right up against your foundation or walls, as this draws moisture pests in close to your home, where they are likely to find entry points.

Be sure to keep the foundation perimeter of your home free of grass, weeds, leaf piles, or other vegetation that holds moisture. It is best to have a 2-foot strip around your perimeter that is completely free of vegetation to keep things dried out.

Do a thorough inspection of the outside of your foundation and outer walls, looking for gaps, cracks or holes where insects can squeeze in. Seal up all holes you find.

Be sure that your windows and doors all have weather stripping that is in good working condition.
If you need assistance with clover mites and you're in our South Carolina service area, reach out to us. The QualityPro team here at Aiken Pest Control uses methods and protocols developed by experts in entomology and pest management. We'll help you stop those mites and guide you in ways to prevent future infestations.