When you walk into a liveable house, there are things you expect to see. For example, you anticipate there will be windows, doors, finished flooring, furniture, cooking equipment, and at least one bathroom with a shower or tub. You don't expect to see holes in the walls, collapsing ceilings, and missing appliances. You'd anticipate finding damage in a condemned house but not a home where people reside.
We expect to see some items in an occupied home, while there are other items or conditions we don't anticipate. One thing we don't expect to find in a liveable home is an abundance of spiders. Spiders do not make us comfortable, and we don't want them roaming freely inside our homes. Although we don't care to share our space with arachnids, they sometimes invade our homes whether we want them to or not. What do you do when spiders overrun your home?
The first step is to secure pest control in Aiken from Aiken Pest Control. Our independent company was formed in 1967 by Charles T. Heath with a mission to provide unparalleled customer service. Throughout the last fifty-plus years, that vision has not diminished. Over five decades later, we are proud recipients of numerous awards, a near five-star Google rating, and we have earned the coveted QualityPro Approved designation.
Aiken Pest Control has the experience, knowledge, and tool to eliminate all types of spiders in Aiken. In this brief article, we identify spiders that often invade local homes and give you several prevention tips to keep them away after we have eliminated the current population from your house.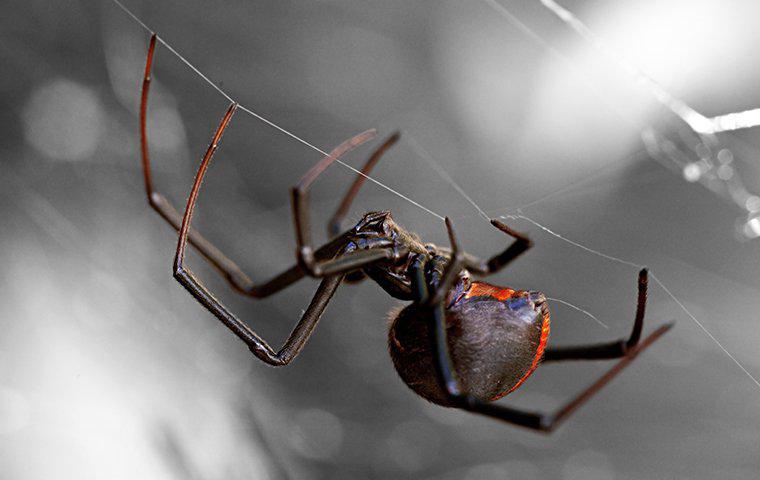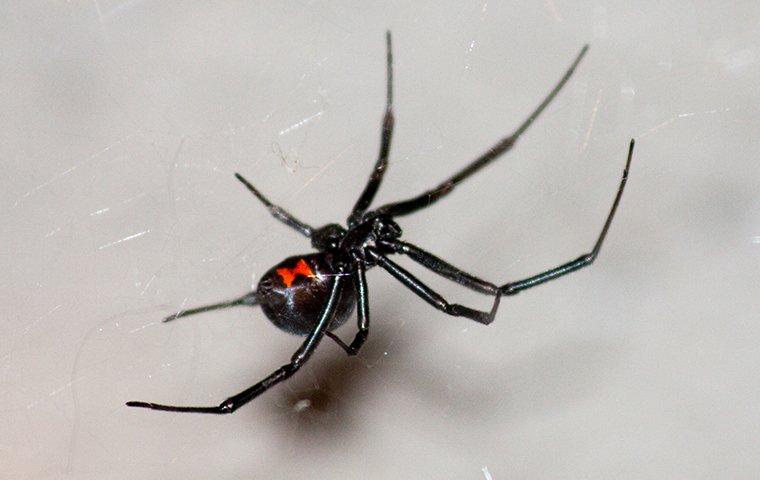 Common Species Of Spiders Found In Aiken
Thousands of spider species exist worldwide, but only a few impact the Aiken community. The following is a list of all types of house spiders in the area:
Jumping spiders
Orb weaver spiders
Wolf spiders
House spider
Black widow
Brown recluse
So you can know what spider type is infesting your house, we give a brief description of each one.
Jumping spiders have black, brown, tan, or grey 1/8 to 3/4-inch hairy bodies highlighted by iridescent or bright red, blue, yellow, green, or white markings. Most spiders have poor vision, despite their six or eight eyes, but jumping spiders are the exception. These arachnids detect and quickly react to movement up to 18 inches away. Unlike most spiders that hunt at night, jumping spiders are active during the day and prefer to chase prey around windows and doors where they can enjoy the sunshine.
Over 2,800 orb weaver spider species exist worldwide, and about 180 reside in the United States. When most people think about spiders, they envision the large, circular, and geometric fascinating webs of orb weaver spiders. These sticky snares are often in doorways, porch corners, and outdoor vegetation. The Carolina orb weaver is the best-known in our state. Ranging from 3/4 to 1 1/2 inch, these brown and orange spiders are some of the largest-bodied non-tarantula spiders (females).
We grow our spiders big in South Carolina, and the Carolina wolf spider is another example. We are so proud of this spider that it was designated the state spider on July 21, 2000. Not including the legs, the body of female Carolina wolf spiders can be over 1 inch in length. Like all other wolf spiders, the Carolina wolf spider has a brown, hairy body with dark streaks on its back. These spiders do not create webs but chase down their prey. They often live on the ground level of homes around the baseboards.
You may have any spiders on this list in your Aiken home, but there is a better chance that house spiders are the invaders. These prolific yellowish-brown spiders have a dirty white spherical abdomen with several angular stripes. As with most spiders, the females have a larger body (3/16 to 5/16 inch) than the males (1/8 to 3/16 inch). These spiders do not create pretty structures but build sticky, irregular webs in garages, basements, window frames, and other humid random places.
The last two spiders scare people due to their venomous bites. Black widow spiders have a 1 1/2 to 1 3/8 black body with two reddish-orange triangles that meet to form an hourglass on the underside of their abdomen. These spiders create messy webs near ground level in dark, undisturbed areas like the garage, basement, and crawlspace.
Brown recluse spiders have a 1/4 to 1/2 brown body with a violin-like marking on the top of their front body segment (cephalothorax). These spiders build irregular webs in garages, attics, and basements not to catch prey but as a retreat. Like the black widow, brown recluse spiders live in dark, secluded areas.
Most spiders are a nuisance, but the black widow and brown recluse spiders inject power venom when they bite, which can cause serious medical situations. Reportedly 15 times stronger than venom from a rattlesnake, a bite from a black widow triggers sweating, nausea, increased blood pressure, and fever for one to three hours. A wound from a brown recluse causes restlessness, trouble sleeping, and intense pain. It may also result in a severe ulcer at the bite site. You should seek immediate medical attention if you suspect a bite from either spider.
Aiken Pest Control eliminates common spiders in South Carolina. Although spiders are part of the ecosystem, they do not have a place inside your home. We will remove them so you can rest easy at night.
A Lot Of Spiders In Your Home Could Mean A Bigger Problem
As if the presence of spiders in your Aiken house wasn't bad enough, their presence may indicate another, more concerning problem. Spiders eat flies, mosquitoes, beetles, cockroaches, earwigs, and other anthropods. (anthropods are creatures that do not have a spinal column, a segmented body, and jointed appendages.)
Spiders go where there is food, moisture, and shelter. Usually, they can find what they need outside the house; when there is an excessively long dry spell or extended periods of high temperatures, the spider's food sources (insects) gravitate to nearby homes. Brown-banded, American, German, and oriental cockroaches migrate from the yard, and spiders follow and move inside the house.
Cockroaches in the house are dangerous because they spread salmonellosis, typhoid fever, cholera, E. coli infection, and other bacterial and viral disease-causing pathogens. Proteins and feces from cockroaches trigger allergic reactions and asthma attacks. Finally, cockroaches contaminate cooking and eating surfaces as bacteria, viruses, and parasitic worms on their leg spines transfer to surrounding areas when they travel through the house.
Have you wondered why spider webs are on your porch in the ceiling corners? Light attracts flies and moths. Therefore, spiders create snares to entangle the creatures when they fly around the exterior lights. These flying insects contaminate surfaces and food products inside the house.
Spiders build their traps in non-lit locations to capture mosquitoes, bees, and other flying insects. Although stings from bees and wasps may trigger allergic reactions in some people, mosquitoes spread the West Nile virus, dengue, chikungunya, encephalitis, tularemia, and other diseases.
The best way to get rid of spiders in the house is to contact Aiken Pest Control. When our certified service technicians inspect your home, we can determine if spiders are your only problem or if they indicate an insect infestation. A benefit of using a company with over five decades of pest control experience is that we know how to stop any infestation. We will protect your family against dangerous spiders and pests.
Natural Spider Prevention Tips For Aiken Homes
Once Aiken Pest Control removes whatever species of spiders infests your Aiken home, you don't want them to return. While effective spider removal requires professional help, deterring spiders from invading your house in the future is not complicated. These are simple suggestions that will keep spiders away:
Replace incandescent outdoor lights with bug lights or LED lights
Remove items that store water
Create proper drainage for ditches, puddles, and the gutters
Eliminate junk and clutter from the lawn
Elevate and store firewood 20 feet from the house
Seal cracks in the foundation, along the roofline, and around outdoor utility boxes and wires
Cover vents with 1/4 inch wire mesh
Cover outdoor and indoor garbage containers
Store food in airtight containers
Put up pet food at night
Wipe down cooking and eating surfaces after each meal
When one of our highly-trained service technicians inspects your Aiken house, we will alert you to other exclusion and prevention tips specific to your location.
Complete Spider Control For Aiken Properties
Although you can take steps to prevent a future infestation, you need help from Aiken Pest Control to end the population of South Carolina spiders currently residing in your house. Our qualified, experienced customer service representatives will carefully note your concerns. We will dispatch a trained service technician to examine the interior and exterior of your Aiken home for infestation signs, entry points, and attractants.
Based on the data we collect, we will develop a strategic treatment plan to eradicate the active spider population and their maturing offspring. We will also create a barrier around your home to help prevent a future spider problem. Contact us today to learn about our pest control plans and get a free quote.