How You Can Protect Your Pets From Fleas This Summer
June 11, 2019
We love our pets. We buy them food. We buy them toys. Some of us even buy clothes for our pets. Dogs and cats aren't something we own. They are furry family members that bring us a lot of joy. But pets can bring more than just joy into your home. They can accidentally bring fleas in too. Here are a few ways you can protect your home from fleas this summer.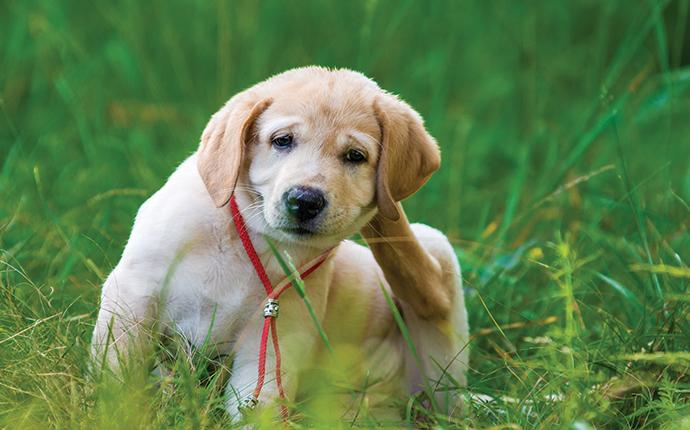 Wildlife Control
Fleas don't hop into your yard or hop into your house. They hitch a ride. That is why wildlife control is key. The more you do to control wildlife activity around (and inside) your home, the lower your chances are of having a flea infestation.
Keep exterior trash in sealed or covered receptacles and secure them so they can't be knocked over by large animals like raccoons.

Use fences to protect food sources in your yard, such as fruit trees, berry bushes, gardens, and landscape vegetation.

Consider installing a fence around your dog's outdoor play area. This will keep wild animals out and prevent your dog from exploring shaded areas of vegetation around your home where fleas can be waiting.

Seal exterior gaps, cracks, and holes to prevent mice and rats from getting inside your home and bringing fleas with them.
Get Help From A Vet
While collars aren't the end all for flea control, and they aren't right for every pet or every situation, they are definitely a must-have for pet owners. Consult your veterinarian about what collars will work best. Also, take a look at other flea control products. Sometimes more than one product will be needed.
What To Do When Fleas Get In
If you see fleas in your home, it is best to let a professional deal with those fleas. Many of the home remedies offered on the internet are downright wrong, and the products and strategies that work can be completely ineffective when applied wrong. Fleas are incredibly resilient pests. This is because they have special protection when they are in their eggs and when they become cocooned. A pest professional knows what products to use, how much to use, and where to apply them for a successful treatment. When it comes to protecting your furry loved one, don't settle for anything less.
If you need assistance with flea control or any other pest control in Aiken South Carolina and the surrounding region, reach out to us. Our highly-trained service professionals are standing by to help with both residential pest control and commercial pest management solutions.
Previous
Next