Sanitation Services In Aiken Should Be A Number One Priority
July 11, 2022
Living in Aiken during the Covid-19 epidemic, like virtually anywhere else in the world, dramatically raised the awareness of how important sanitation is in public and commercial spaces in particular. Although the coronavirus pandemic is beginning to recede and the threat is not as severe, it is still essential to take the necessary steps to keep the downward trend going. In Aiken, sanitation services for public and commercial spaces are vital to keep communities healthy and safe.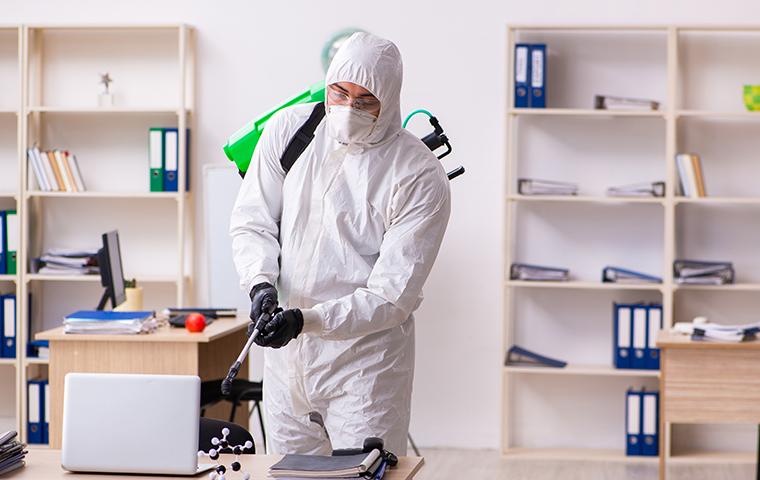 The Importance Of Cleaning And Disinfecting Services In Aiken
Cleaning and disinfecting the surfaces and areas of commercial and public spaces in Aiken are essential to reduce the spread of bacteria and disease and keep residents healthy. While the main concern for public health is still the Covid-19 virus, sanitation services can prevent the spread of many other dangerous diseases and illnesses.

Common diseases spread in public and commercial spaces due to poor sanitation include:
E.coli
Influenza
Norovirus
Common cold
Pneumonia
While these illnesses are relatively common, they are still problematic and have the potential for serious negative health effects, and you should guard against them. Reach out to the experts at Aiken Pest Control for more information on the importance of sanitation services in Aiken.
COVID-19 Cleaning Services For Commercial Spaces
Aiken residents are well aware of the devastating impact that Covid-19 has had over the past two years. Keeping commercial spaces sanitized is vital in maintaining the health and well-being of all Aiken residents.

Covid-19 cleaning services for commercial spaces to reduce the risk of serious illness include:
Disinfection of interior surfaces such as tables, counters, furniture, and other common areas
Eliminating airborne viruses and bacteria
Disinfecting and wiping down equipment that many commonly use or share, such as computers, phones, and office appliances
To protect the health and well-being of the communities that we live and work in, it is crucial to take the threat of Covid-19 and other easily transmissible diseases seriously. Hiring a certified sanitation service for your commercial or public space in Aiken is an easy way to ensure our communities stay healthy. Contact our team of professionals to learn how we can keep your property and those in and around it safe.
The Benefits Of Sterilization Of Public Spaces
It is easy to take the benefits of good health for granted, but as we have all seen recently, it is vital to consistently act to ensure that our communities remain healthy. The sterilization of public spaces on a routine basis is critical in keeping Aiken and its residents safe and healthy. Professional sanitation services not only protect the physical health of Aiken residents in public spaces but also improves their mental well-being and sense of security.
Keep Your Commercial Space Sanitary Without Breaking The Bank
Ensuring that basic sanitation practices and policies are followed in your Aiken commercial space, including masking and social distancing when necessary, are an essential part of keeping everyone safe. However, despite your best efforts, it is still possible for your commercial space to become unsanitary or contaminated with disease-causing bacteria.

Luckily for Aiken's business and commercial space owners, Aiken Pest Control is here to help. Aiken Pest Control, a local pest control and sanitation specialist, has been serving Aiken communities by keeping businesses and homes safe, clean, and pest free for over fifty years. Our team of certified sanitation experts has training and experience in the ins and outs of both commercial and residential sanitation. If you own a commercial or public space in Aiken, we will make sure to safeguard staff and visitors from the threats of bacteria and disease transmission on your property.
Previous
Next