What To Do About Wasps Hanging Around Your Aiken Property
May 30, 2023
Pest control in Aiken is what we do best! We're used to dealing with all sorts of nuisance wildlife and pests, many of which make their way into our homes throughout the year and try to establish a foothold.
These animals are often simply trying to secure many of the same things we do in our lives, such as food, shelter, and safety. The problem arises when we consider just how bad these pests often are as roommates! That applies particularly well to wasps which are the focus of this guide.
Wasps are flying, stinging insects that are easily mistaken by many to be simple honeybees. Yellow and black in appearance, wasps do resemble honeybees (and some more insects still), so it's important to learn how to identify them properly.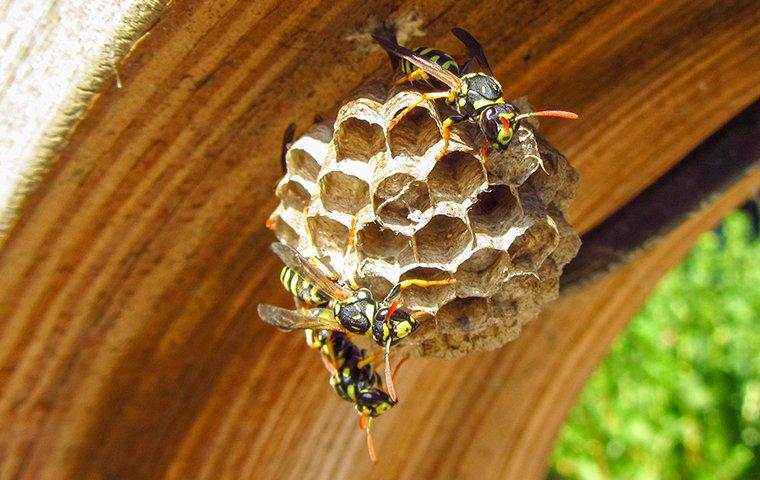 How To Tell If It's Wasps Hanging Around Your Yard
Keeping in mind that wasps look a lot like other insects such as bees and hornets, it's worth looking at what exactly distinguishes them from the crowd.
Bees have round bodies, thick legs, and appear to be fuzzy. Wasps are far thinner and have smooth (sometimes shiny or matte in appearance, depending on the species) bodies.
Wasps in Aiken are also quite a bit more territorial and aggressive than bees. Even though bees do sting when threatened, they would prefer to avoid a fight with us wherever possible. Wasps, on the other hand, will not hesitate to go after you.
Are Wasps Dangerous?
There are many types of wasps, and they pose varying levels of threats to humans and other animals. Some wasps are far more interested in other insects, while others are less discriminate in who – and what – they get into a fight with. Wasps can be, and are somewhat known for, their aggression.
Wasps tend to sting people and reserve their bite for other insects, but there are definitely exceptions to this.
That's why we recommend that nobody try to deal with wasps on their own. There's a serious risk that these insects will attack you, and as far as their capacity for damage is concerned, one insect can cause you pain. Multiple insects, as may very well be in the case of an infestation, can go well beyond that threshold, causing serious reactions in people and animals.
Why Wasps Are Attracted To Your Home
If you want to control wasps and keep them off your property for good, it's worth brushing up on wasp prevention tips so you're at least a step ahead of these insects.
Like us, these animals have a short list of conditions that they favor. To name a few, they are:
Readily available food (especially sugar) sources
A supply of water (which can be scarce during the warmer months)
Other insects to feed on and hunt
Territory in which to build a nest
As you can see, wasps aren't so different from us where their daily needs are concerned. By keeping an eye on these factors, you'll know whether or not your property is appetizing for would-be invading wasps.
Contact Us For The Best Wasp Control For Your Yard
Hands down, the best wasp control and wasp removal tactic you have available to you is your phone. Even if you follow best practices and know how to repel wasps so they don't favor your property, they are too dangerous to deal with once an infestation has taken hold.
Aiken Pest Control is your go-to home pest control solution for dealing with infestations of wasps of any kind, big or small. Don't risk all those stings – call us to reclaim your home from wasps!
Previous
Next