There are a variety of ants that can get into your Aiken home. Many of them are black or dark brown, which makes it difficult to tell what ants you're seeing. While odorous house ants look like other black or dark brown ants, you shouldn't have trouble identifying them. These ants have an odor. What do they smell like, and do the excretions that cause that odor present a health threat to your family? That is part of what we're covering today. Ants in Aiken present many issues. We'll tell you how odorous house ants measure up against several other pest ants and tell you what you can do about ant problems. If you've had questions about ant control in your house, strap in. You're about to learn things you've probably never heard about ants. If you don't care to know how to identify ants and deal with ants in your home but would rather have a licensed and experienced professional deal with your ants, we can help with that too. Jump to our contact page for professional ant pest control in Aiken.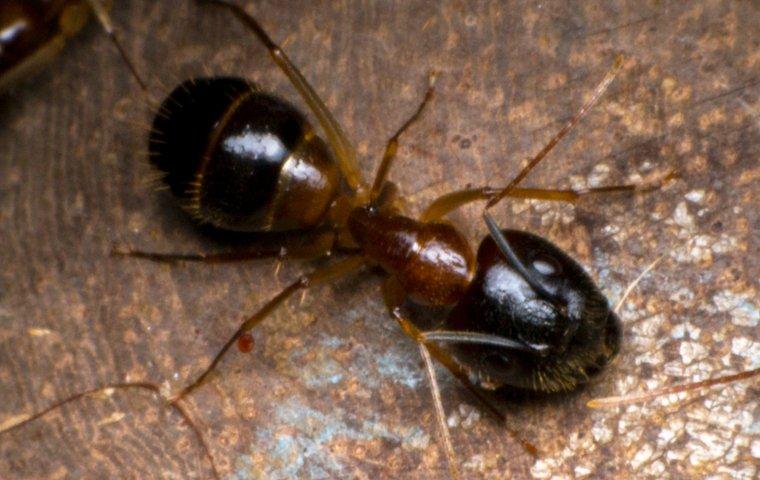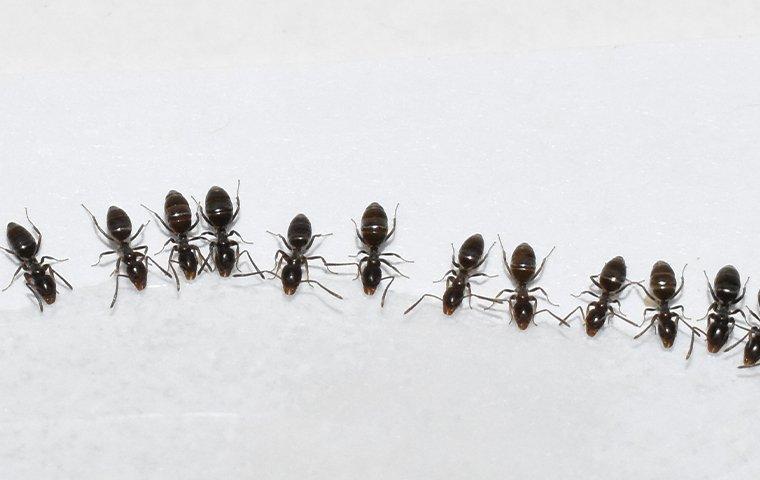 What Do Odorous House Ants Smell Like?
Odorous house ants love sweets but don't have a problem eating sweet things that have started to rot. Do you like bananas? Do you eat them when they start to get brown? They taste sweeter as they age but, at some point, they're only good for making banana bread. Now, imagine bananas that you can no longer use for banana bread. These are what odorous house ants love most. We say all this because the smell odorous house ants create will differ depending on what they're eating. Some describe the odor as sweet. Others compare the scent to rotten coconuts. Both are sweet smells, but one smells more like black bananas that have sat too long in a fruit bowl.
You can draw valuable insights from the analogy we just shared, insights that give you a better understanding of why it is not good to have odorous house ants in your Aiken home. While the pungent aroma is enough for most Aiken residents to do something about these ants, there are more reasons to deal with odorous house ants as quickly as possible. Let's connect the dots.
Are Odorous House Ants Safe To Be Around?
Any ant pest that prefers to climb around on rotting things, even sweet things, should not be allowed to live in your home. Every home has trash because trash collection and removal are ongoing. Whether you prepare your own food or order food delivered to your home, you'll have items in your trash that have organic material on them. The longer your trash sits, the more it will attract odorous house ants. Rotting foods have a stronger odor than fresh food.
When a scout ant finds a food source in your yard, it lays down an excretion called pheromones. Pheromones are how ants communicate. One by one, other workers will follow the trail and add to it as they return to the nest. In a short time, you can have an army of these ants in your home. Long before this happens, you can control this behavior pattern. There are ways you can manage your trash to prevent odorous house ants, and other ants, from catching the scent.
Use scented bags to mask the smell of the food you've thrown away.
Get a smaller receptacle, so you have to remove your trash more frequently. Doing this will give food less time to rot and develop a strong, ant-attracting odor.
Clean your kitchen trash receptacle routinely.
Make sure your receptacle has a cover.
If ants are an ongoing problem, consider getting a receptacle with a cover that seals completely. It is more of a hassle to use, but you'll take a big step toward preventing ant problems.
Use these principles for any food source in your home. When you remove food options and contain the smell of rotting organic matter, you'll have less trouble with odorous house ants. You also reduce the risk of these ants picking up harmful microorganisms from rotting matter and carrying them to sensitive areas, such as your kitchen cabinets, food shelves, pantry, silverware drawer, etc.
Apart from spreading bacteria, do odorous house ants present any other health risks? Not really. They are mostly nuisance pests. But, boy can they make a nuisance of themselves. These ants are only 1/16 to ⅛ inches, but they can enter homes in large numbers that are hard to ignore.
Can Odorous House Ants Damage Anything In My Home?
The black or dark brown coloration of odorous house ants makes them look like black carpenter ants. So, we're often asked if they cause damage to homes. We're happy to say that they do not. It is much worse to have black carpenter ants in your home. So, it is essential to know how to identify carpenter ants.
In all cases, carpenter ants are larger than odorous house ants. While there are major and minor workers in a carpenter ant colony, and the minor workers are half the size of the major workers, they are all larger than ¼ inches. That is twice the size of the largest worker ants in an odorous house ant colony. You'll also tell the difference if you step on them. Carpenter ants don't have a rotten coconut smell.
What Can I Do To Remove Odorous House Ants From My House?
There are good reasons not to have odorous house ants in your house. So, what can you do to keep ants and other pests from entering your home, or deal with ants that have already gotten in? It begins with addressing the reasons ants get into your home in the first place.
Remove Food: Ants don't want to live in your home. Almost all ants would rather have some contact with natural materials, such as soil, wood, and stone. Most ants will enter your home to gather a food source and then evacuate. The first and most important step is to locate food sources and remove them. Look in all of your waste paper baskets for food items.
Protect Food: Storing your food in sealed containers can hold the scent of food in and keep ants out. Plus, several ant species can chew through paper and cardboard. They can't chew through plastic or glass.
Remove Attractive Smells: Sanitation is at the heart of any ant control program. A clean home is resistant to ant activity. Your trash is a top priority, but only one of many things that can develop a smell. Another common attractant is a juice spot or soiled spot on the floor. Decaying juices will cause ants to mobilize an army.
Fix Plumbing Issues: Ants are drawn to humid spaces and drink droplets of water left in sinks by leaky faucets. They're also attracted to the organisms that thrive on the sides of a leaking garbage disposal unit.
Humidity Control: Many homes have too much water in the air. Installing a dehumidifier can have a big impact on ant activity. It is likely to surprise you how much water you can suck out of the air in your home.
Close-Off Routes: Ants don't create pathways to go from wall voids to the common areas in your home—well, except carpenter ants. And, surprisingly, even carpenter ants don't do it all that much. If you diligently use a caulking gun to seal gaps in your baseboards, door frames, window frames, and around the pipes under your sink, you'll create physical barriers, and ants will have to work harder to get around in your home.
Seal Ants Out: Use your caulking gun and some cans of expanding foam to seal potential entry points in your exterior. Pay attention to gaps around utilities and exterior doors. Those are common trouble spots. Replace weatherstripping, door sweeps, screens, and other protective building materials that aren't getting the job done.
Trim Vegetation: Ants can scale your exterior walls but typically don't do this in large numbers. You can have some success deterring ants by trimming tree branches, bushes, shrubs, and ornamental plants away from your exterior walls.
Manage Exterior Trash: Before ants enter your home, they find reasons to live near your home and explore your exterior walls. A common attractant is a stinky trash receptacle.
Address Weeds: Some lawn weeds produce flowers. When your yard starts to fill with flowers, you're going to start to have ant problems, particularly ants that like sweet food, like odorous house ants. The nectar in flowers is also a sought-after food source for many other pests.
Yard Work: Ants love leaf litter, leaf piles, brush piles, and stacked wood. They search for insects in these places. Odorous house ants are omnivoures. While they prefer sweets, they'll also eat protein sources.
Pest Control: Ongoing pest management around your home will give you layers of protection against ants and other pests.
Do you live in Aiken or the surrounding area? If so, reach out to Aiken Pest Control for year-round pest control and say goodbye to ant problems. We provide industry-leading pest control solutions for all of the common pests you deal with in and around your home. We're here to help.