Cockroaches in Aiken can invade your home throughout the year and when they do, beware. They come in search of things like food debris and leaks, but will stay around without much incentive if your home provides them with enough sustenance. But cockroaches pose a series of problems that span from attracting other pests like black widow spiders to the spread of harmful health issues like E. coli infections and salmonellosis.
Once you've developed a cockroach outbreak in your home, the best way to get rid of it is with professional pest control in Aiken from Aiken Pest. We work with homeowners to help them understand the multi-faceted nature of pest invasions while also providing the year-round protection that's required in order to prevent further issues with cockroaches. For more information on these types of issues and what you can do about them, we hope that you find the following guide helpful. If you'd like to learn more about how Aiken pest control can keep cockroaches out of your home, please call us today.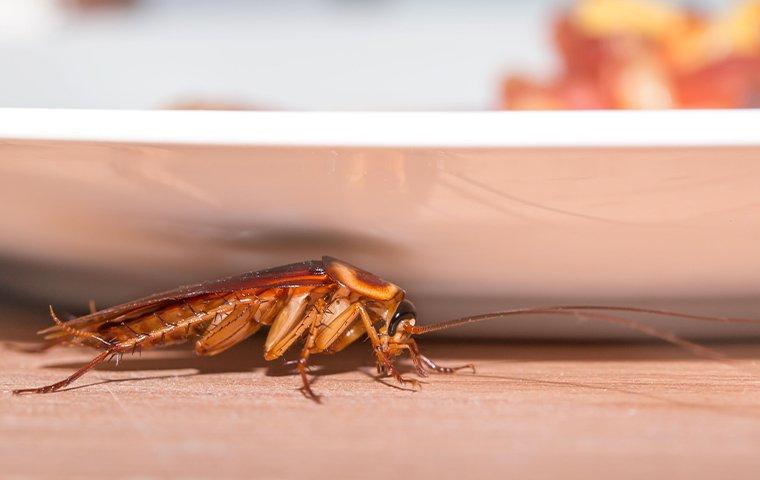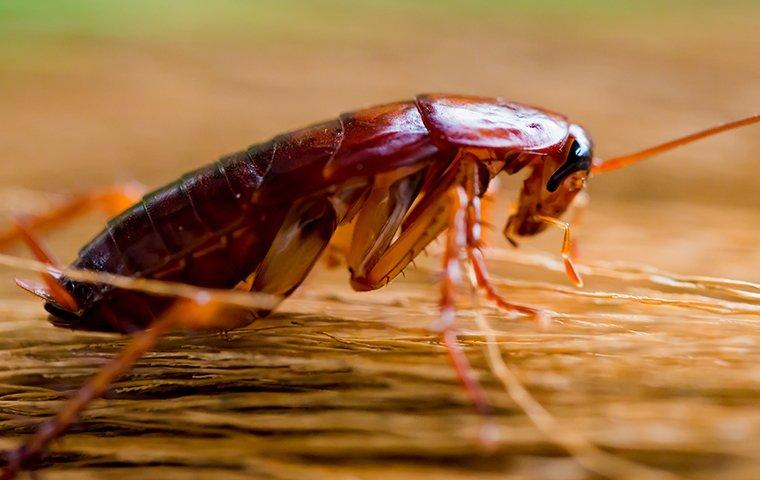 The Different Types Of Cockroaches To Invade Homes
Aiken homes may develop cockroach infestations that vary in species because there are several active types in the area. It's important to note, however, that there are distinct differences between the species and that they may need to be dealt with in varying ways. Here are the most common types of cockroaches that residents may encounter:
American cockroach: This is the largest house-invading species of cockroach, so be on the lookout for them. The American cockroach can be identified by its almost translucent amber coloring, distinguished antennae, and figure-eight symbol on its head. They are colloquially referred to as "water bugs" because of their use of the sewer system, which also makes them more difficult to prevent.
Brown-banded cockroach: While the brown-banded cockroach may be on the smaller size, its antennae are impossible to miss, as is its iconic brown bands that cover its abdomen. This species usually gets brought inside the home due to infested packages, furniture, and personal belongings.
German cockroach: This species of cockroach is the most common across the globe and thrives wherever there are people and tasty crumbs to eat. The German cockroach is on the smaller side and tends to be a brown-silver coloring. While adults have a set of wings, they rarely take flight and instead prefer to run. The German cockroach is also known for its evolving cross-resistance to common pesticides.
For help with cockroach prevention for all species, look no further than Aiken Pest. We have been the trusted name in local pest control since 1967 and we're ready to eliminate cockroaches today. We abide by strict safety guidelines with every treatment we provide and all of our work is guided by Integrated Pest Management so we are able to take an active stance against cockroaches while getting rid of any active threats. To learn more about our year-round cockroach control offerings, please contact us today.
How Are Cockroaches Dangerous?
When cockroaches invade Aiken homes, the main issue that they pose is a threat to health and well-being. While they are capable of destroying fabrics, furniture, books, and upholstery, the health risks far outweigh any other issues. Cockroaches are known for their ability to leave behind body parts, saliva, and fecal matter that can all cause some very serious health issues. Cockroaches are affiliated with over 30 different bacteria, illnesses, and viruses. When any of the aforementioned byproducts are deposited into food or beverages, they may transmit the pathogens that lead to E. coli, streptococcus, and staphylococcus infections, as well as salmonellosis, gastroenteritis, dysentery, food poisoning, giardia, and more. While the specific side effects vary from sickness to sickness, some of the ramifications of a cockroach outbreak include: diarrhea, fever, nausea, full body chills, and loss of appetite.
The health risks that are linked with cockroaches don't stop there. Many people suffer from increased stress, anxiety, and sleepless nights due to the presence of cockroaches. Not only is there a distinct phobia associated with these pests but the difficult nature of their elimination and the negative connotations that come with them can leave people feeling stressed and embarrassed. Additionally, cockroaches are usually affiliated with an increase in allergies and asthma because of the byproducts that they leave behind. According to the journal Allergy, Asthma & Immunology Research, most cockroach allergy sufferers are children because of the amount of time that they spend indoors and cockroach allergens are one of the most common indoor allergens in the country.
Cockroaches can also be considered dangerous because of how difficult they are to eliminate. Regardless of species, cockroaches are a tough pest to find inside of the home because they are primarily active at night and live inside places where people rarely go. They might not stray far from a food source but cockroaches are very sneaky nonetheless. And because cockroaches can produce upwards of 150 offspring within a year, infestations can grow out of control very quickly.
For more information on cockroach protection, contact Aiken Pest today.
Useful Cockroach Prevention Tips
Working to prevent cockroach outbreaks is one of the most important things that homeowners can do to protect their health and their home. Cockroaches are notoriously difficult to get rid of, which makes prevention an essential step. Here are a few useful tips that should work to prevent cockroach outbreaks in your home:
Consider moisture: One of the most important features to cockroaches is a steady water supply. They can't live long without one, so this availability will both attract them and keep them around. In order to cut off a water supply, look around the house for leaks on a regular basis, paying special attention to places like faucets, plumbing, and gutters. It's also important to make sure that you always shut sinks and showers off completely.
Investigate your property: Cockroaches are very stealthy insects and they can fit through most openings that they find. Look around your foundation for cracks and fill them with silicone-based caulk. It's also important to insert door sweeps to doors and gaps beneath them, inspect boxes and packages before bringing them inside, and eliminate debris and clutter from your yard.
Maintain a hygienic home: Cockroaches thrive in cluttered and messy spaces because it gives them access to privacy, provides food bits everywhere, and, not surprisingly, also makes detecting a population more difficult. Part of this phase includes taking out the trash, never disposing of food items inside, sweeping regularly, cleaning up spills, and getting rid of clutter.
Practice proper food storage: Cockroaches also love food and if they haven't been going through the trash or dirty dishes to find some, then they might turn to the pantry. Never keep food in its original flimsy packaging; instead, opt for airtight containers for both pantry items and leftovers.
Hire a professional: All of these tips have the potential to be immensely helpful when it comes to curbing the attraction of cockroaches; however, they are not perfect. By enlisting the assistance of a professional pest control company, your home will be more securely protected from cockroach invasions in ways that you simply can't address otherwise.
For more information on cockroach prevention that will work around the clock for your home, contact Aiken Pest today.
The Most Effective Cockroach Control
While there are several DIY steps that you can take in order to reduce the alluring nature of your home, the most effective method of cockroach control is professional help. By working with a local pest control expert, you'll have access to expertly trained technicians, top-shelf products, and methods of control that are simply not accessible to the average homeowner.
At Aiken Pest, we're the team that residents have been turning to since 1967. As a locally owned business, we have an unparalleled knowledge of the properties that we treat and we understand firsthand how cockroaches interact with them. In addition to our years of experience, we are a QualityPro certified company, which means that we are in the top tier of pest control companies across the country for the safety standards that we meet.
When working to understand your cockroach concerns, we follow the guidelines of Integrated Pest Management. What this means for your home is a few things, starting with our desire to understand the root cause of your problem. Once we've been able to identify what's attracting cockroaches to your home and the scope of the population, then we can devise a customized treatment program that provides instant relief and lasting protection.
Our process begins with a thorough inspection of both the interior and exterior of your home so that we can understand how cockroaches are invading and the factors that are responsible for attracting them. From there, we look at the mechanical changes we can implement as well as the small but impactful ways that you can make your home less appealing to cockroaches in addition to our treatments. We provide external and internal product applications on a quarterly basis as well in order to create and maintain a barrier from cockroaches and restore your peace of mind. All of these cockroach services are backed by a 100% satisfaction guarantee as well, so if any return between visits, we'll re-service your home at no additional cost to you.
For more information on our residential and commercial pest control services in Aiken, including our lasting cockroach control, please contact us today.