Mice are invaders that often instill panic when they are first spotted. No one wants wild animals in their homes, let alone ones that can cause significant property damage and cover everything in feces and pathogens. Unfortunately, without the proper prevention strategies, keeping a rodent-free house can be difficult as these agile little creatures can squeeze through tiny holes and jump close to thirteen inches high. They are also great climbers and will explore every corner of your property if you allow them to, especially in the winter when they are trying to avoid cold temperatures even in the humid subtropical climate of South Carolina. Mice have been around for millions of years, and we believe they originally came from the Asian continent and have likely come to America through European boats. Like many pests, they have adapted to living near humans and have grown resistant to many treatments. They are even known to avoid traps that people commonly use, thinking that they can take care of an infestation. Instead, many homemade mouse control methods can cause mice to grow in number by giving them time to reproduce. If you think you might have mice in your home, now is the time to learn what they look like, discover five tips for effective mouse prevention tips that are very similar to the ones used for rats, and find out more about the trick to stress-free and effective mouse control. If you are struggling with an infestation, Aiken Pest Control provides pest control in Aiken that you can rely on to get rid of them safely and as quickly as possible.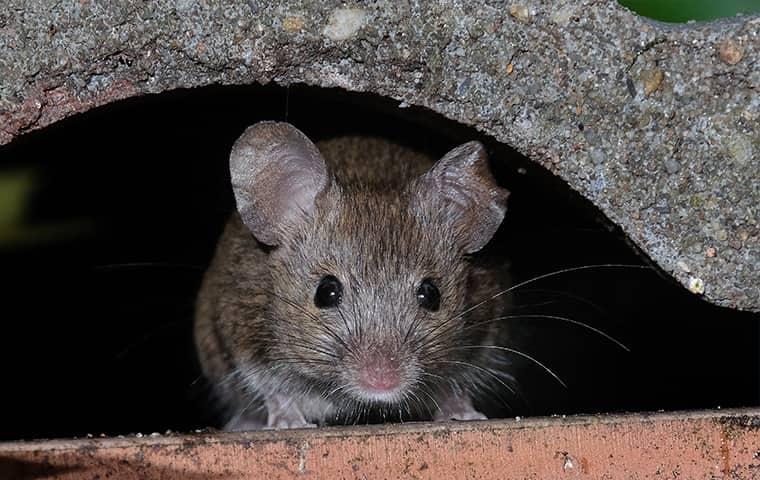 What Mice Look Like
Are you dealing with mice or something else? Some pests that look like mice include rats, voles, and other rodents. You might have a mouse problem if you see invaders with the following characteristics:
Mice are usually brown or gray: Most common house mice are a shade of brown or gray, and they often have lighter-colored bellies. If you see a black rodent, it might be a rat instead.
Mice have characteristics of rodents: Mice are mammals with fur all over their body and hair on their long tails. By contrast, rats have seemingly hairless tails. Mice also have long front teeth that never stop growing. They will gnaw on hard surfaces like wooden furniture and electrical wires to keep them in check. They have pointed muzzles, large ears, and round bodies.
Mice are smaller than rats: Full-size rats are ten inches long on average, not counting the tail, while mice tend to be closer to four inches or less.
Additionally, mice leave behind strong-smelling urine and soft droppings that have tapered ends and dry out to a dull shade of black. They often hide behind walls, and you might hear them scratching behind the floorboards at night. If you see signs of a mouse infestation, you will want to try the following effective prevention tips.
Five Tips For Effective House Mouse Prevention
Prevention is essential to having a pest-free house year-round. If you do not actively keep mice out of your home, you might end up with an infestation as soon as you leave food out for too long, don't clean your garbage cans, or the weather starts to get colder. By following these five tips, you will have a better chance of not attracting mice and preventing them from coming in. They can also be effective at keeping other types of pests at bay.
Keep food safely stored away: Mice are attracted to food, water, and shelter for the most part. If you put food out of their reach, you are removing an important factor and have a much higher chance of not having these small rodents in your home. It is a good idea to pay special attention to leftovers, trash cans, compost piles, and dishes. Leaving dirty plates in the sink overnight or a cake on the counter will attract mice to come out when you're asleep.
Keep all rooms clean and decluttered: Mice will readily hide behind clutter where they might build nests too. It is best to vacuum and mop regularly during an infestation and in between treatments, wipe down and disinfect surfaces, and regularly clean under furniture and appliances. Mice are resourceful and can survive on crumbs and other food you might not notice.
Fix leaks and structural problems: Just like mice need food, they also need water. If you have stagnant water in your yard, for instance, in old tires or buckets, clogged drains, or leaks, even if they are small, you give mice some ways to thrive.
Keep your yard well maintained: Mice can appear out of nowhere, as they usually start reproducing outside your home before moving in. Mice are important parts of the ecosystem outside and can be plentiful without causing issues. The key is keeping them outside where they belong, preferably as far away from your property as possible. Keeping bushes trimmed and away from your house and removing wood and leaf piles can help.
Seal gaps under doors and window frames: It can be quite common for mice to come in by scurrying under or through gaps in window frames. Door sweeps and new window frames can help, as can sealing cracks with various materials depending on your needs.
Throughout the year, there may be times when these prevention strategies are not cutting it, and you start to see signs of mice in the house. It could be that the weather outside is starting to turn, and mice are getting more creative at getting in. Or, there might be a nearby infestation that has begun to move onto neighboring properties. Regardless, these prevention tips are very effective at reducing the number of mice, and you can also use them for rats.
Prevention Tips For Mice And Rats Are Very Similar
Mice and rats are different in many ways, but at the end of the day, they are both pests and rodents. For this reason, prevention tips for mice and rats are very similar. If you are struggling with mice, you might end up with rats soon enough as they are attracted to similar factors like food and water, and the rats might fight the mice for their new territory. Fortunately, keeping the structure of your home sound, putting food away quickly, fixing water leaks, and sealing off access points can deter both. But for the best way to get rid of mice, you will want to reach out to a pest control company. Regular inspections with trained professionals are a natural and non-invasive way to ensure that your rodent problem is a thing of the past and that you are no longer at risk of a new infestation.
The Trick To Stress-Free And Effective Mouse Control
A mice infestation can be disheartening, especially if you have tried to get rid of it on your own and have not succeeded. At Aiken Pest Control, we have provided pest control services in Aiken since 1967 and have helped countless homes become free of rodents. Our service team members are dedicated and fully trained to surpass your needs and are sure to provide you with the best customer service experience you can expect. House mice are extremely common but can be hard to exterminate before they start to reproduce, and when they do, you will end up with a widespread population pretty quickly. The biggest problem with these furry animals is that they can transmit various dangerous diseases like the hantavirus, Leptospira, lymphocytic choriomeningitis, tularemia, and Salmonella. But because they are mostly nocturnal, you might not notice them for a long time since they will come out when everyone is asleep and the house is quiet. During this time, they will get into your food supply and scurry on your countertops spreading pathogens that could contaminate you the next day. Getting rid of mice is possible but is best left to the pros. Contact us today for a free quote or to get in touch with a team member and schedule an inspection. Our pest control program was specifically designed for these types of issues and has proven to be effective time and time again.
Mice and other rodents are dangerous scavengers that can pick up pathogens in all kinds of unsanitary areas outside and then bring them inside your home, where they can make your household sick. Also, mice are notorious for causing property damage like holes in walls to create safe hiding spots, gnaw marks on furniture as they trim their teeth, and chewing electrical wires. And because they are so small and quick to reproduce, with one single female mouse giving birth to over 30 offspring every year, you could end up with a problem that is difficult to treat unless you are using professional pest control techniques proven to work. Reach out to us today; your mouse struggles will be gone before you know it with the best mouse pest control in the area.