Do mosquitoes make you nervous? Are you worried about mosquito-borne viruses? You're not alone. New stories of virus outbreaks are putting many Aiken residents on edge. Today, we hope to help reduce your fear of mosquitoes and share some facts that will help you detect mosquitoes before they bite you, put mosquito-borne diseases into proper perspective, and apply mosquito prevention in your yard to reduce these pests. As always, keep Aiken Pest Control in mind when considering pest management around your home. We offer mosquito control services and general pest control in Aiken. You can get mosquito abatement as a standalone service as part of a residential pest control service plan. Call, text, or e-mail to learn more. With that said, let's take a look at how to keep dangerous mosquitoes away with all-natural methods.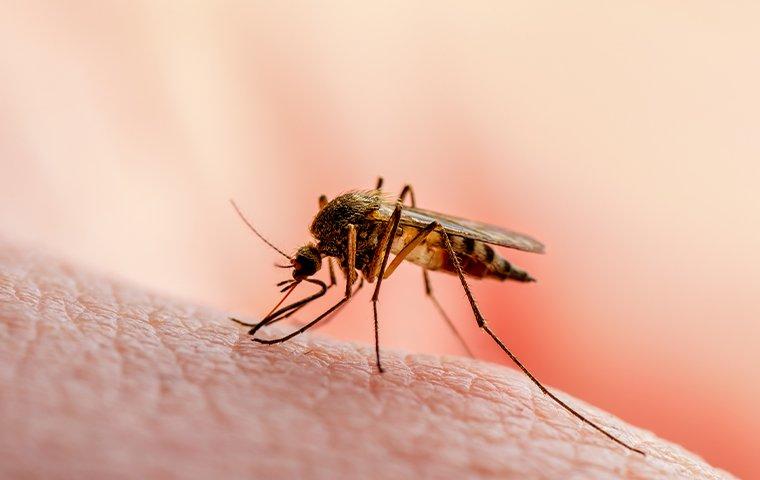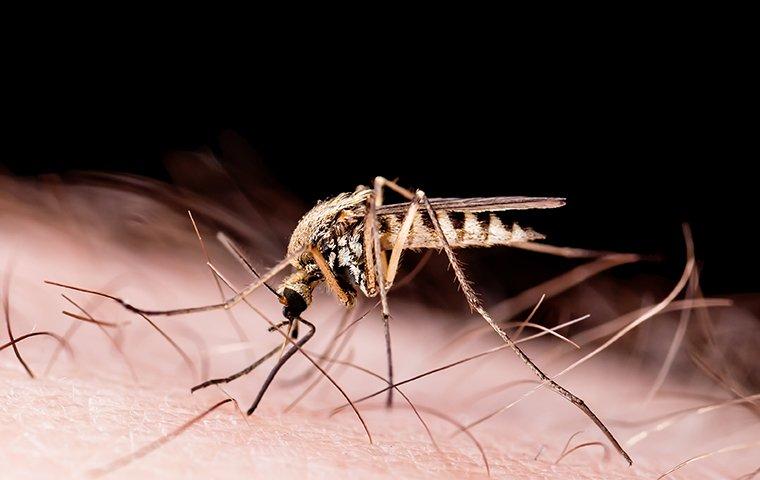 Mosquito Or Not? How To Identify Them At A Glance
There are many flying insects in the world, and a few bugs that look like mosquitoes like crane flies and midges. So, even if you know what a mosquito in Aiken looks like, you may not immediately recognize one when it lands on you. If you want to catch mosquitoes before they bite you, it helps to know a few identifying traits.
Mosquitoes hover and fly in a zig-zag pattern. They do this to lock onto you and land on your skin. When a mosquito lands on you, it almost seems like they're drawn in by a magnet. It is a somewhat unique flying pattern associated with mosquitoes.
Mosquitoes are small narrow insects measuring between 1/4 and 3/8 inches long. They have a set of wings, six long, dangling legs, and a pronounced needle-like proboscis they use for feeding.
Most female mosquitoes make noise. You may hear this noise before one lands on you. The noise made by females of each species is unique, and there are apps for your smartphone that can help you tell if you have dangerous mosquitoes in your yard.
A mosquito on your skin will rest at a slightly angled position, with the rear of the mosquito raised higher than the front.
If you fail to see a mosquito before it bites you, it may cause you concern. Let's look at some facts that will help you put things in perspective and alleviate some of your fears regarding diseases spread by mosquitoes.
Mosquito Bites Can Spread Dangerous Diseases
We're sure you know this. Mosquitoes spread diseases like malaria, West Nile virus, and Zika virus. It is scary to think that one bite can make you very sick. But things aren't as dire as you may think. Here are a few reasons why you don't need to fear mosquitoes.
Not every mosquito that bites you is able to transmit diseases to humans. Some species don't have the ability to carry pathogens that impact human health.
Not every mosquito is infected with a disease. Mosquitoes aren't born with these scary diseases. They pick them up from local animal populations or other humans. Most of the worst diseases spread by mosquitoes are not generally found in the United States. While they can be carried here by travelers, they are exceptionally rare in South Carolina. Watch the news for outbreaks of these viruses.
You can get a deadly mosquito-borne virus and have no symptoms. Have you heard the term asymptomatic? What that means is you have the disease, but you are only a carrier. You do not demonstrate symptoms.
Most mosquito bites result in swollen bumps that itch. The reason for the swelling and itching is an allergic reaction to the saliva of the mosquito. Since it is an allergic reaction, people have varying reactions to mosquito bites. On top of this, the swelling and itching can be reduced by applying a cold pack and an antihistamine cream to the wounds.
Most of the time, mosquitoes are just irritating pests that leave itchy welts on your skin, and the irritation can be reduced with proper care. So, mosquito control is mostly about making your yard a nicer place to relax and recreate. Protection from dangerous diseases is just an added benefit. If you have a fear of mosquitoes, we hope these facts helped a little.
Four Eco-Friendly Mosquito Prevention Tips For Around The Yard
Now we get to the real meat and potatoes of our discussion. How do you prevent mosquitoes in your yard? Many residents look for ways to repel mosquitoes, but mosquito repellents aren't an effective solution to mosquito problems. Perhaps you've noticed. You can put torches around your property, light candles, plant mosquito-repelling vegetation, and apply several other repellents with little or no impact. Why don't these work? Are there really plants mosquitoes hate, or is it just a myth? Do torches, candles, and other repellent products really drive mosquitoes away? What is going on? We understand your frustration. All of the methods listed here actually work to repel mosquitoes. The issue is that there are a lot of mosquitoes in your yard. A female will lay a hundred eggs at a time. The sheer number of mosquitoes concentrated on your property can make it impossible to keep mosquitoes from biting you, even if you apply mosquito repellent to your skin or clothing. One of those mosquitoes will find a way and get to exposed skin to get a blood meal. Therefore, the experts here at Aiken Pest Control don't recommend repellents. Instead, we recommend the following ways to reduce mosquito populations on your property.
Address standing water. Mosquitoes breed in standing water. If a female mosquito can't find an appropriate breeding site, she may not lay eggs on your property. It is a simple solution that can have a big impact. One way to address standing water is to get your gutters cleaned.
Remove containers. A female mosquito can lay her eggs in as little as one inch of water. If you have any objects in your yard that can collect water, you have a potential breeding site for mosquitoes. We recommend removing these objects or covering them in a way that prevents rainwater collection.
Pour water out. It takes about a week and a half for mosquitoes to develop into flying adults. They start as little wigglers, grow into tumblers, and eventually emerge from the water as adults. You can stop them at any point in their early life cycle by pouring the water out. If you have kiddie pools or water features around your home, make sure to replace the water regularly.
Circulate water. Mosquitoes can't effectively breed in moving water. If you have a bird bath, or some similar water source, installing a circulation pump is a helpful way to prevent mosquito breeding in your yard.
In many cases, it is possible to address breeding sites. But some conditions are tricky. A pest management professional will identify these during your mosquito control inspection. If you have potential breeding sites on your property that prove difficult to remove, your technician may suggest the application of a larvicide, which has grown regulators that prevent mosquitoes from developing into adults.
When you target the source of your problem, you can have a big impact on mosquitoes in your yard. Having fewer mosquitoes around and finding fewer bites on your skin will also help to alleviate fears. Now, let's take a look at how to make your yard feel like it is mosquito-free.
Professional Mosquito Control Offers Top Quality Protection
It is impossible to entirely get rid of mosquitoes in your yard. But it can definitely feel like you have. Mosquito control addresses adult mosquitoes on your property and acts kind of like a reset button. New mosquitoes have to enter your yard, and this happens somewhat slowly because mosquitoes don't typically travel far. So, after a service, it will take a few weeks for you to notice mosquitoes again. At Aiken Pest Control, we return routinely throughout the mosquito season to reset your property before you start to notice mosquitoes again. We typically do this every month from April to October.
Mosquito control is also great for getting ready for an outdoor event. Are you planning to have a reunion in your backyard? Do you want to have an outdoor birthday party or a graduation party? There are many important events that may take place in your yard. Before your event, we can come to your property and apply a treatment to eradicate the mosquitoes and flick the reset button.
As you consider whether or not to get one-time mosquito control or seasonal service, keep in mind that the treatments we apply don't just control mosquitoes. They control two other pests that can impact your health and make your pets sick. We help you get control of ticks and fleas. And, when it comes to pests that can make you sick, ticks and fleas are far worse than mosquitoes.
Contact Aiken Pest Control for assistance with professional mosquito control in Aiken. Our friendly and knowledgeable service team is here to help you get effective solutions for all your pest concerns.